Travel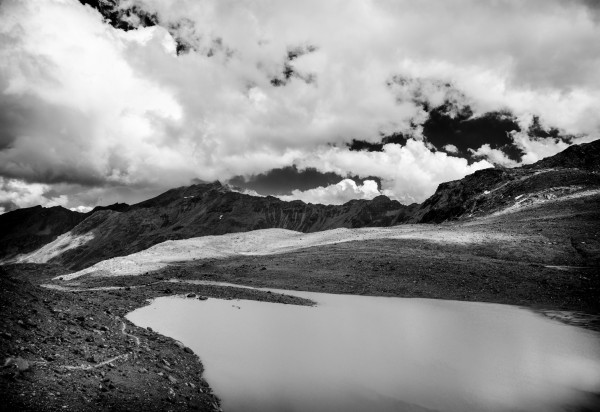 When travelling from Cabane du Mont Fort the hiker is faced with a couple different route options. The more direct route, and also the one that's recommended when weather is uncooperative, goes via the Col de la Chaux. The longer and more scenic route traverses above the valley floor and provides wonderful views of the Combin massif before traversing across three passes on the way to Cabane de Prafleuri. Since the weather report was good we chose the longer and more scenic option along with the rest of our travelling companions (and the rest of the overnight residents of the hut).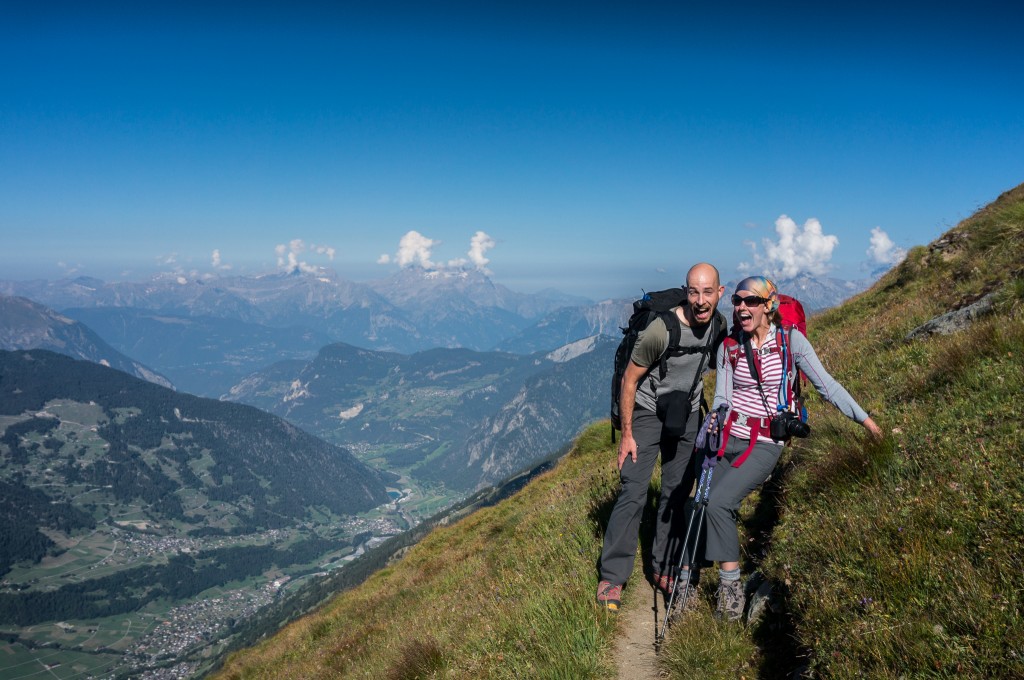 The path from Mont Fort initially drops down a couple hundred feet before starting a slowly climbing traverse that gently levels out and continues all the way to Col Termin. This section of the hike was spectacular with wonderful views up and down the valley as well as across the valley to the Combin massif. The trail was crowded with hikers, all of whom were stopping frequently to take pictures of the wonderful scenery. Several sections of the trail had chain handholds, though I never felt like I needed them or was in any danger of falling.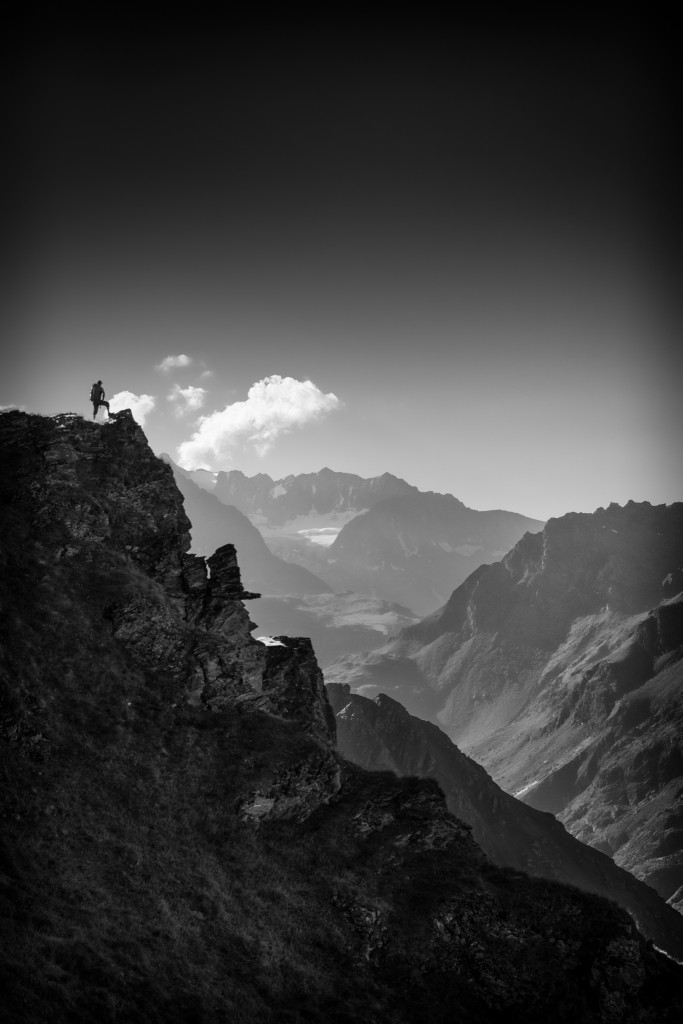 We all reached Col Termin in good time and enjoyed a snack while basking in the warmth of the sun. To say it was all glorious would be an understatement.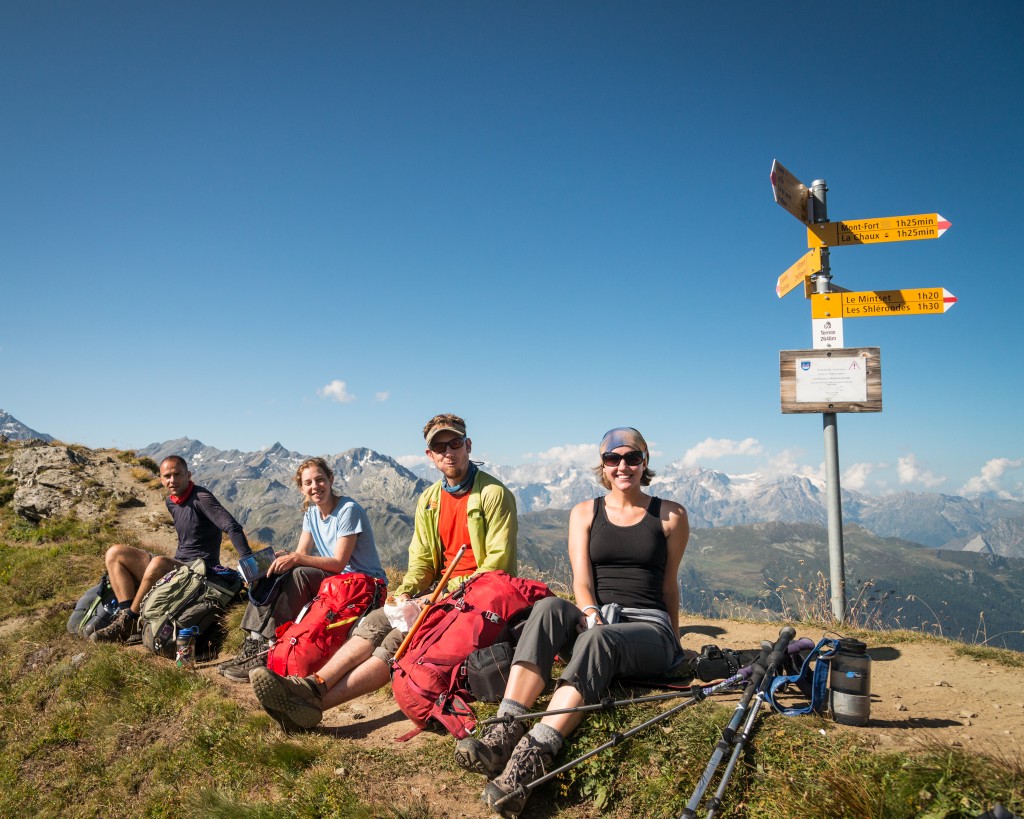 The path from Col Termin to Col de Louvie follows a nice traverse up the valley before climbing steeply to the col. Based on the elevation profile in the book I'd prepared myself to drop all the way to the valley floor and then climb back to gain the col. Thankfully, this wasn't the case at all as our elevation loss was limited to probably less than 100 feet. However, this section of the hike took longer than expected, partially due to the up and down and partially because the last part of the climb to the col was quite steep.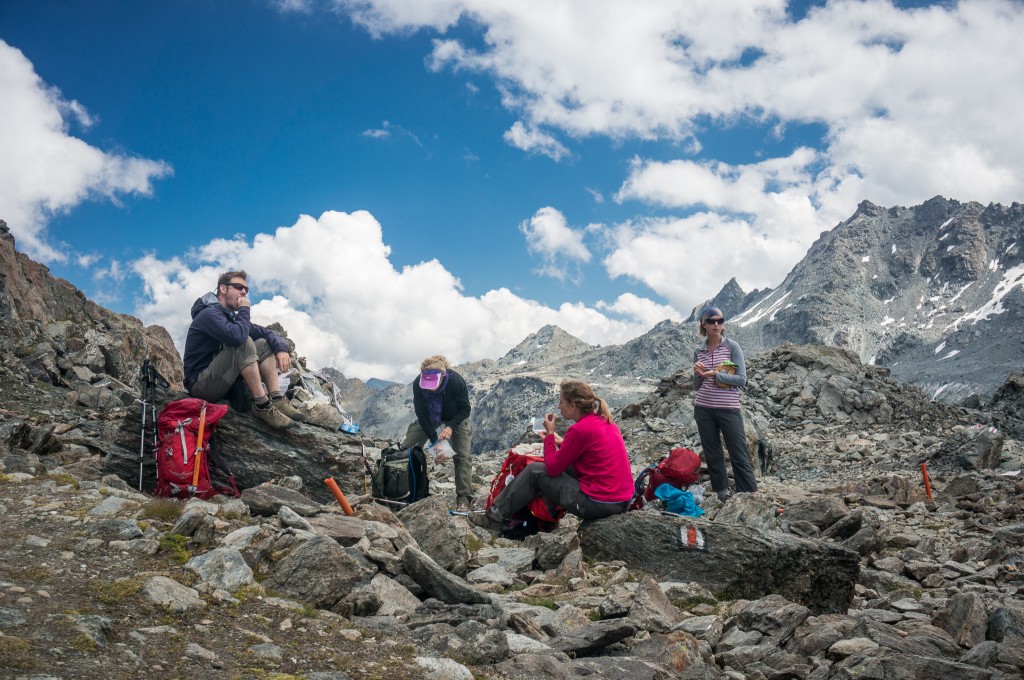 We all ate lunch at the col, by which time the sun was clouded over and the peaceful warmth we'd enjoyed at Col Termin was replaced with a brisk wind and a slight chill. Lunch was our staple of bread and cheese, with some potato chips and mixed nuts. It was refreshing and helped us recharge from the morning hike.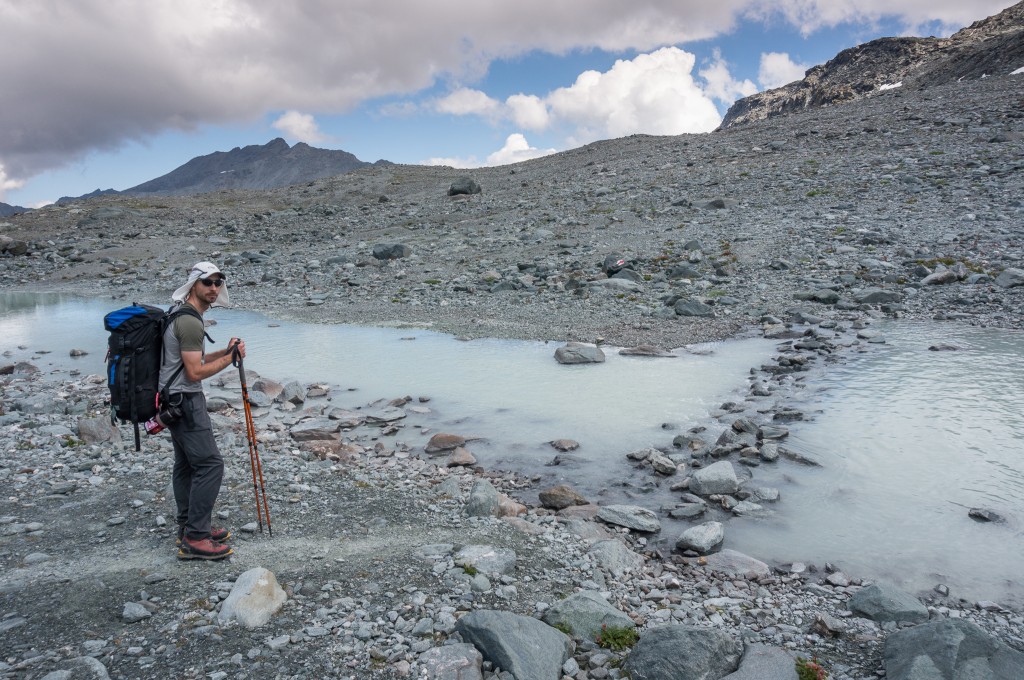 Looking out from the col the hike lead across the aptly named Grand Desert. This alpine valley is a wasteland left behind by a retreating glacier. It's virtually devoid of life and could easily be a landscape from the moon. The path from the col leads steeply down towards the valley. On the way down, the guidebook suggests taking note of a very large painted trail marker on the other side of the valley to be used as a landmark. This is especially handy because the trail becomes much less distinct after crossing the small stream.
The glacier here is in full retreat, a small shadow of its once massive self. However, glacial outflow still forms small lakes and streams that add color and texture to the landscape and provide interesting patterns in the water.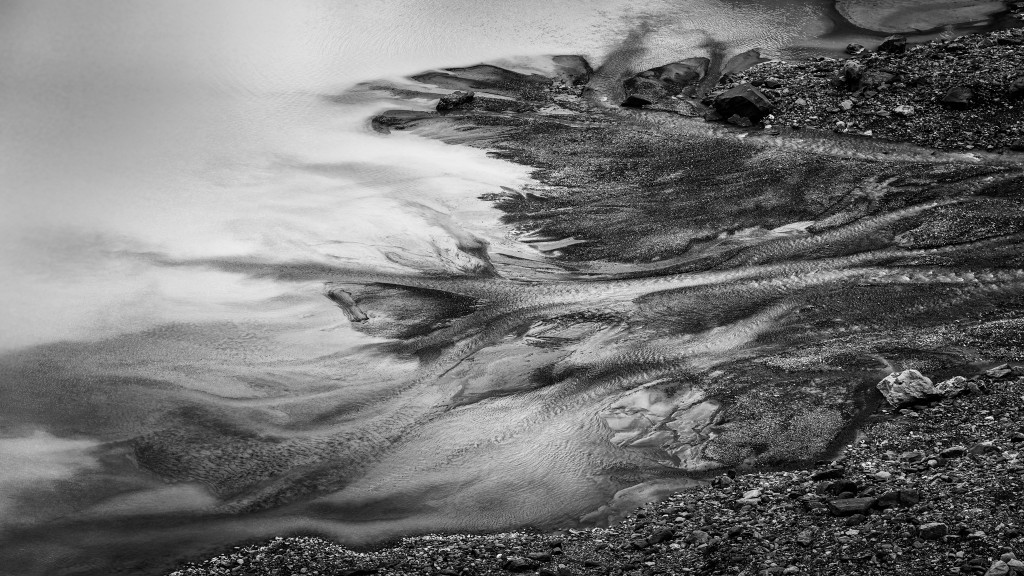 From the stream crossing, the trail makes its way steadily uphill to the large painted rock where it veers left and gains elevation steeply to a rocky bench that looks back over the valley, glacier, and Col Louvie. The trail then levels out and traverses open and rocky terrain before bending slightly right towards another valley where the trail descends almost vertically about 200 feet before beginning the last and final climb to Col de Prafleuri.
Mentally, I wasn't really prepared for this last little valley and we both begrudged the elevation we lost as we hopped down from rock to rock. The guide book doesn't really describe these sorts of small vertical changes but they are important to prepare for mentally so you can understand how to reserve energy and optimism. Regardless, we pushed on and were soon making the climb to the final col before reaching our hut for the evening.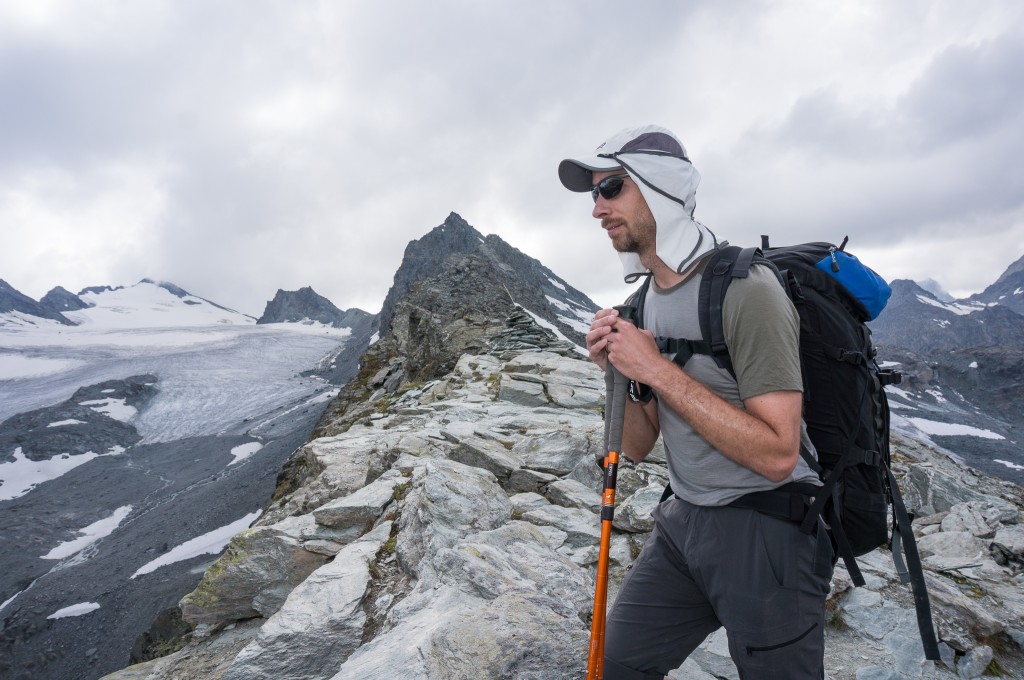 As we reached Col de Prafleuri, we found it to be rather crowded with the several groups who had set out that morning from Cabane du Mont Fort. This proved to be rather fortuitous since they pointed out a pair of ibex sitting on the hill no more than 100 yards away. I'd previously expected that I would be able to spot ibex rather easily, but these two blended in with the surrounding hillside so perfectly I would have never seen them unless they'd moved.
Anne and I recovered, snacked, and watched the ibex for some time before setting out for the final short leg to Cabane de Prafleuri, which we could see in the distance. The trail from the col was rather steep but uneventful. In truest form, the last short pitch to the hut involved a steep grunt of a hike that left us both winded but happy to have completed a long day.
Note: For Cabane de Prafleuri there are several things that would-be guests should be aware of. First, the showers only have limited hot water. Anne and I checked in and bolted for the showers as quickly as we could. However, we both had to wait 20 minutes to shower by which time the hot water was waning. Second, there's limited power in the building unless you want to pay to turn on the outlet in your room. Resourceful individuals unplugged heaters in the bathroom and lobby to accommodate charging their phones. Finally, the water in the hut isn't potable. This wasn't a problem for us since we'd brought a Steripen, but others found it to be annoying that they had to purchase expensive water for the next day's hike.
Total distance:
10.73 mi
Max elevation:
9823 ft
Min elevation:
7749 ft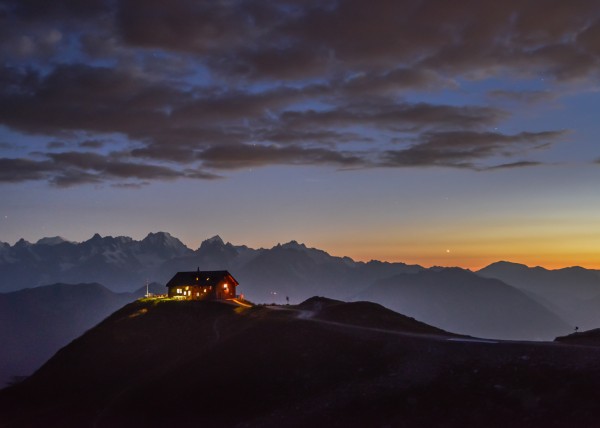 On paper the hike from Le Châble on the valley floor to Cabane du Mont Fort was the biggest day of the trip in terms of elevation gain. This starts the moment you step out the door of your hotel and progresses almost non-stop until you get to the cable car station at Les Ruinettes.
To ensure we made the best of the day and avoid the heat we got an early start. That kept us in the shade for most of the initial climb out of the valley. This also meant that we hiked alone almost the entire way, overlapping Martijn only briefly as he overtook us on the way up.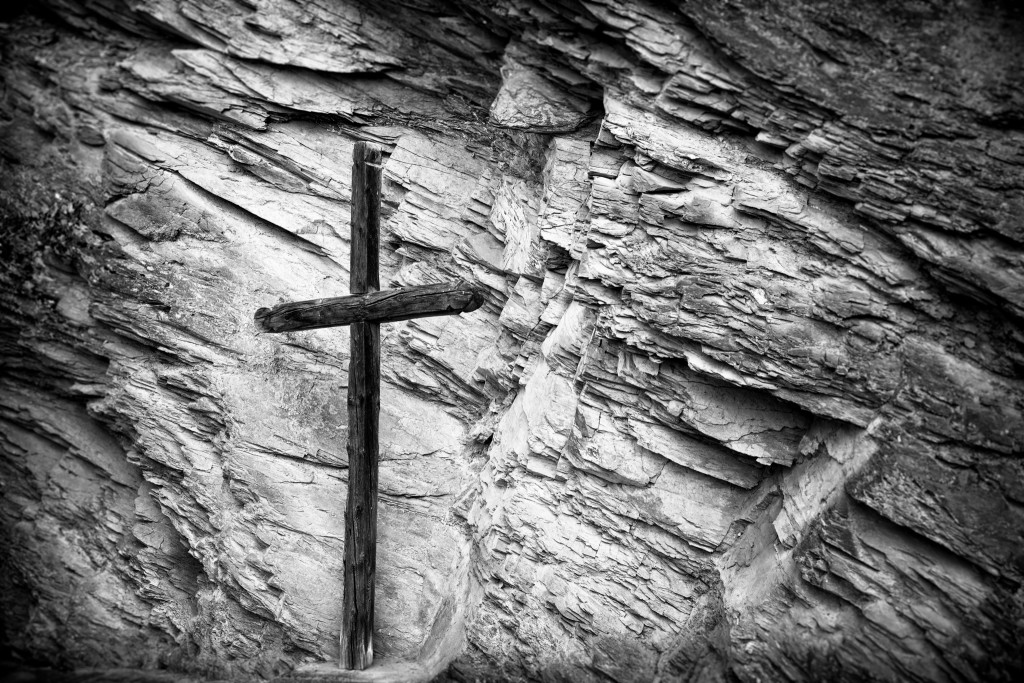 While the path was steep, it was also generally pleasant as it wound through several small villages and steeply wooded slopes. Shortly below Clambin we broke into the sun and the heat started to make its presence felt.
We stopped and grabbed water and a few bites at the junction at Clambin before continuing on up and past a small picnic area at Le Hattey and then onto a broad set of switchbacks that form a ski run in the winter. This section then diverted into the trees for the final stretch up to the Les Ruinettes cable car station.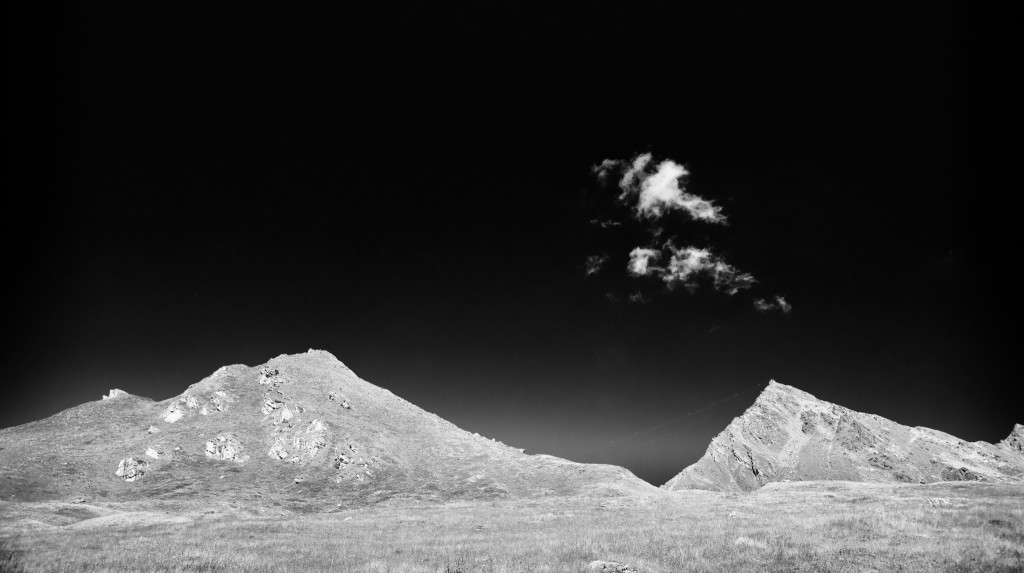 Just above Clambin the hiker's path parallels single track mountain bike paths. This area is a mountain biking paradise and some of the runs we saw looked like they were expert or better tracks with significant jumps and features. As we approached Les Ruinettes, we saw countless bikers flying down the dirt road and splitting off onto single tracks and I wished that we'd had some time to do some mountain biking ourselves. This area was also a prime area for paragliding and as we set up for lunch at the cable car station we watch as numerous paragliders launched and soared above the valley.
After lunch we continued along towards Mont Fort. At this point, the majority of our climb was complete and the path followed the course of a bisse gently over the alpine landscape with wonderful views of the valley below and Le Châble where we'd started earlier that morning. The rest of the hike to Cabane du Mont Fort was relatively easy with a steep and tiring section completing the day just below the hut itself.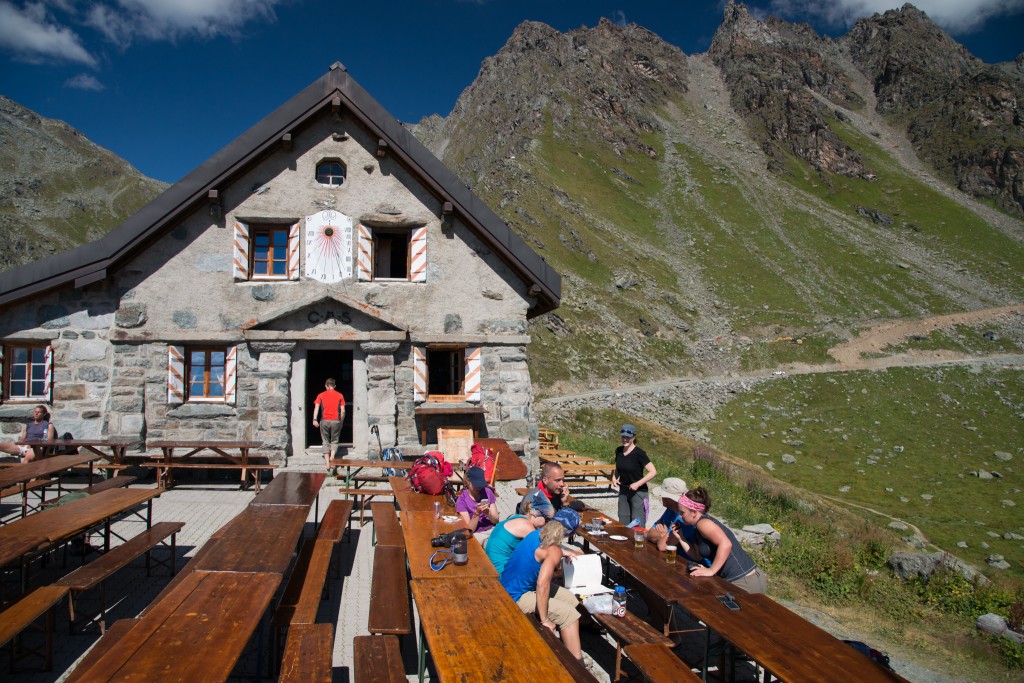 At the hut, we met up with all our travelling companions. Clare and Paul had taken the cable car earlier that morning and had been at the hut for several hours. The rest of our crew, who had started shortly after us in the morning, had arrived within the previous hour (passing us while we ate). We sat our bags on the deck and relaxed, taking in the warmth of the sun and drinking beers to celebrate a hard but enjoyable day and the incredible views afforded from such a fine alpine hut.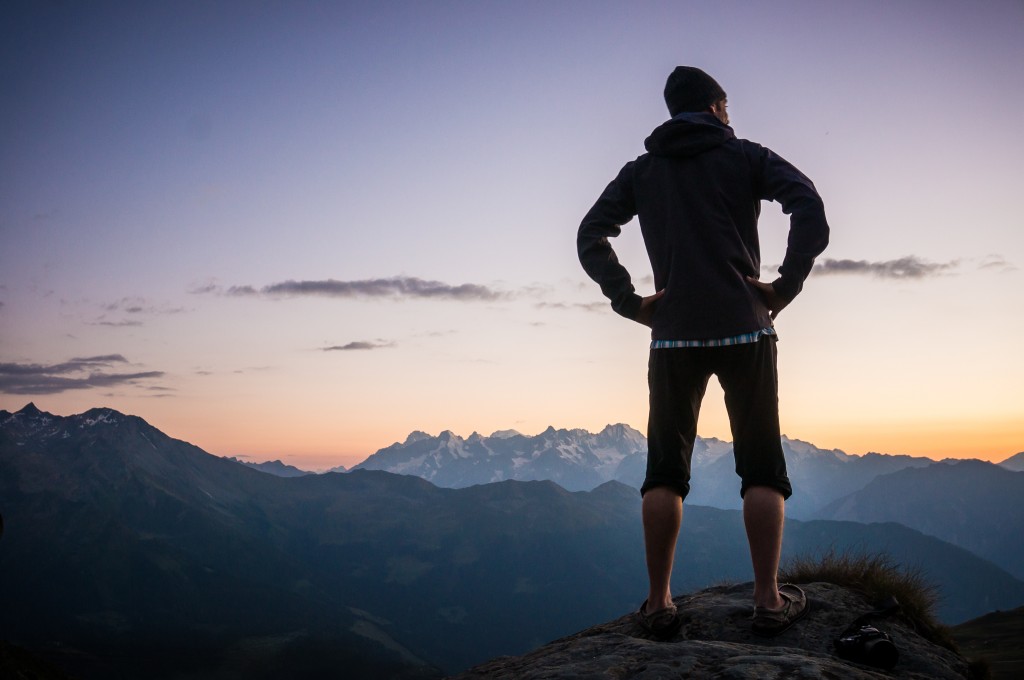 Here we also first met Brian and Denise. Brian is an avid photographer as well (he's got a great blog too), packing both a DSLR and a tripod on his pack. We'd met this first along the path near the Le Hattey hut but took the opportunity to get better acquainted at the hut.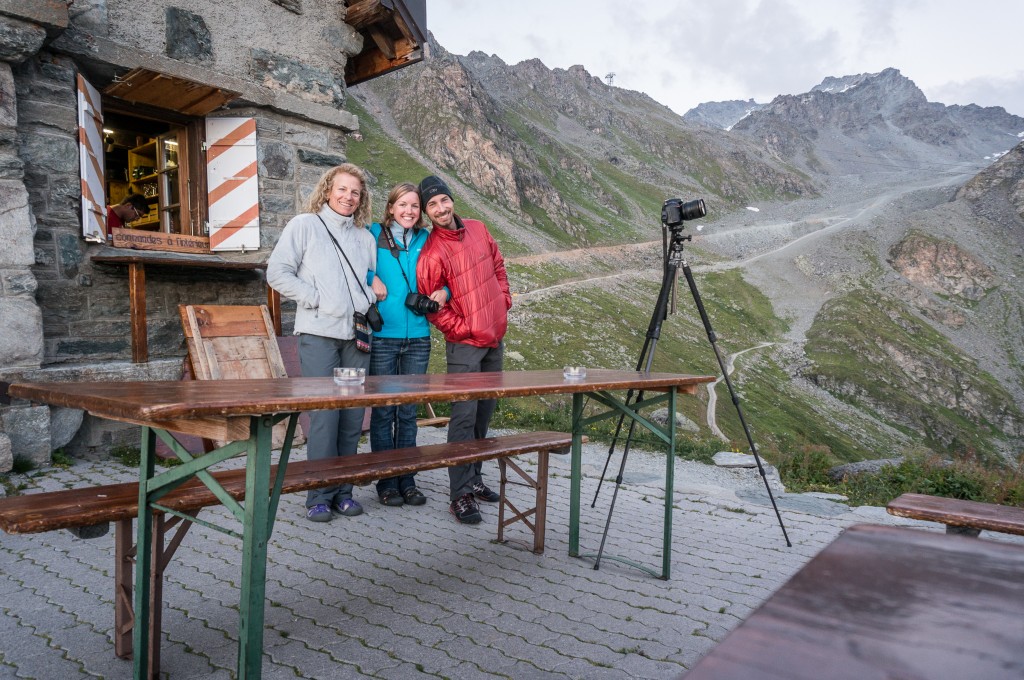 I also took the extra time to try both some long exposure photography as well as some night photography of the hut.
Note: The huts are generally dorm style. At Mont Fort, rooms had 4 bunks and we shared with Kathy and Val. Showers here are coin operated, but there is plenty of hot water and you can stop the water flow (and the timer) to extend your shower while you lather up.
Total distance:
8.86 mi
Max elevation:
8077 ft
Min elevation:
2684 ft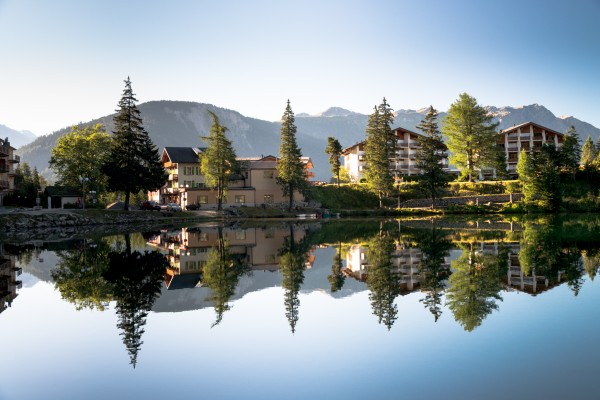 The day from Champex Lac to Le Châble is probably the easiest day of the route with mostly elevation loss as you descend to the valley. The only elevation gain comes at the end of the day as you make your way gently up to Le Châble. That said, it's still a sufficiently long and tiring day and hikers shouldn't mentally underestimate the walk.
Our entire crew had made previous arrangements to meet up with Rich in the morning at the far end of the lake so we all set out together, grabbed cash from the ATM machine, and set off to meet Rich who was patiently waiting in the crisp morning air.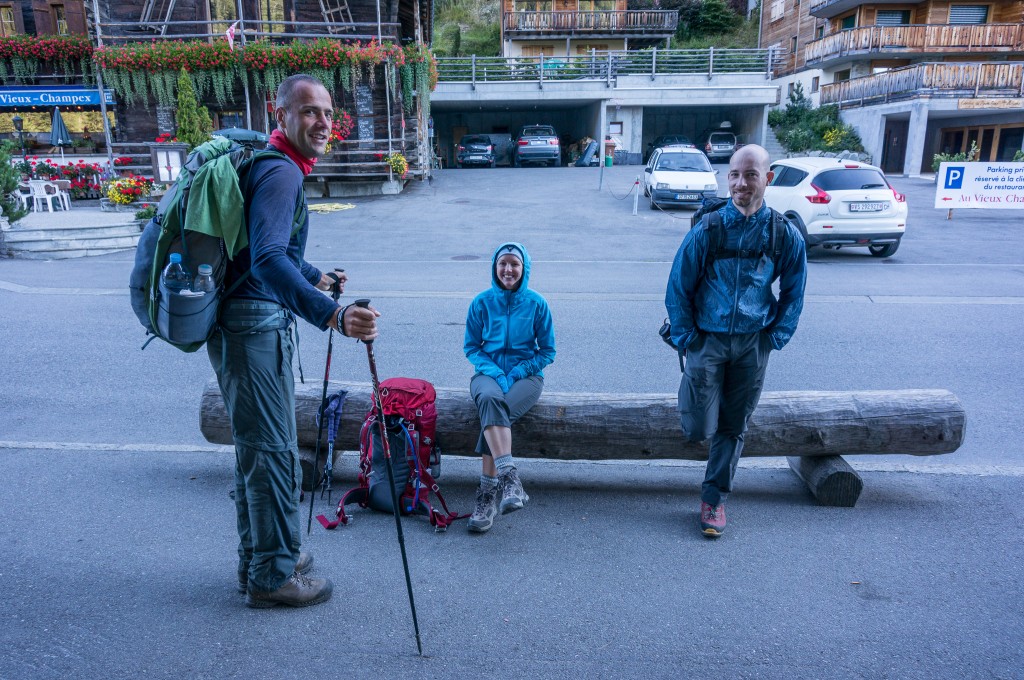 We were surprised as we walked past the lake how the valley opened up to reveal a much better view than we had expected and showed just how high above the valley floor we actually were. We took in the awesome views and the warmth of the sun as we dropped down a grass covered two-track path leading towards Sembrancher at a healthy grade. This path opens at various places, providing nice views over bucolic farmland.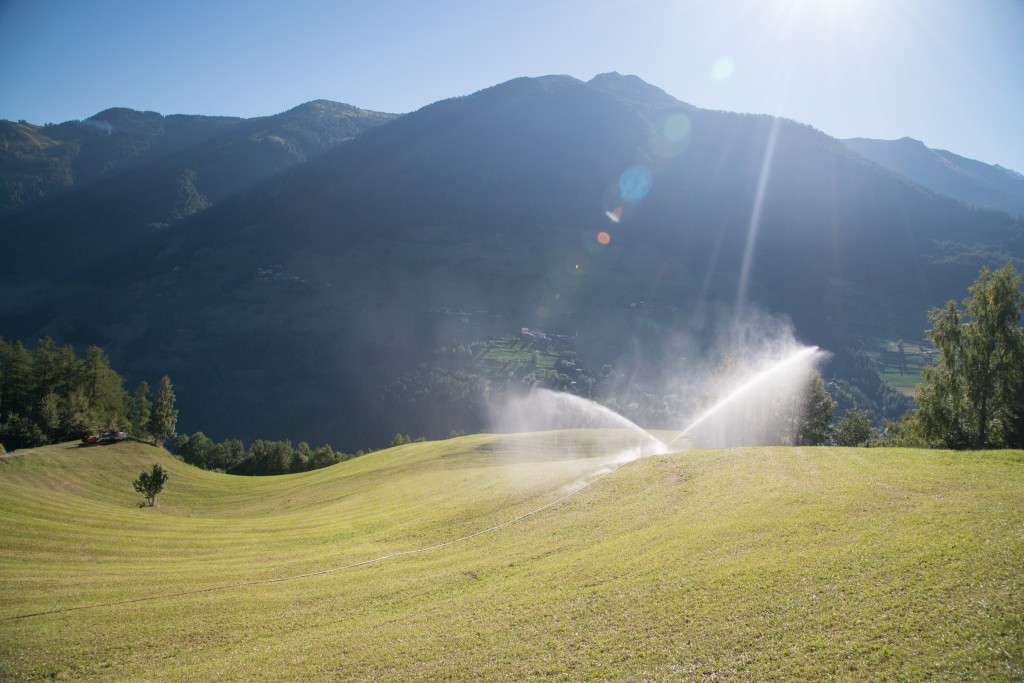 Along the way we ran into various pastures where cows rested and ate grass. Unlike their North American counterparts, these cows didn't seem shy in the least. In fact, they were more than happy to walk up and engage with people. They even loved being petted!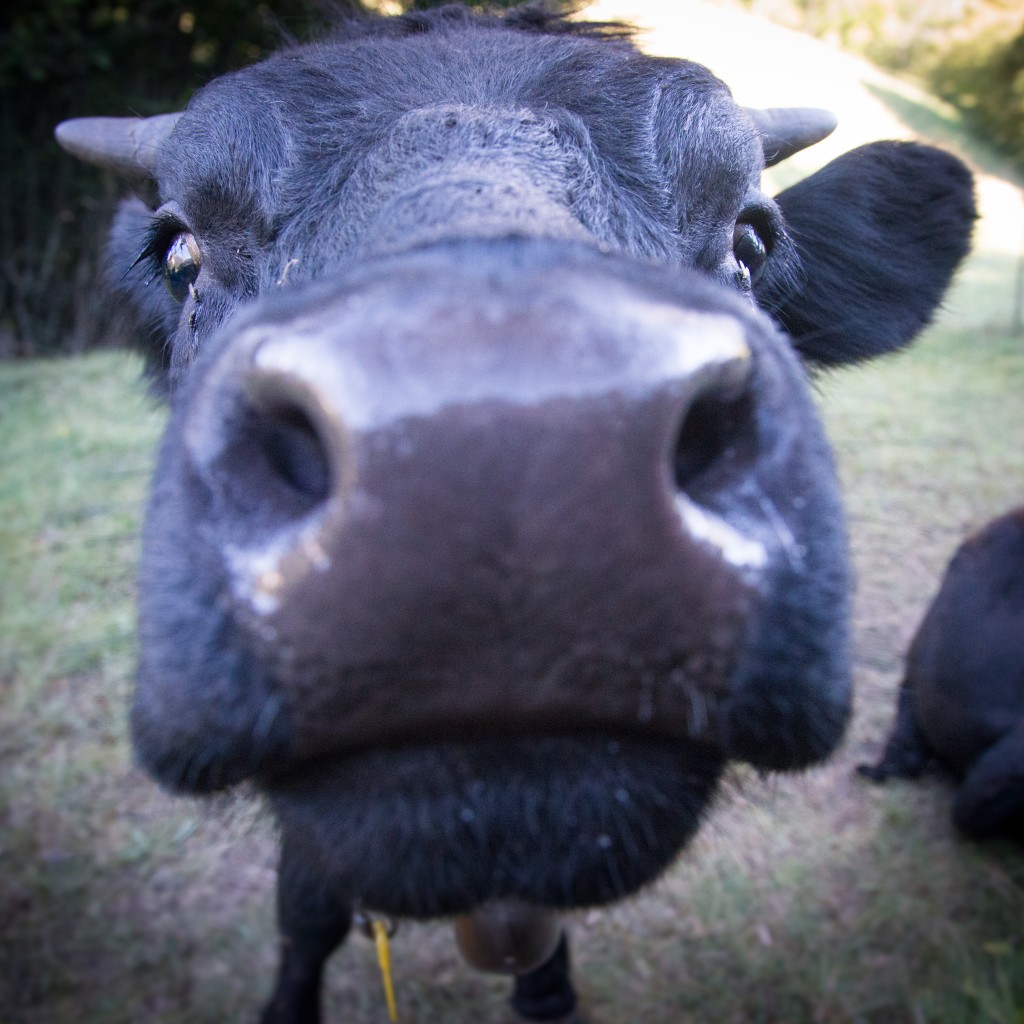 We'd expected to eat in Sembrancher but our short foray into town didn't turn up much in the way of small cafes, eateries, or ATM machines so we continued our walk out of town and towards Le Châble with only a small snack. From Sembrancher the trail to Le Châble leads out of town into farmland before veering right and climbing rather steeply up the side of the valley. This path then drops back down to the river and follows it closely on a shaded road before coming to a major street where you can make out the chapel spire in the center of Le Châble.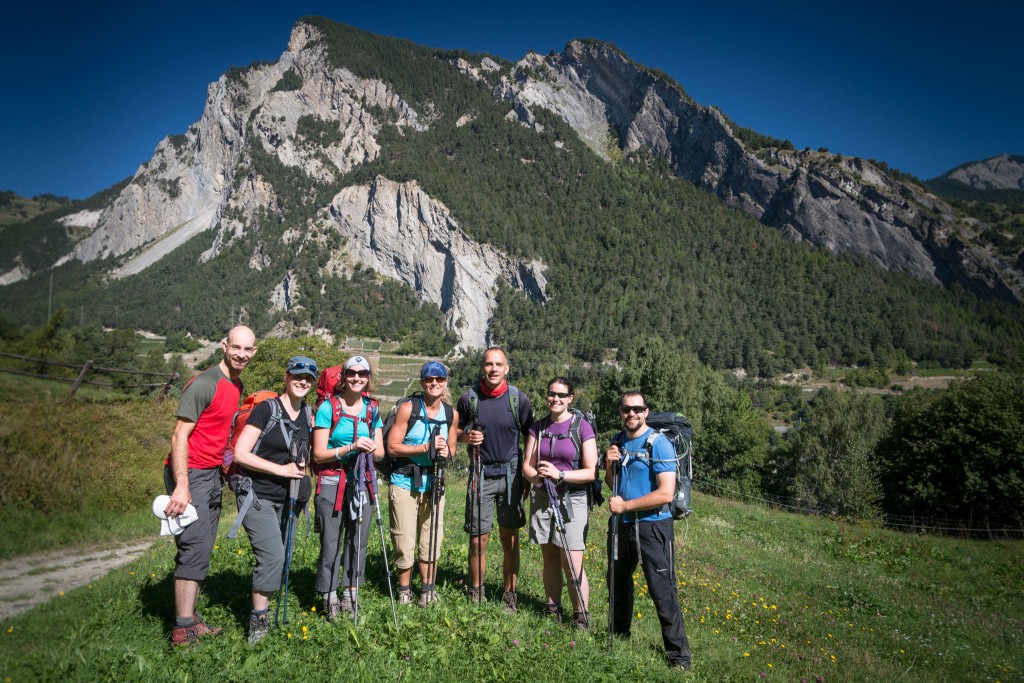 We'd called ahead the night before for accommodations, but our hotel had apparently over-booked so we were redirected to the Hotel Les Jietroz. We weren't initially happy with the move, but our room turned out to be spacious, comfortable, quiet, and even had a four post bed!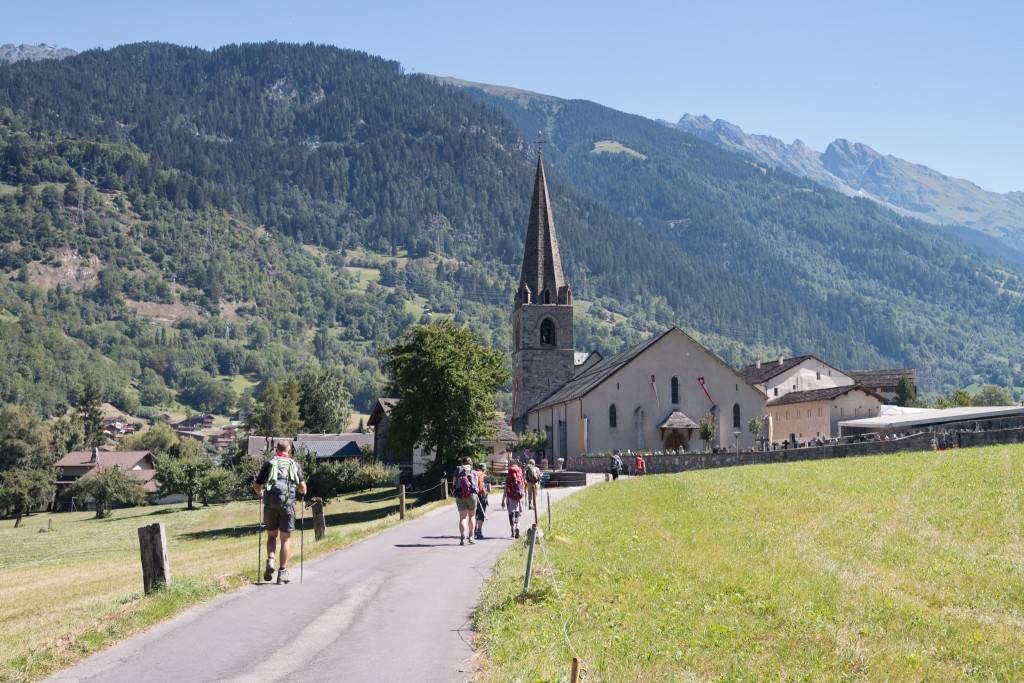 Having made good time that morning, we had the better part of the afternoon to wander around town, take pictures, and catch up on washing clothing before meeting our friends for dinner.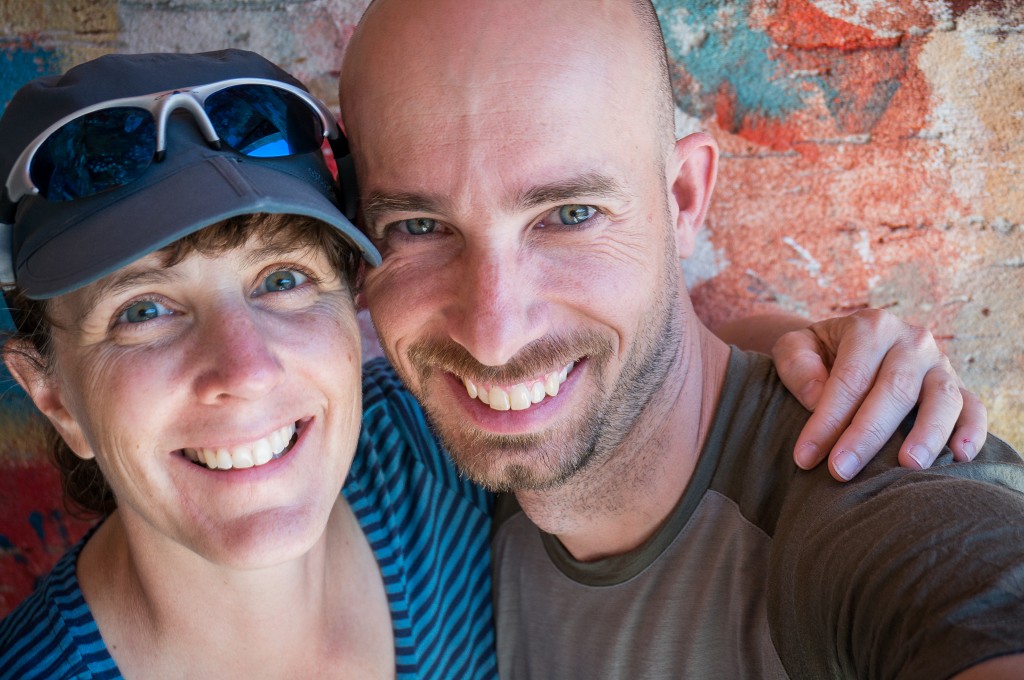 Dinner itself was a boisterous affair. We talked loudly over beers and Anne even managed to convince several of our travelling companions to try beef tartare! All in all, we had a blast.
Note: The ATM in Le Châble is the last ATM we were able to access until we got to Zinal. If you're planning on paying cash at the huts or hotels, please plan accordingly. We also took the opportunity to stock up on provisions since the next two days would be at huts, we purchased three days' worth of lunch supplies.
Total distance:
10.6 mi
Max elevation:
4892 ft
Min elevation:
2343 ft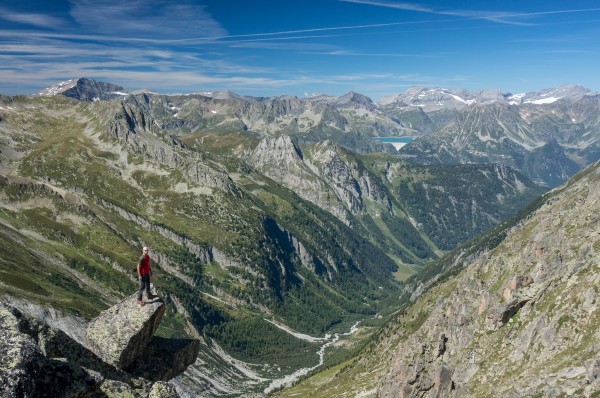 Since we knew we had a big day ahead of us we got an early start. The first part of the path follows an old bisse waterway, which means the path has an almost level grade. The bisse is still there and at various places runs through elevated wooden channels.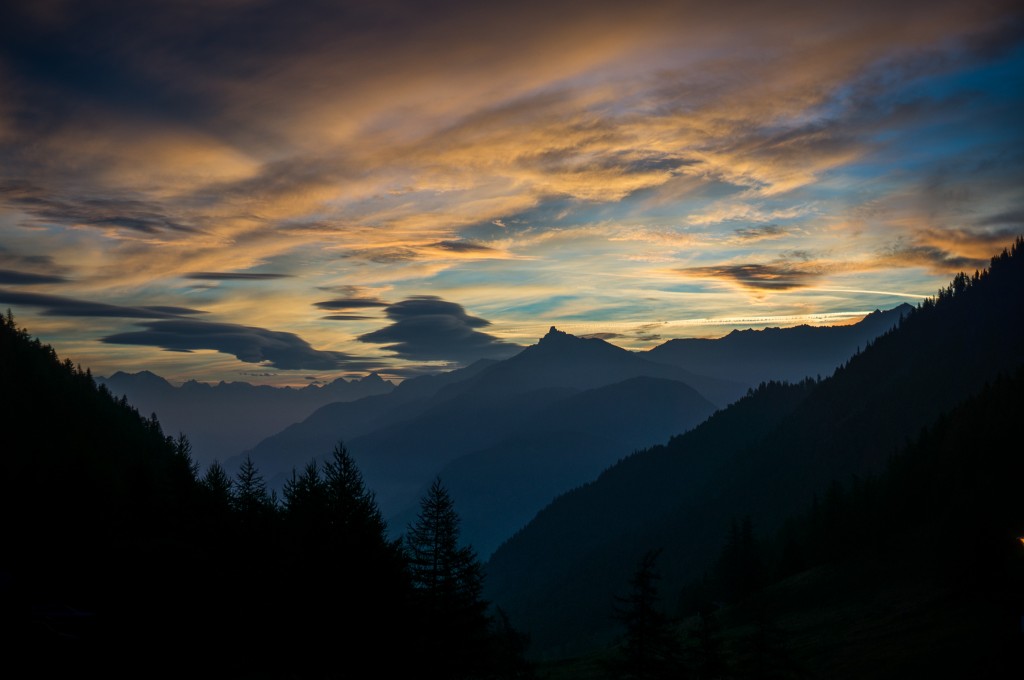 We reached the Château du Glacier hut in good time and were soon gaining elevation over the valley in a steep but pleasant climb that opened spectacular views over the Trient glacier. Because we'd left early the trail was still in the shade until we'd gained over half our elevation for the day — a welcome relief from the heat.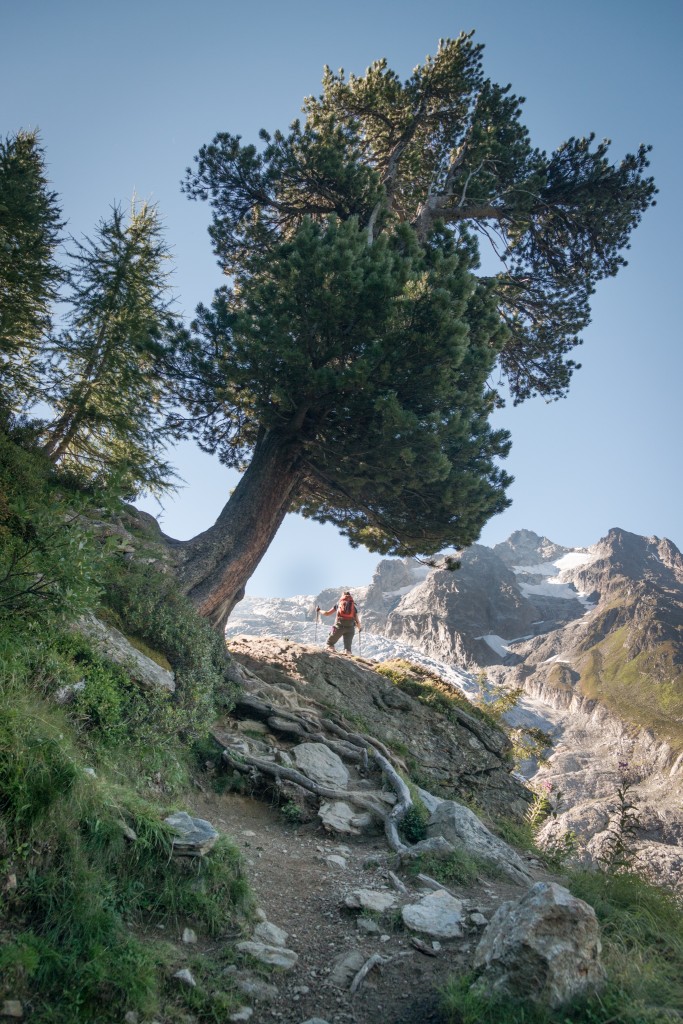 We took a quick snack break at an old shack where Kathy, Val, Rich, and Martijn caught up to us and provided lively banter. It's pretty hard to understate the views looking back into the valley and over the glacier. I took a lot of pictures as well as some panoramas to try and capture just how awesome the place is.
The final pitch to the Fenêtre goes up a rather rocky and unstable scree slope. We'd had rocks come down the hill at us from unaware hikers above and the loose rock makes the last pitch dodgy. As we finally crested out at the col, we found that we were anything but alone with as many as 40 people lunching and resting. It was far from the wilderness experience Anne recalled from her previous visit here while walking around Mont Blanc ten years before.
The path down to Arpette and Champex Lac was generally pleasant. The initial descent from the Fenêtre was again steep and scree filled, and was most likely an even worse ascent than what we'd done earlier. Otherwise, it was a nice path along the valley side overlooking remnant lateral moraines.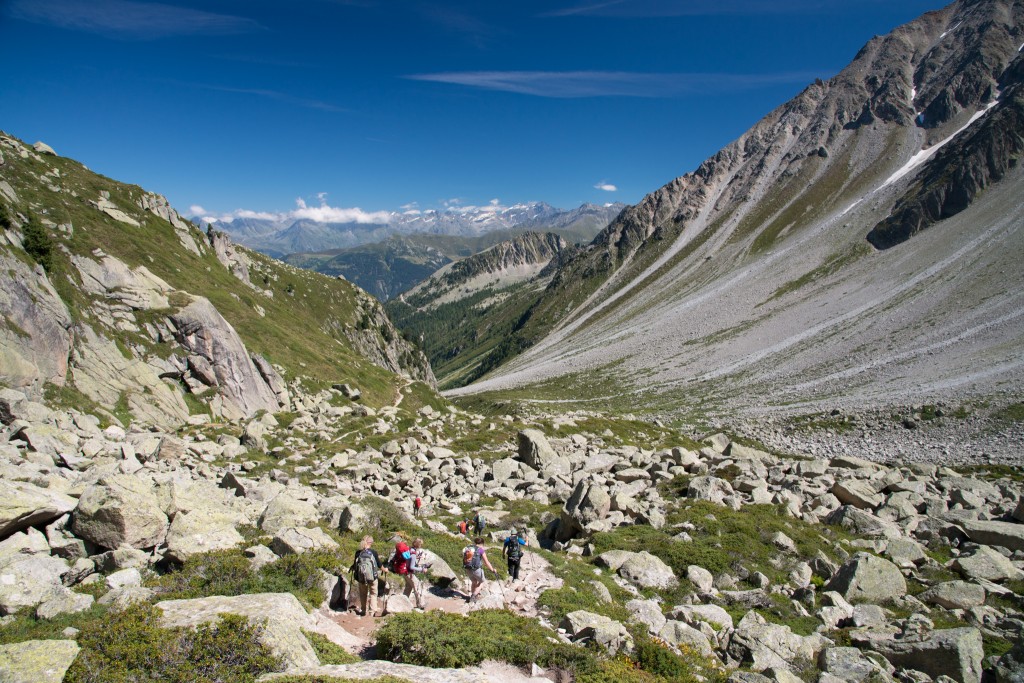 We stopped for beer at the small lodge in Arpette before continuing down to Champex Lac where we stayed for the night at the Pension en Plein Air. Kathy, Val, and Martijn stayed at the same hotel we did, and so we made plans with Rich (who was staying at the far end of the lake) to meet later for dinner. Anne and I cleaned up and then walked along the lake, taking in the last of the sunlight before it dipped behind the mountain, before heading back to a wonderful dinner with our new friends.
A couple notes here for would be travelers:
1) On the path from Arpette to Champex. According to the book "on coming to a bridge cross over, then go right on a footpath… Recross the stream and soon after bear left when the path forks." The bridge is a road crossing with the footpath following the course of the river just on the opposite side. The left fork diverts down towards the steam, leaving what looks to be the more well-traveled path.
2) There is an ATM in Champex Lac.
Total distance:
10.58 mi
Max elevation:
8763 ft
Min elevation:
4957 ft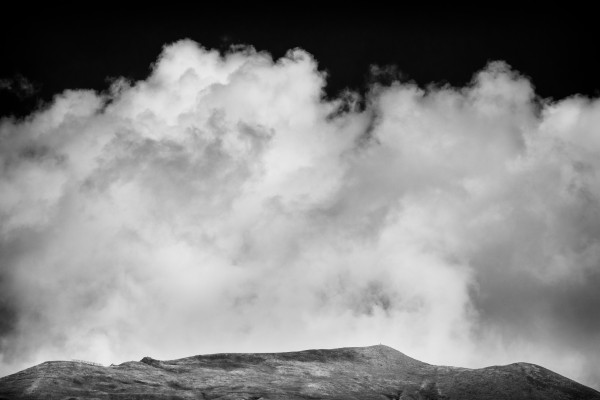 It's hard not to feel a little trepidation on the first day of a long, multi-day hike and the start of this day was no different. Anne had done part of this route previously as part of the TMB but I'd never been in this area of France before and had never visited Switzerland. We woke to a crisp but cloud free morning. The Gite served a filling breakfast and I helped myself to more than a single sitting knowing that there would be a lot of hiking ahead.
As we headed out of Argentière we grabbed some fresh bread and cheese for lunch. These shops open around 8am (some earlier) so it was perfect for us as we headed out of town. Our route for the day left from Argentière, crossed to the south side of the valley, and then made its way along a shady forested path up the valley to Le Tour, then climbed up and over the Col de Balme, and finally down into Trient. Along the way, we met many runners participating in the 300km La Petite Trotte à Léon. As each runner approached, we stepped aside and started clapping to help encourage them along their way.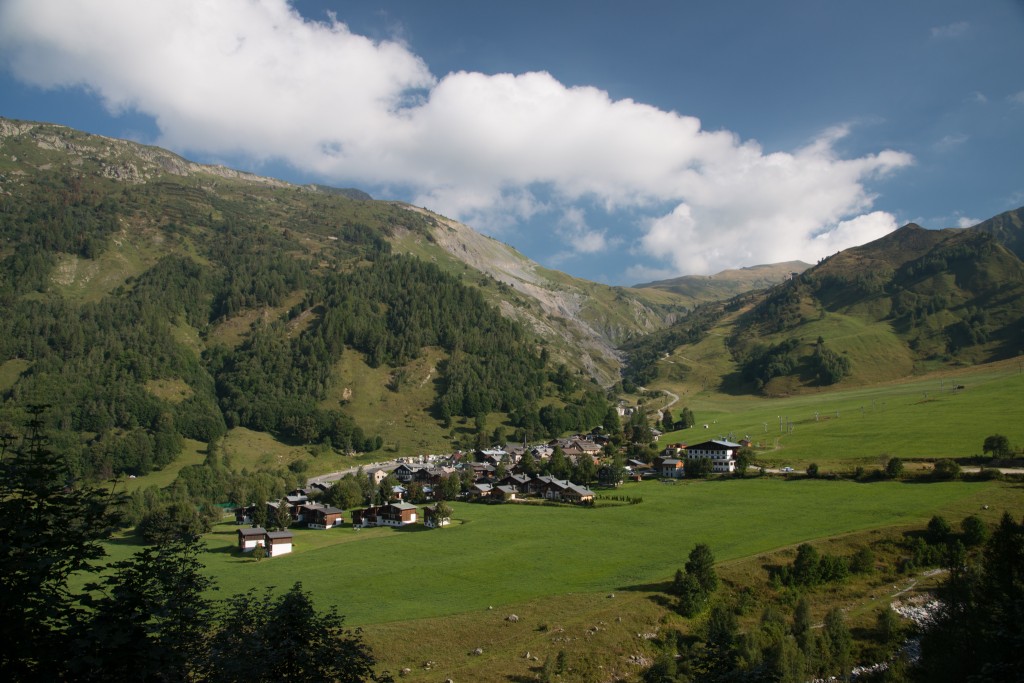 Our path took us quickly to Le Tour, where we bypassed the gondola and started the long walk up to the Col de Balme. The path up to the Col de Balme isn't a wilderness experience, you're accompanied by either a gondola or lifts and flanked by mountain bike trails. But the scenery is impressive, lined on either sides by alpine valleys, mountain walls, and always the imposing massif of Mont Blanc behind.
Col de Balme sits on the border between France and Switzerland with a small hut that serves meals if you're inclined. Anne and I had prepared cheese and bread for what would become a standard lunch and we made our own picnic on the side of the hut out of the wind.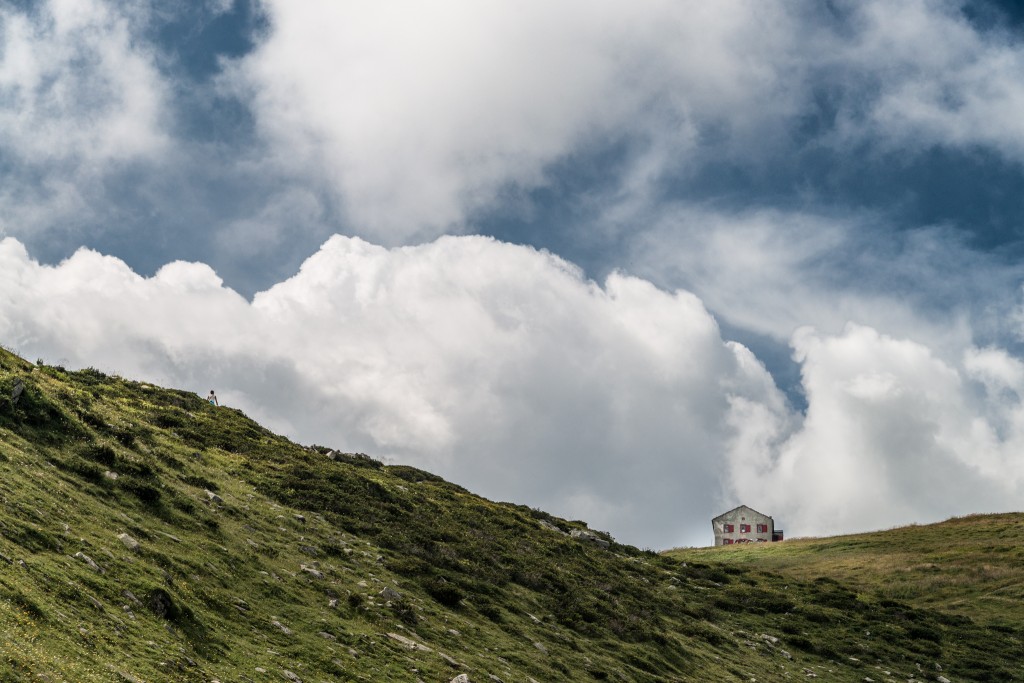 From Col de Balme there were a couple options for descending to Trient/Col de la Forclaz. The direct route heads down the valley towards Trient, starting with a gentle descent followed by more radical switchbacks in the woods. The other path follows the contour of the mountain and, based on the description in the book, provides a relatively stunning overlook to the Trient glacier. Anne and I decided that we didn't want the extra distance or elevation the more scenic path might provide knowing that we had a tough day up the Fenêtre d'Arpette. The guide book described the more scenic path as the steeper of the two, but I'm not sure how it could have been any steeper than what we hiked! We used our poles liberally and were glad when the path mercifully met the valley floor.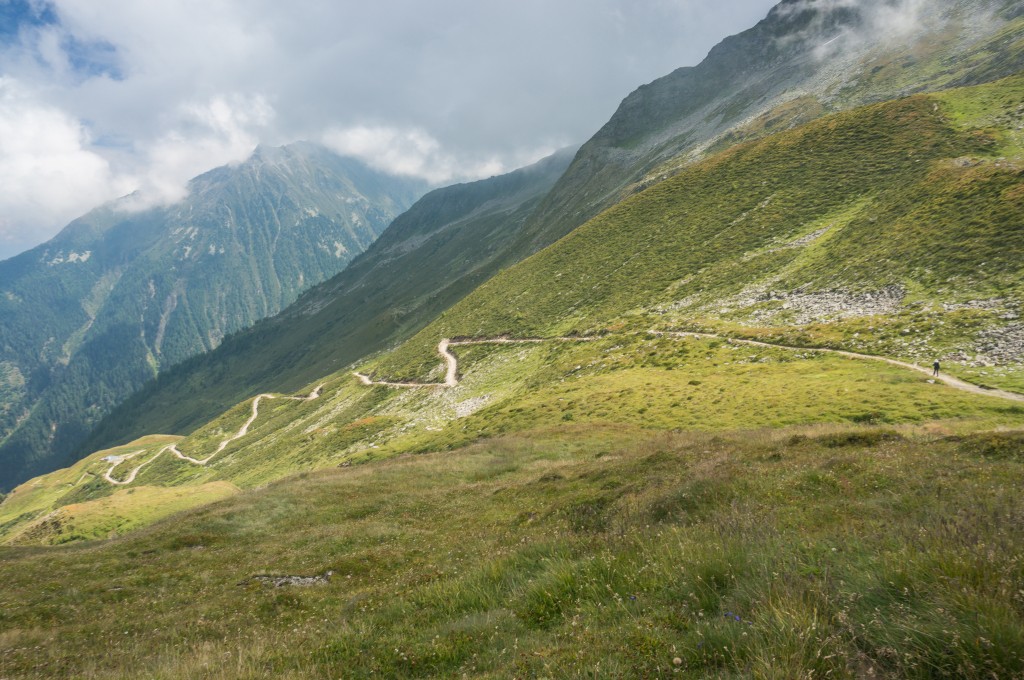 (photo by Anne Archambault)
While our lodging that night had been planned ahead for Trient, we changed our plans as we made our way down the path so that we would instead stay at the Hotel De La Forclaz. This turned out to be a great trade-off since we had no problems getting a room that night (we'd asked hikers on the way up how full the hotel was the night before), we lessened our elevation gain for the next day, and we cut out time for the next day's hike as well. For would be trekkers, this is certainly the way to go.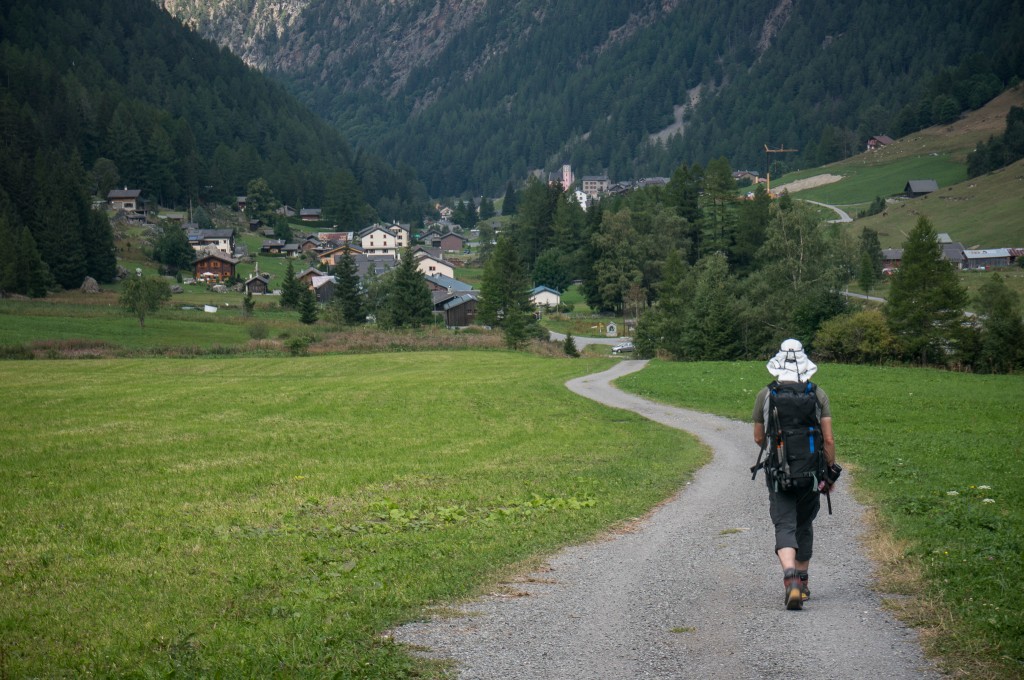 (photo by Anne Archambault)
Our decision was rewarded that night with a room, a comfortable bed, and generous helpings of food. As it turned out, the decision to stay at the Hotel de la Forclaz was also fortuitous in that it allowed us to meet the people who would the next day become our steadfast hiking companions for the rest of the trip: Rich, Val, Kathy, and Martijn. There we also met Neil and Fiona who had teamed up with Rich, Val, Kathy, and Martijn and who we would hike with the next two days until they jumped ahead a day at Le Châble.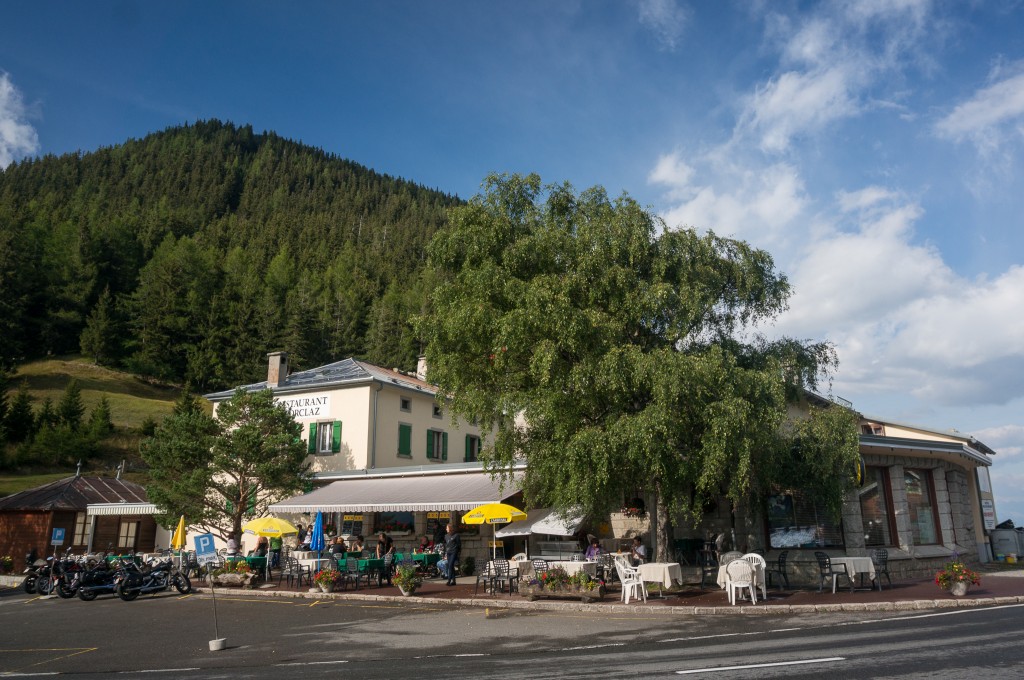 Note: There aren't good lunch options available at Col De La Forclaz. There is a small market across the street that sells some cheese (as of Sept 2013) and cured meats. We "borrowed" some food (banana, bread, nutella) from the hotel breakfast to round out our lunch. Hence, it may be worthwhile to pick up two days' worth of lunch supplies in Argentière.
Total distance:
10.97 mi
Max elevation:
7270 ft
Min elevation:
4068 ft
Anne and I flew into Geneva and took the ChamExpress shuttle to Argentière where we had reserved a room at the Gite Le Belvedere. Since Anne had previously done the Tour Du Mont Blanc, she'd already walked the leg between Chamonix and Argentière so we decided that we'd skip that leg in favor of taking the day to further adjust to the time change, and generally just enjoy the sights.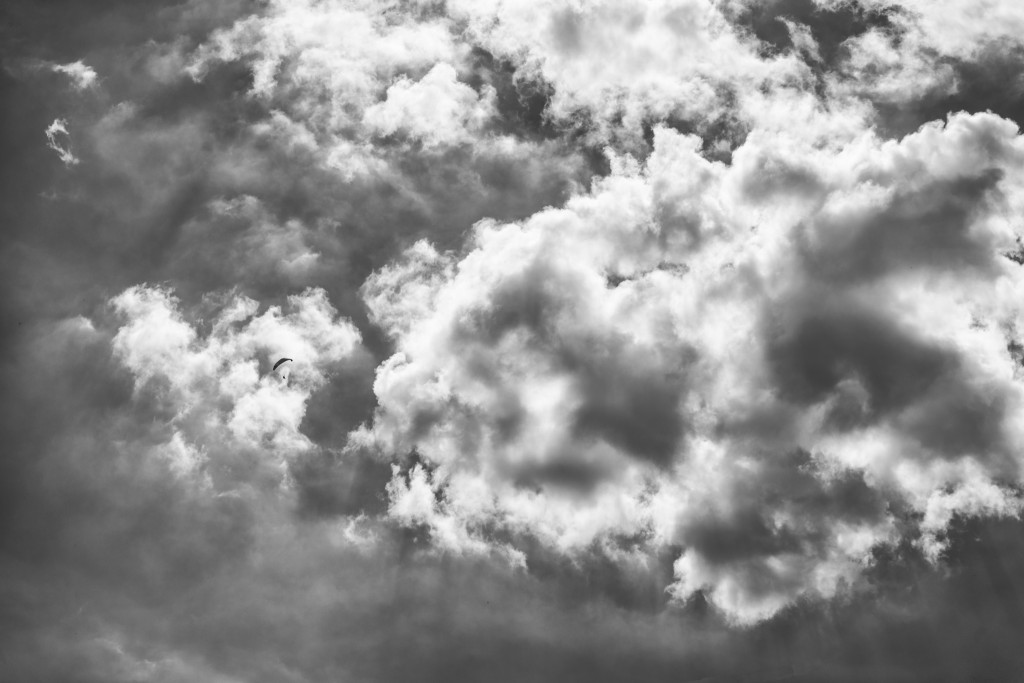 Chamonix is a beautiful area with the very impressive Mont Blanc massif rising steeply over town and dominating the skyline. Our trip overlapped with the tour Du Mont Blanc ultra-marathon, so town was bursting with people and activity.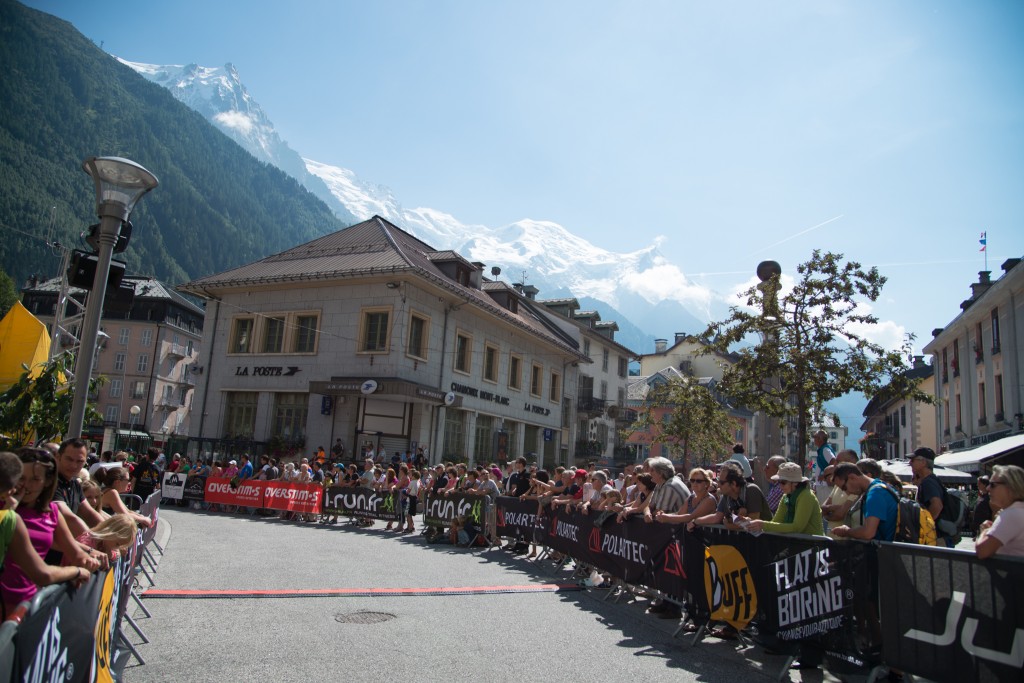 We mulled around town and took in the sights. At lunch we bumped into another couple from Washington State who were doing a short section of the TMB.  It's always a little humbling to be halfway around the world from home and bump into people from your home state or town.
To help us stay awake, we also grabbed an afternoon coffee and snack while watching some of the marathoners run the final few hundred meters of their 120km journey. For me, it was a little surreal to sit drinking coffee and eating macaroons while watching people who has just circumnavigated Mont Blanc in a day run by.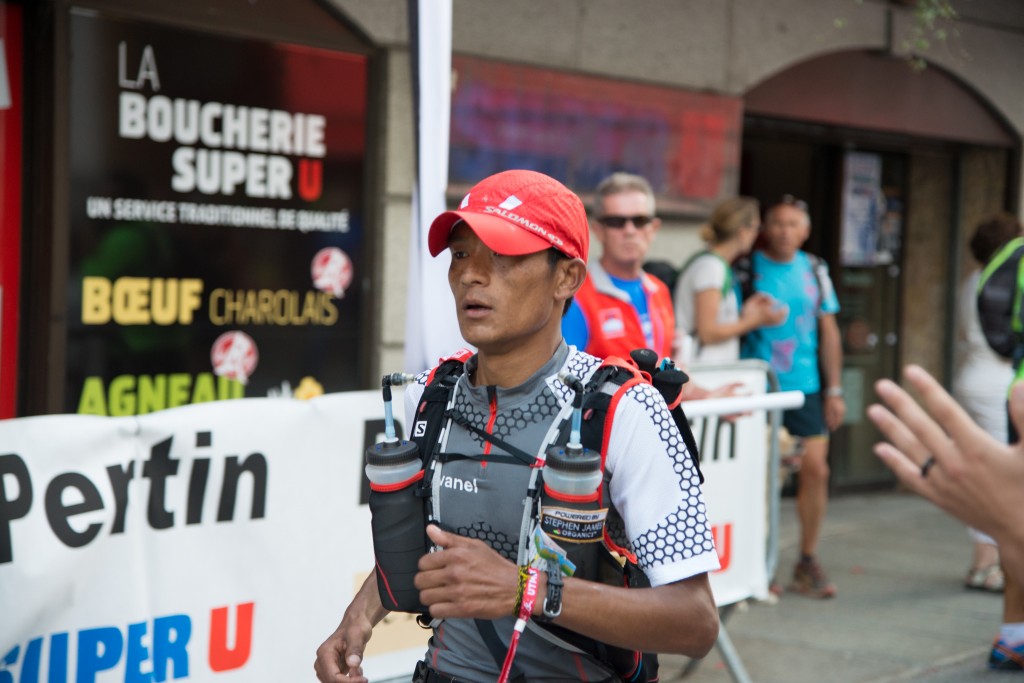 Anne and I did attempt to take a gondola trip up the Aiguille du midi but the gondola had stopped running for the day. I was a little bummed, knowing that I probably won't get an opportunity to do that trip for a long time to come. But it may have worked out for the best because prices are steep and the late afternoon clouds were starting to roll in.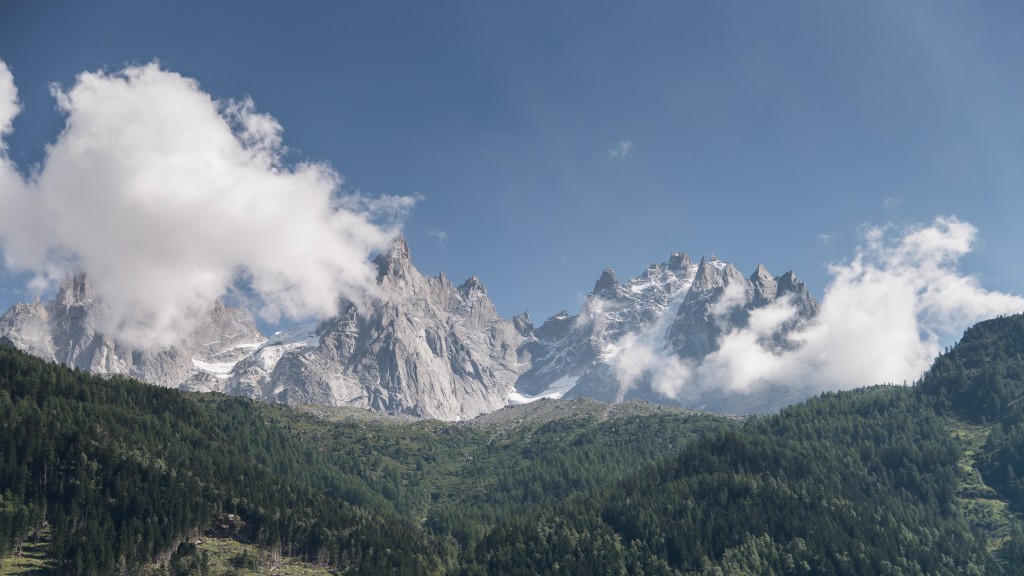 We settled for just heading back to the hotel and resting, still trying to recover from our jetlag and preparing for the start of our trek the next morning. The Gite does provide passes to local transportation, including bus passes as well as rail so it was easy for us to move back and forth between Chamonix and Argentière. Our room was relatively humble, a double bed that didn't come with bedding or towels for the shared bathroom and a sink that allowed us to fill water bottles and wash hands and faces.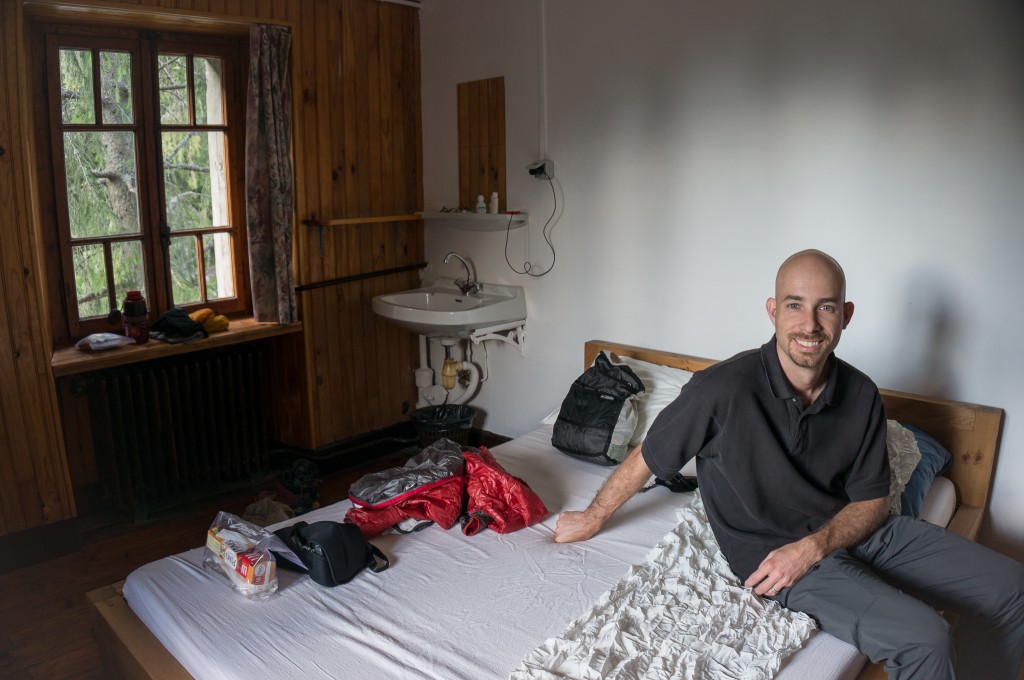 What the Gite didn't provide in comfort it made up for in hospitality as the hosts were friendly and accommodating, helping us work out the bus schedule as well as ensuring that we had plenty of food at both dinner and breakfast the next morning.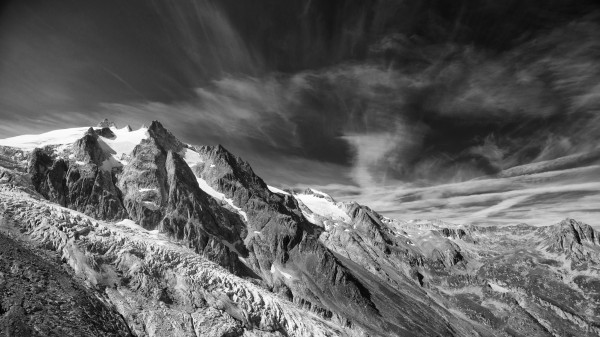 Anne and I recently completed the Walker's Haute Route in the Swiss Alps. It was a fantastic hike and was filled with spectacular views, wonderful villages, awesome food, and some new friendships along the way. Unlike hiking in the Washington's North Cascades, hiking in the Swiss Alps offers the ability to overnight from village to village. This allows you to travel light while still enjoying comfortable overnight accommodation and great food.
The Route – An Overview
While the route is certainly challenging, it's not overly hard and certainly those who are in good physical shape and have moderate hiking experience should have little difficulty if they take their time. There are also plenty of opportunities to take lifts or busses that allow you to significantly reduce the daily burden. We chose to walk the entire route starting in Argentière and avoided motorized transportation so that we'd feel the accomplishment of having completed the route using only human power.
There are at least a couple books that describe the route in detail. The book we relied on, as most others we hiked with, was the Chamonix to Zermatt Walker Haute Route (Cicerone Press) book by Kev Reynolds. The book details each stage and provides alternates for some of the stages. Note that 12 days is probably a minimum unless you want to rush. A couple more days would have allowed a rest day along the way and an overnight detour to the Hotel Weisshorn after Zinal.
Hikers should also be aware that while the route descriptions in the book are accurate, the distance and gain/loss measurements are not. Gain/loss measurements are taken at various waypoints and gain/loss is measured as a difference between those points rather than as an accurate reflection of terrain. Indeed, there are many accounts of this in various blog posts.
Our own GPS data shows that we traveled about 127 miles and gained around 42,000 feet of elevation. We lost almost as much, descending some 40,000 feet. All told, on average we did about 2.1 more miles each day than the book suggested and gained about 645 feet more elevation each day than suggested, with some days gain being off by as much as 1200 vertical feet!
For the data junkies, this all lays out as follows:
Also of interest is the route track and elevation profile, starting in Argentière and ending with the steady walk up the valley to Zermatt. With this view it's easy to see the general nature of the hike, starting in villages each morning, climbing up to a pass, and then going back down to a village. The large elevation gain starting at mile 30 is the hike from Le Châble to Mont Fort:
Total distance:
122.76 mi
Max elevation:
9826 ft
Min elevation:
2346 ft
Good Friends and Travel Companions
Anne and I had planned the trip as an independent hike for the two of us. This is easy to do and the book provides all the information would be trekkers need to hike alone. But one of the unexpected joys of long distance hiking is the friendships that happen along the way. This happened for us, but to a much lesser extent, several years ago when we trekked to Everest Base camp. For the Haute Route, the friendships we developed along the way were even stronger because the route is relatively fixed and the pace is fairly constant. This gives people lots of time to form bonds along the trail. It also takes a certain type of person to hike a long distance trail, which provides an additional bond.
So while our trip started out as a trip for the two of us, it very quickly became a group affair. We met our travel companions our first night at Hotel de la Forclaz and overheard them as they talked about their hike. When we figured out that they were doing the same trek we were, we introduced ourselves. From there, we crossed paths several times on the trail and by the next night we were eating dinner together as a large group. I think this transformed the hike for me into an experience that was much richer than what it would have been if we'd done it alone.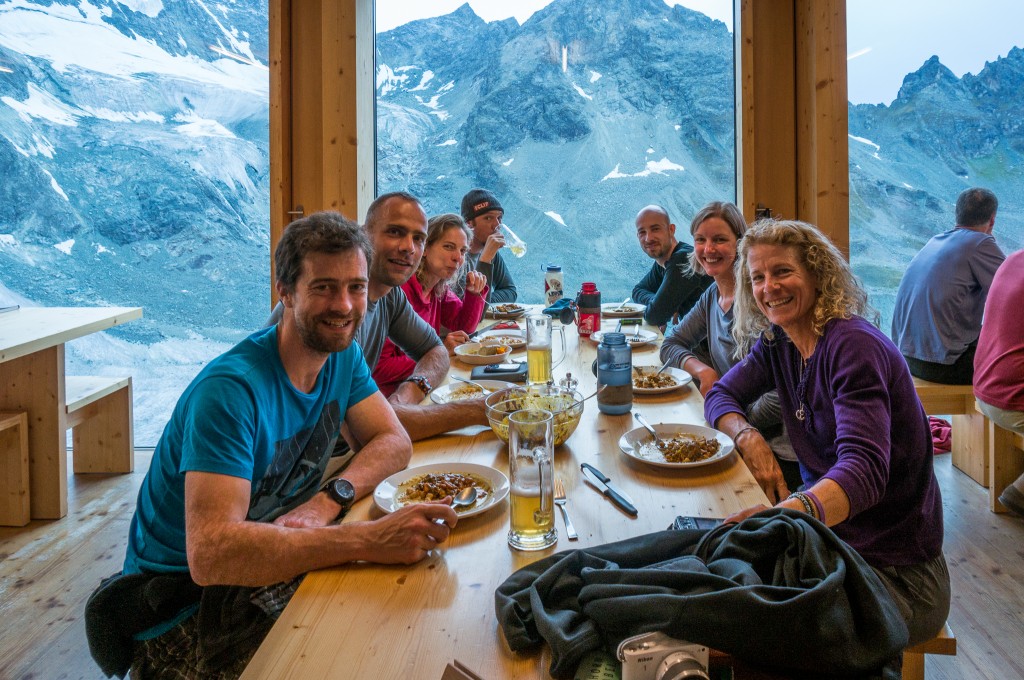 Our group was actually several groups that overlapped at various portions of the trip. Kathy, Val, Rich, Martijn, Anne, and myself formed what I'd consider to be the start to finish core of the group. Neil and Fiona were also with us during the first 3 days of the trek but soon skipped a day ahead. We met  Brian, Denise, Aliza, Paul, and Clare on the fourth day and Gareth on the fifth day. Paul and Clare fell behind a day after Arolla (they were carrying full loads with tents, sleeping bags, and cooking supplies). Aliza took a rest day and fell behind a day after Zinal. Anne and I parted with the rest of the group at St. Niklaus choosing to walk up the valley instead of continuing on the Europa Weg.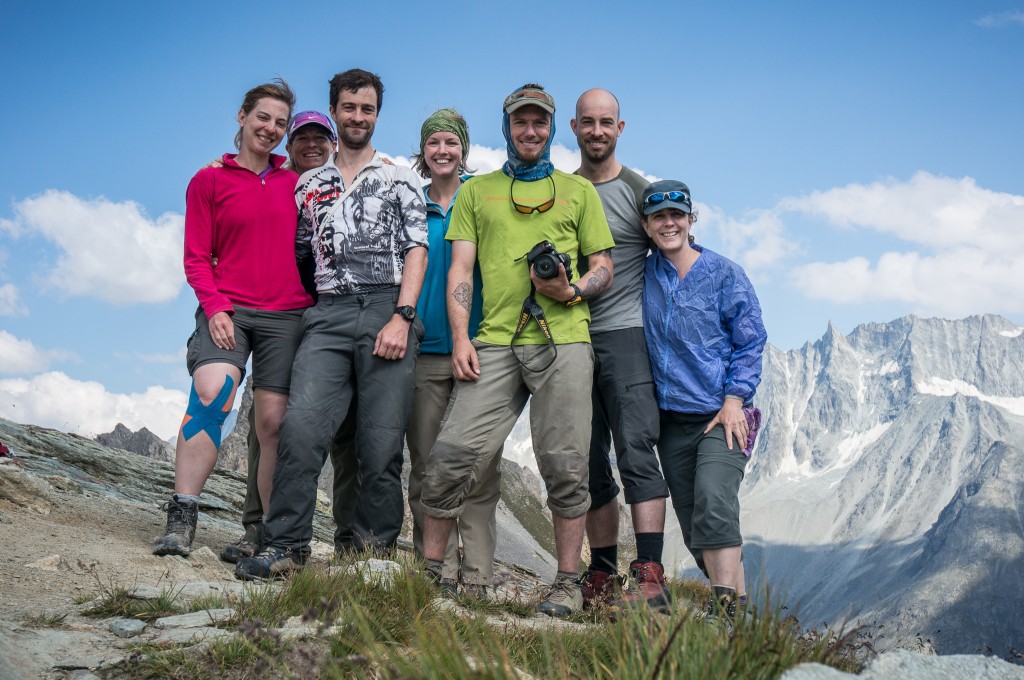 Our friends made the hike a much more rewarding experience. We shared the trials and tribulations of the day with them, we helped each other out and encouraged each other when we were feeling tired or sore. We ate, drank, and even partied together at a disco in Zermatt. When we parted for the last time, we were sad to leave people who felt like they'd become an integral part of our lives.
Equipment and Packing
Anne and I each carried a backpack and no more. Some of our friends were able to send bags or equipment forward from Chamonix to Zermatt. If you do plan to do this, we heard that the train offers an excellent and cheap option in comparison to the post and is certainly something to be investigated.
We both strived to carry as little as possible, though I opted to carry a DSLR, an extra lens, and tripod which added about 8-10 pounds. All told, my pack weight without water or extra food was 26.2 pounds.
To be on the safe side, we packed our poles, pocket knife, and first aid kit in a cardboard box and checked it with the airline to ensure we didn't have any problems with security either here in the States or during our layover in Amsterdam. We carried the rest onboard as a carry on. I carried one of the ultralight REI Flash backpacks that we used as a backpack in Amsterdam and Zurich and converted it into a stuff sack during the rest of the trip.
Here's a list of my packed equipment and a video running through it all:
| | | |
| --- | --- | --- |
| Item | Category | Quantity |
| Sun hat | clothes | 1 |
| Handkerchief | clothes | 1 |
| hiking pants | clothes | 1 |
| merino hiking shirts (short sleeve) | clothes | 2 |
| merino hiking socks | clothes | 2 |
| Injinji toe sock liner | clothes | 1 |
| merino thermal bottoms | clothes | 1 |
| merino hiking shirt (long sleeve) | clothes | 1 |
| Merrill minimalist shoes | clothes | 1 |
| camera + 24-120 lens | camera | 1 |
| camera battery | camera | 1 |
| camera charger + cord | camera | 1 |
| tripod + ballhead | camera | 1 |
| wide angle lens | camera | 1 |
| polarizer | camera | 1 |
| remote trigger release | camera | 1 |
| ND Filters + holder | camera | 1 |
| cell phone | elec | 1 |
| cell phone charger | elec | 1 |
| CF memory cards | elec | 8 |
| headphones | elec | 1 |
| outlet adapters | elec | 1 |
| clif shots | food | 2 |
| backpack | gear | 2 |
| blister pads | gear | 6 |
| Nalgene 1 liter bottle | gear | 1 |
| first aid kit | gear | 1 |
| warm hat | gear | 1 |
| gloves | gear | 1 |
| Down jacket | gear | 1 |
| Wind jacket | gear | 1 |
| headlamp | gear | 1 |
| hiking boots | gear | 1 |
| Hiking poles | gear | 1 |
| hiking underwear | gear | 2 |
| moleskin | gear | 1 sheet |
| Small pocket knife with can/bottle opener | gear | 1 |
| Steripen + spare batteries | gear | 1 |
| pack rain cover | gear | 1 |
| pack towel | gear | 1 |
| tent ground sheet | gear | 1 |
| rain coat | gear | 1 |
| rain pants | gear | 1 |
| guide book | gear | 1 |
| sleeping bag liner | gear | 1 |
| sunscreen | gear | 1 |
| One gallon Ziplock bags | gear | 4 |
| passport | misc | 1 |
| sunglasses | misc | 1 |
| wallet | misc | 1 |
| Advil, Tylenol | toiletries | 1 |
| bar soap | toiletries | 1 |
| chap stick | toiletries | 1 |
| deodorant | toiletries | 1 stick |
| ear plugs | toiletries | 2 pair |
| Detergent Bar | toiletries | 1 |
| toothbrush + toothpaste | toiletries | 1 |
Lodging and Costs
Because we also wanted to keep a relatively accurate accounting of our expenses, we also kept records of each place we stayed, the cost, and what was included. These prices are for 2 people.
It's important to note that we only booked accommodations for our first night in Argentière and our second night in Trient in advance. All other lodging was booked along the way. When booking along the way, we generally tried to call ahead to book the next night and ensure we could find a room. This allowed us to keep our schedule flexible. It also allowed us the ability to coordinate with friends we made along the way so that we could stay at the same place.
Up Next
I'll be posting for each day of the trip, including photos, route description, and GPS data. Stay tuned!
Anne and I concluded our trip to Iceland with a day trip to the Snaefellsnes Peninsula. Famously, the Snaefells Volcano is where Jules Verne set his classic "A Journey to the Center of the Earth". Our adventures were somewhat less epic but I think no less fun (and probably easier on the blood pressure).
The peninsula is an easy (albeit long) day trip from Reykjavik and can be done via numerous tour agencies or through a private car rental. Anne and I opted for the car rental option and we made the trip with some friends from the photo tour. Despite the winter weather, we had no problems with the roads or the mountain passes (partially because rental cars in Iceland are equipped with studded tires during the winter).
We set out with several specific targets in mind:
Kirkjufell
 Búðirkirkja
Arnastapi
Lóndrangar Lighthouse
Since we wanted to save Kirkjufell for sunset (and hopefully auroras), we started at Búðirkirkja and worked our way around towards the tip of the peninsula before backtracking and heading over route 54 to Grundarfjörður.
Búðirkirkja
Búðirkirkja is a small church that is notable because of its stark black color. It's a simple structure that juxtaposes well against snow draped Snaefellsjokul.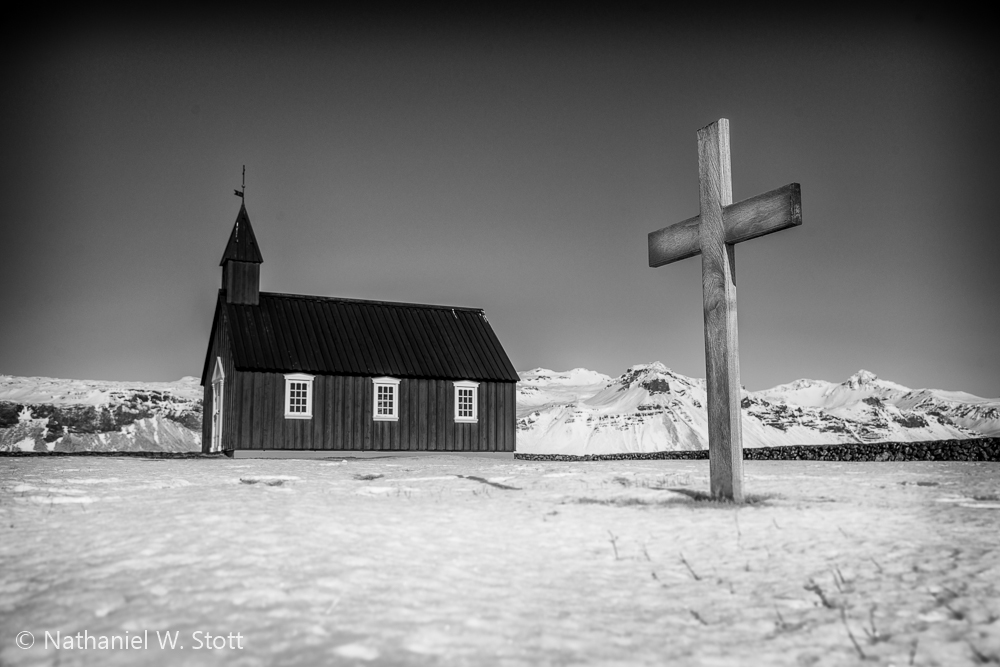 On arrival, we were greeted by a small bus of Japanese tourists. Normally, running into any bus of tourists would not be a cherished event but in this case one of the tour participants had hand crafted a string of kites and was flying them over the church. They invited us to take turns flying the kites.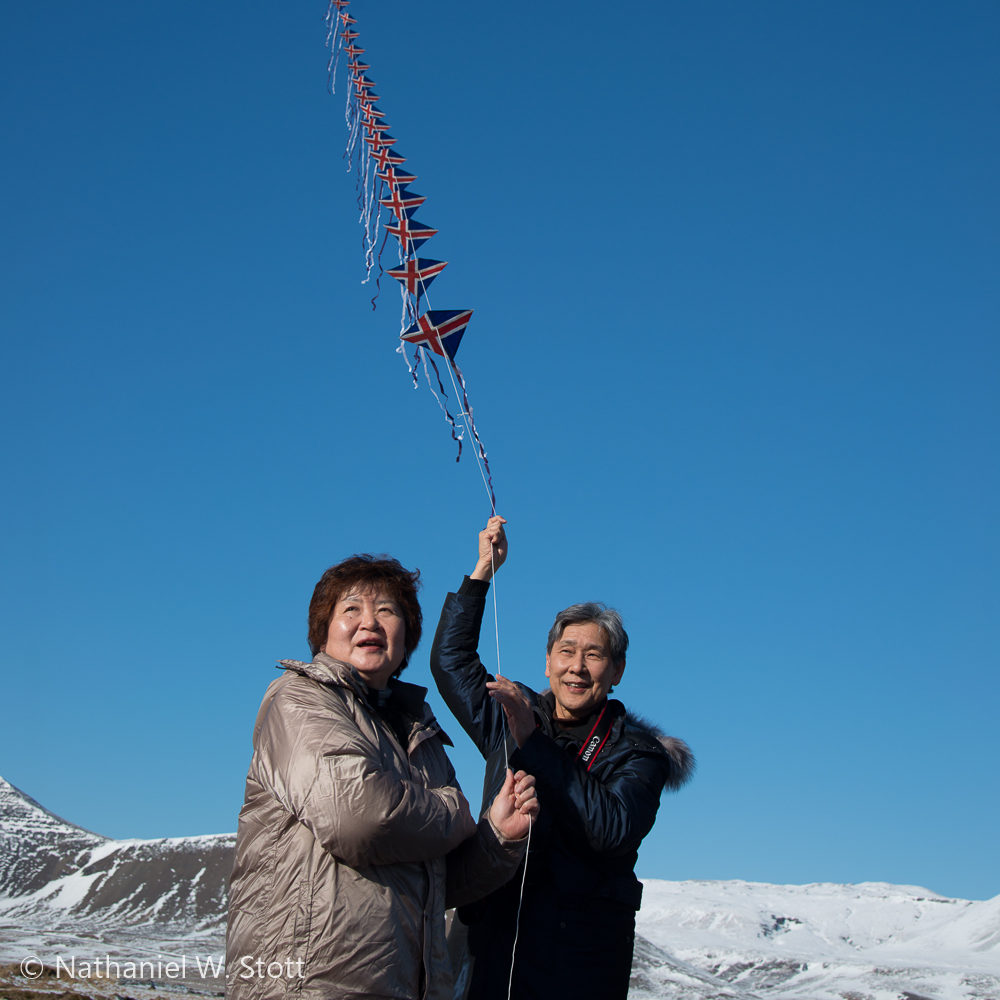 Pictures were taken all around of people flying the string of small kites, each kite with the colors and insignia of the Icelandic flag. It was a unique moment and an absolutely unique event.
Arnastapi
Arnastapi is a small fishing village that has a wonderfully secluded little harbor and a nice walking path around a series of coves. The coves serve as a rookery for nests that line the cliffs with an abundant array of bird life. We sat for a long time watching the mesmerizing aerial dance as fulmars flew about the coves against a backdrop of wonderfully clear blue north Atlantic water.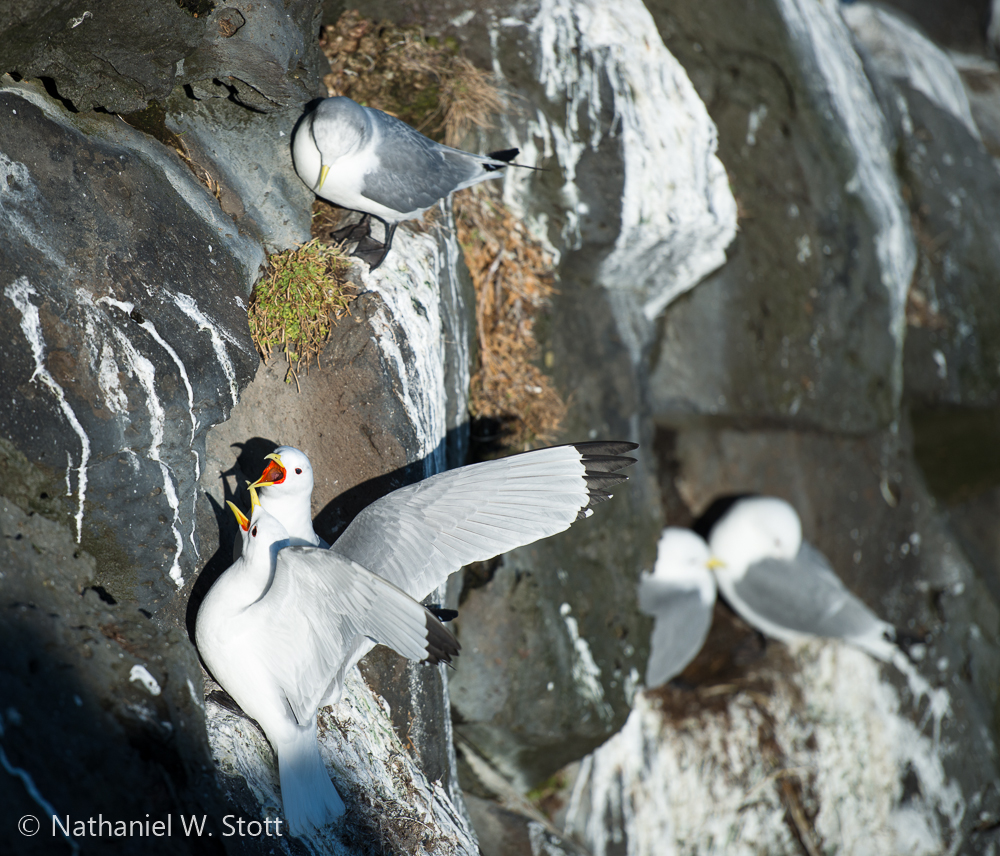 Lóndrangar
Lóndrangar is home to a pair of ancient volcanic basalt plugs that sit just on the coast. There are a couple access points but the "best" drives down to a lighthouse that overlooks an old fishing port. In addition to the sea stacks, the site has several small buildings that are photographically interesting along with beaches and various ocean debris that make for interesting foreground elements.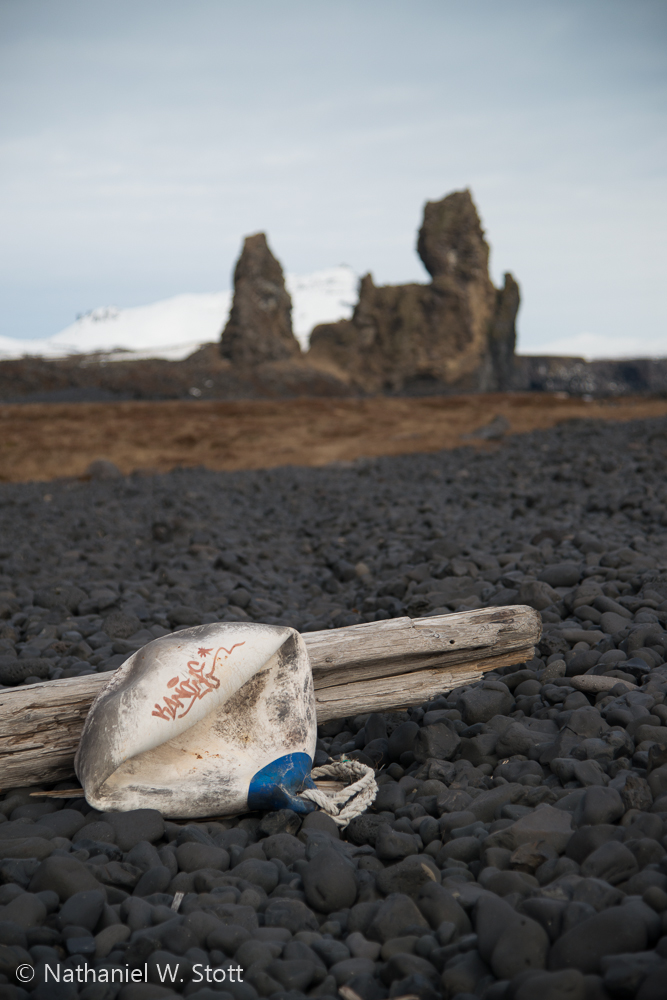 Churches
While not explicitly on our sight list, we also took the opportunity to photograph several additional churches along our route. The simple lines and iconic landscape make these churches hard to pass by without stopping.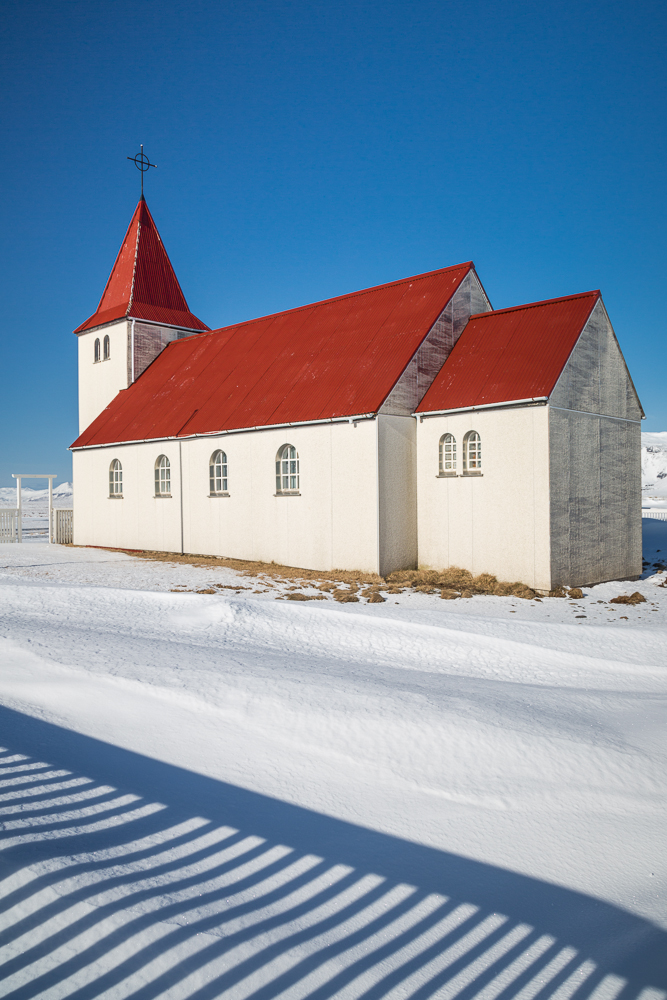 (photo by Anne Archambault)
Kirkjufell
We concluded our tour of the peninsula with a stop at the iconic Kirkjufell Mountain and waterfalls. This vista has rapidly grown in popularity and is now common on photo sites like Flickr. Regardless, we hoped that we'd be able to harness sunset or an aurora and come away with some interesting images.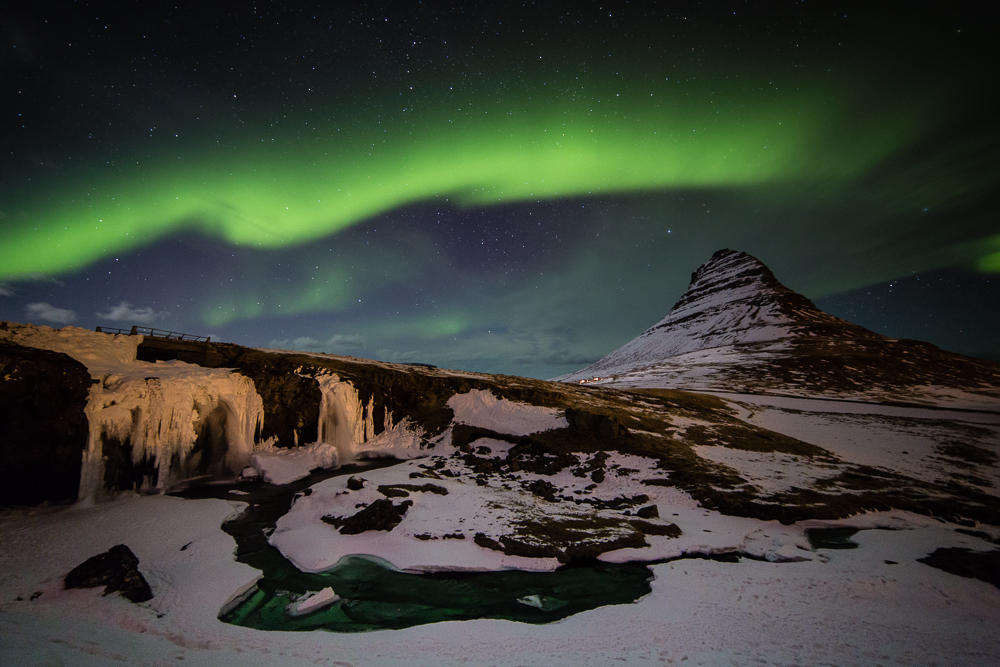 (photo by Anne Archambault)
While we weren't rewarded with a magical sunset, we did manage to catch the aurora as overcast skies parted about an hour after sunset.
Summary
The Snaefellsnes Peninsula was a perfect ending to a great vacation in Iceland. It also allowed us to utilize a lot of what we'd learned during our week along the south coast and apply it to our photography. We were able to spend time with new found friends and see the aurora for one last time over an iconic Icelandic mountain. My only regret for the trip? We didn't spend more time.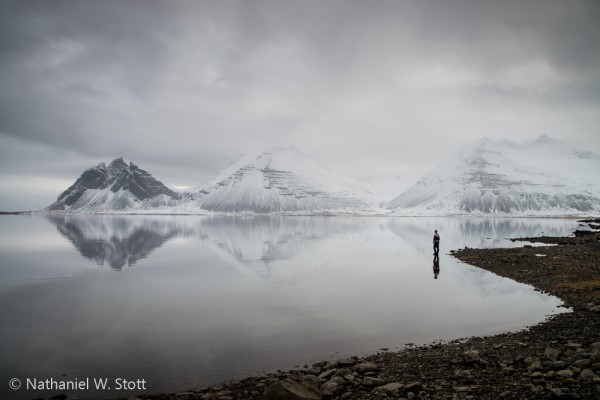 It's hard to go anywhere in Iceland without feeling the power of water. Water shapes the landscape through rivers and waterfalls. It scours mountains through massive glaciers. Water is an epic force and it's truly everywhere to behold in Iceland.
Waterfalls
It's literally impossible to drive and not see waterfalls rushing over cliffs near the road. On our trip to Iceland we visited some of the most well know waterfalls along the south coast: Selfoss, Gulfoss, Oxararfoss, Seljalandsfoss, and Svartifoss.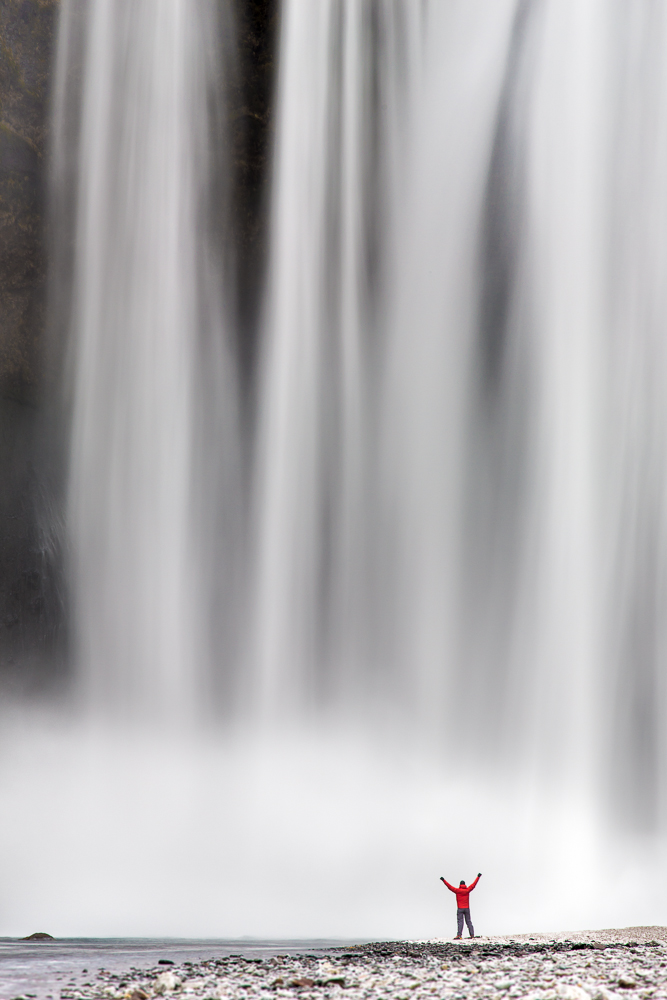 (photo by Anne Archambault)
Of those mentioned, Gulfoss and Selfoss are perhaps the most well-known but may be the most difficult to photograph well. Both tend to lose the sense of scale without an appropriately positioned person for scale. Of course if you do head there, be sure to take colorful rain gear which will not only provide needed protection from the spray but color for other photographers!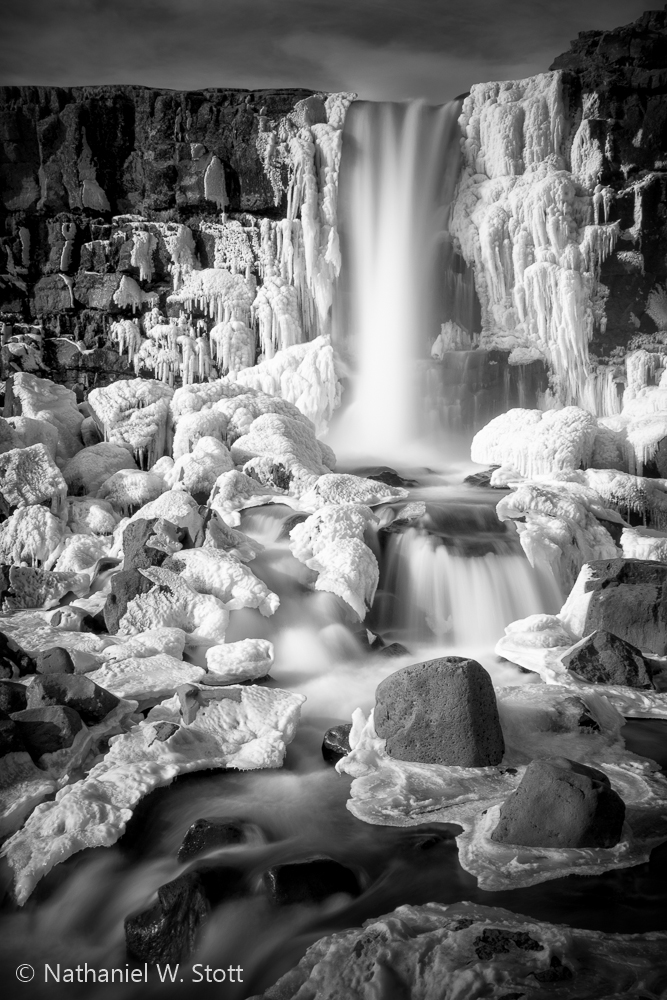 Of the waterfalls we visited, I think I most appreciated the time we spent photographing Oxararfoss in Þingvellir National Park. Combined with ice it provided myriad compositions for hours of enjoyment.
Similarly, the short hike to Svartifoss paid off with striking basalt columns and a generally wonderful scene. I found capturing the essence of the place to be difficult, but it was a magical place to be and I'm truly sorry I missed it on my first visit to Iceland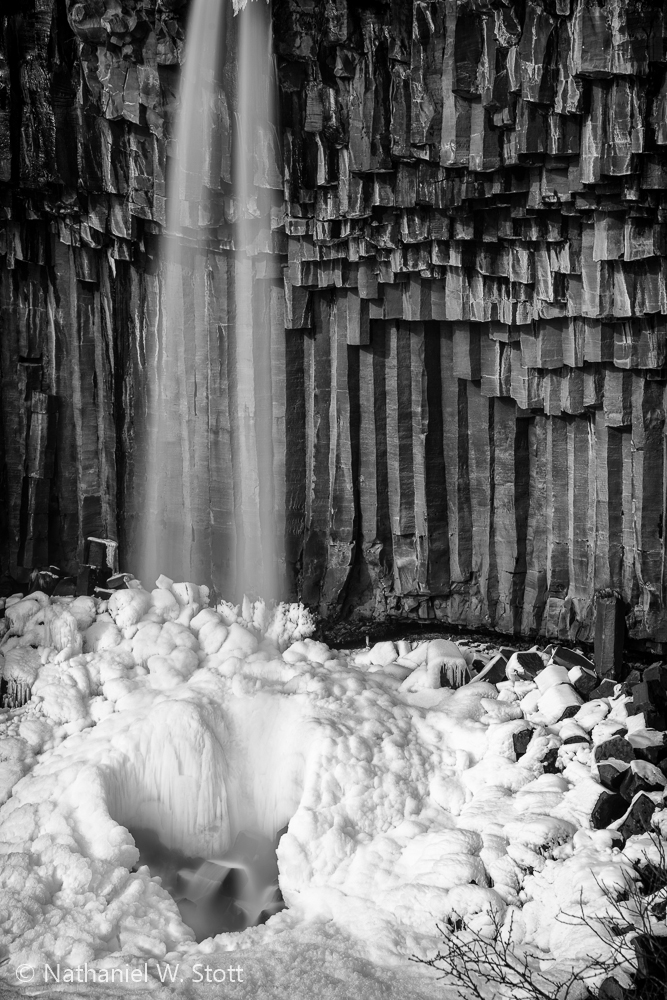 Icebergs
Of course no trip to Iceland is complete without a trip to the iceberg lagoons around Jökulsárlón. The lagoon is stunning and provides a double whammy, icebergs in the lake on the lagoon side and icebergs on the beach on the ocean side.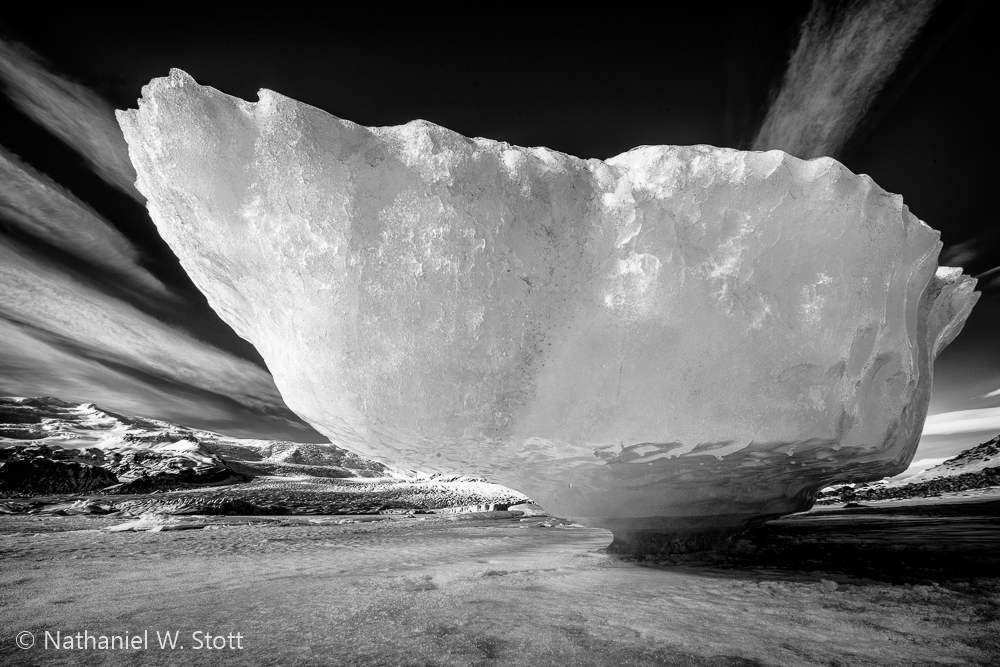 While we certainly spent time photographing the icebergs in the lagoon, it would be a mistake to ignore the beach. I found the beach to have wonderful compositions at both morning and evening and was a highlight of the trip.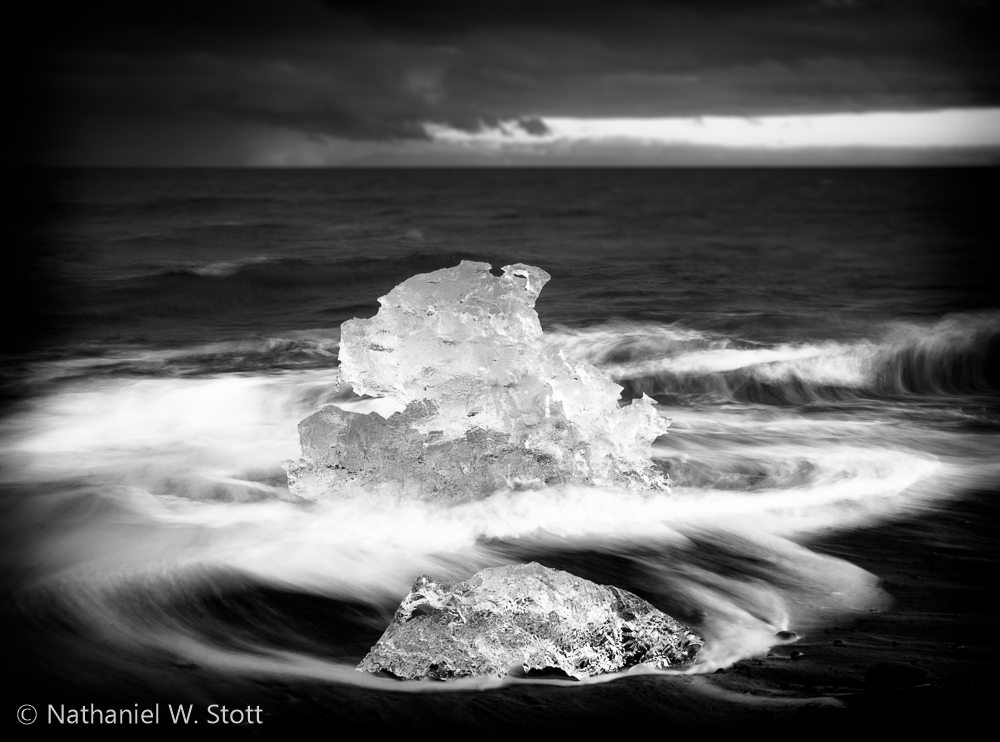 The Ocean
The ocean provides a ton of opportunities to play with wonderful shorelines and offshore sea stacks. Around Vik there are several sea stacks that provide dramatic scenes against black beaches. I found the promontory at Dyrhólaey to be my favorite location in the area. It afforded some outstanding views of sea stacks, the coast line, and the lighthouse.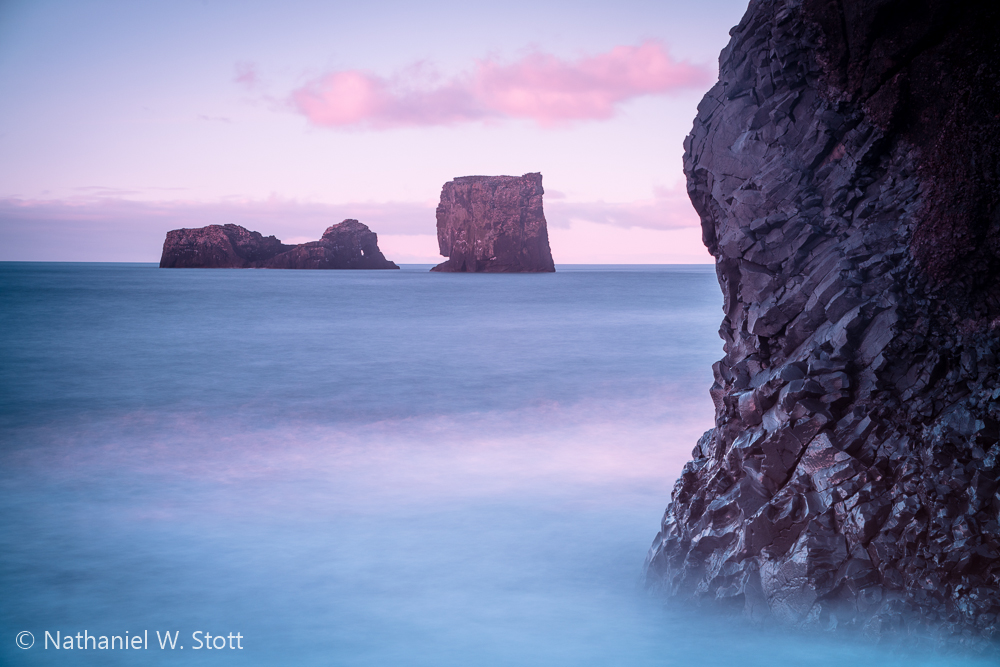 Of course, these are only a handful of the wonderful "water based" locations along the south coast. These are indeed highlights, which was evidenced by the sheer number of tourists and photographers that we saw at these locations. If you're going to visit, I'd recommend planning time to check them out in either early morning or late evening light. It will help you avoid the day tours from Reykjavik and also allow you to capture the incredible beauty these places have to offer.