Haute Route Day 1 – Argentiere to Col De La Forclaz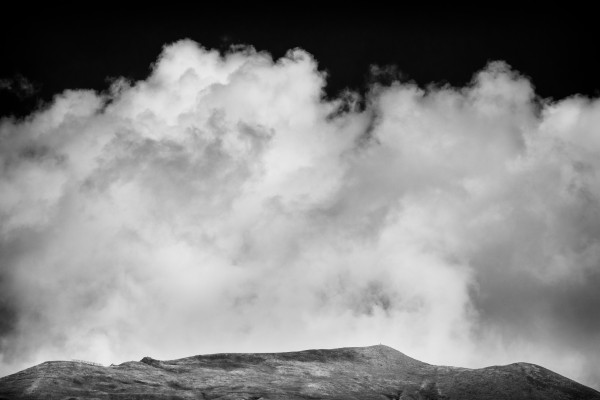 It's hard not to feel a little trepidation on the first day of a long, multi-day hike and the start of this day was no different. Anne had done part of this route previously as part of the TMB but I'd never been in this area of France before and had never visited Switzerland. We woke to a crisp but cloud free morning. The Gite served a filling breakfast and I helped myself to more than a single sitting knowing that there would be a lot of hiking ahead.
As we headed out of Argentière we grabbed some fresh bread and cheese for lunch. These shops open around 8am (some earlier) so it was perfect for us as we headed out of town. Our route for the day left from Argentière, crossed to the south side of the valley, and then made its way along a shady forested path up the valley to Le Tour, then climbed up and over the Col de Balme, and finally down into Trient. Along the way, we met many runners participating in the 300km La Petite Trotte à Léon. As each runner approached, we stepped aside and started clapping to help encourage them along their way.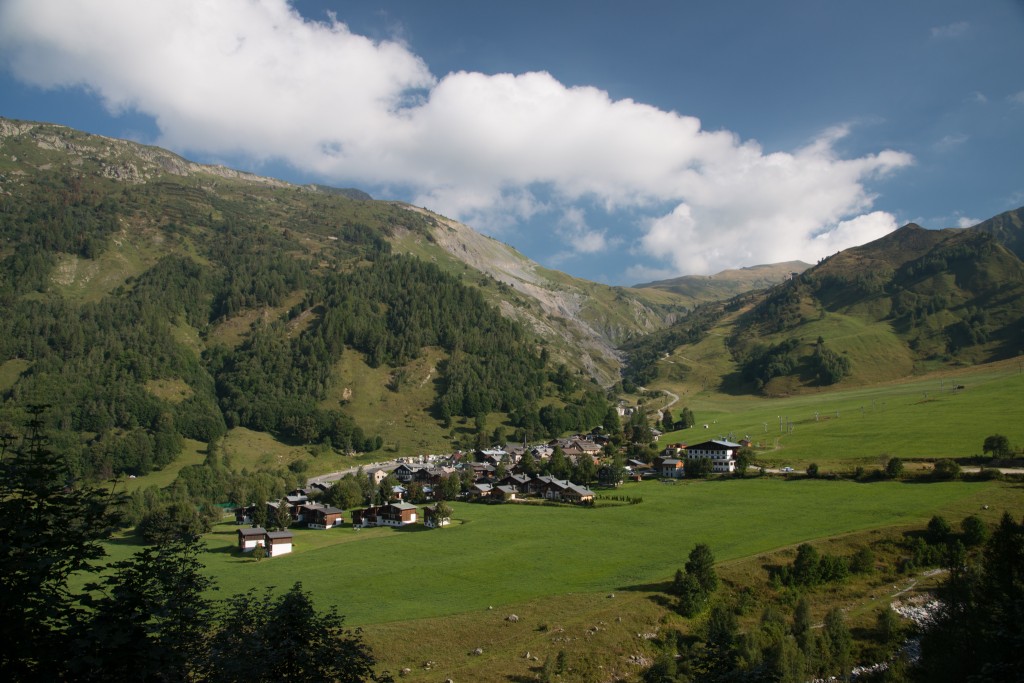 Our path took us quickly to Le Tour, where we bypassed the gondola and started the long walk up to the Col de Balme. The path up to the Col de Balme isn't a wilderness experience, you're accompanied by either a gondola or lifts and flanked by mountain bike trails. But the scenery is impressive, lined on either sides by alpine valleys, mountain walls, and always the imposing massif of Mont Blanc behind.
Col de Balme sits on the border between France and Switzerland with a small hut that serves meals if you're inclined. Anne and I had prepared cheese and bread for what would become a standard lunch and we made our own picnic on the side of the hut out of the wind.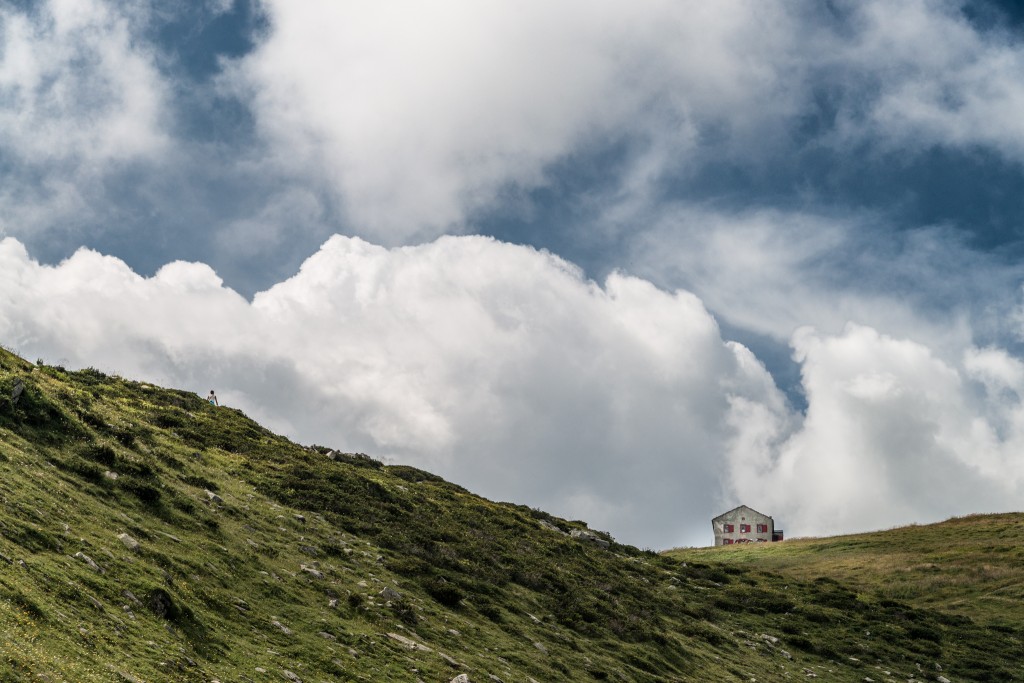 From Col de Balme there were a couple options for descending to Trient/Col de la Forclaz. The direct route heads down the valley towards Trient, starting with a gentle descent followed by more radical switchbacks in the woods. The other path follows the contour of the mountain and, based on the description in the book, provides a relatively stunning overlook to the Trient glacier. Anne and I decided that we didn't want the extra distance or elevation the more scenic path might provide knowing that we had a tough day up the Fenêtre d'Arpette. The guide book described the more scenic path as the steeper of the two, but I'm not sure how it could have been any steeper than what we hiked! We used our poles liberally and were glad when the path mercifully met the valley floor.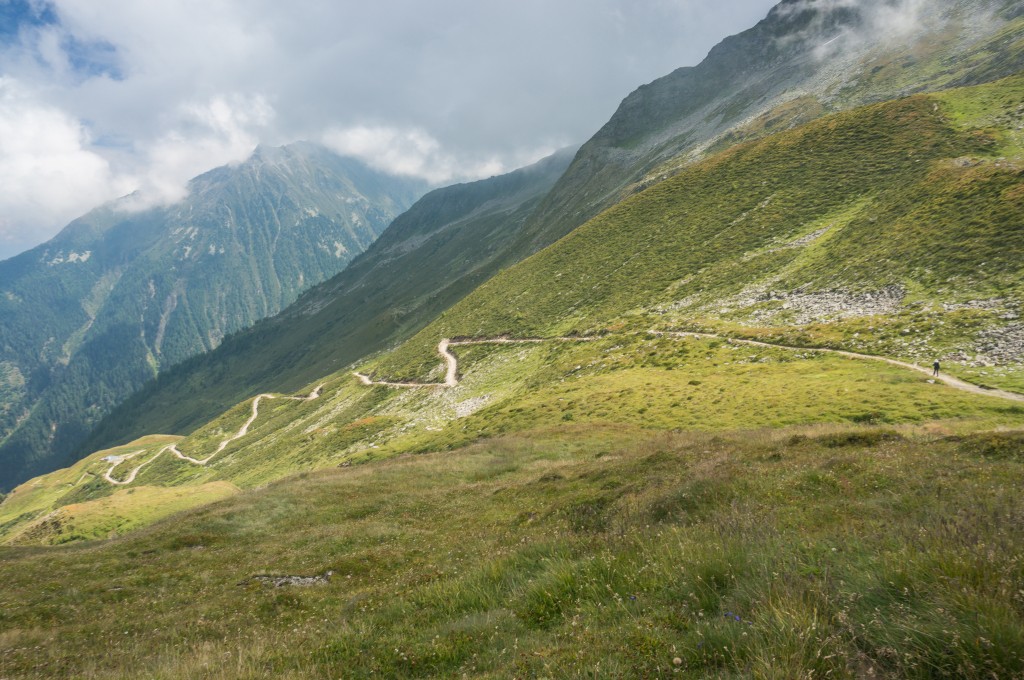 (photo by Anne Archambault)
While our lodging that night had been planned ahead for Trient, we changed our plans as we made our way down the path so that we would instead stay at the Hotel De La Forclaz. This turned out to be a great trade-off since we had no problems getting a room that night (we'd asked hikers on the way up how full the hotel was the night before), we lessened our elevation gain for the next day, and we cut out time for the next day's hike as well. For would be trekkers, this is certainly the way to go.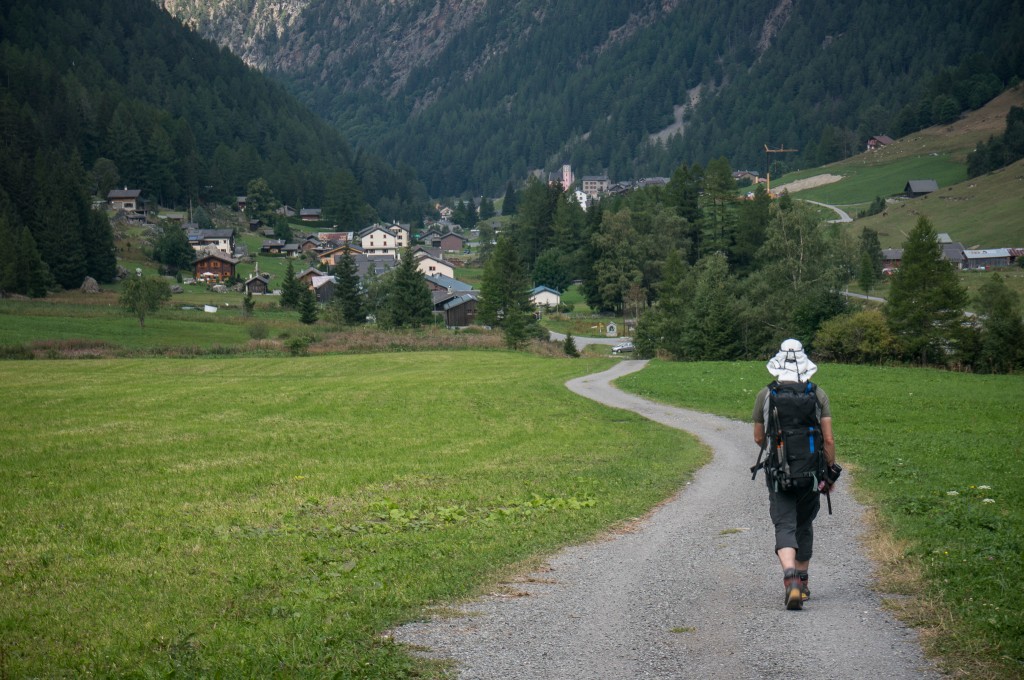 (photo by Anne Archambault)
Our decision was rewarded that night with a room, a comfortable bed, and generous helpings of food. As it turned out, the decision to stay at the Hotel de la Forclaz was also fortuitous in that it allowed us to meet the people who would the next day become our steadfast hiking companions for the rest of the trip: Rich, Val, Kathy, and Martijn. There we also met Neil and Fiona who had teamed up with Rich, Val, Kathy, and Martijn and who we would hike with the next two days until they jumped ahead a day at Le Châble.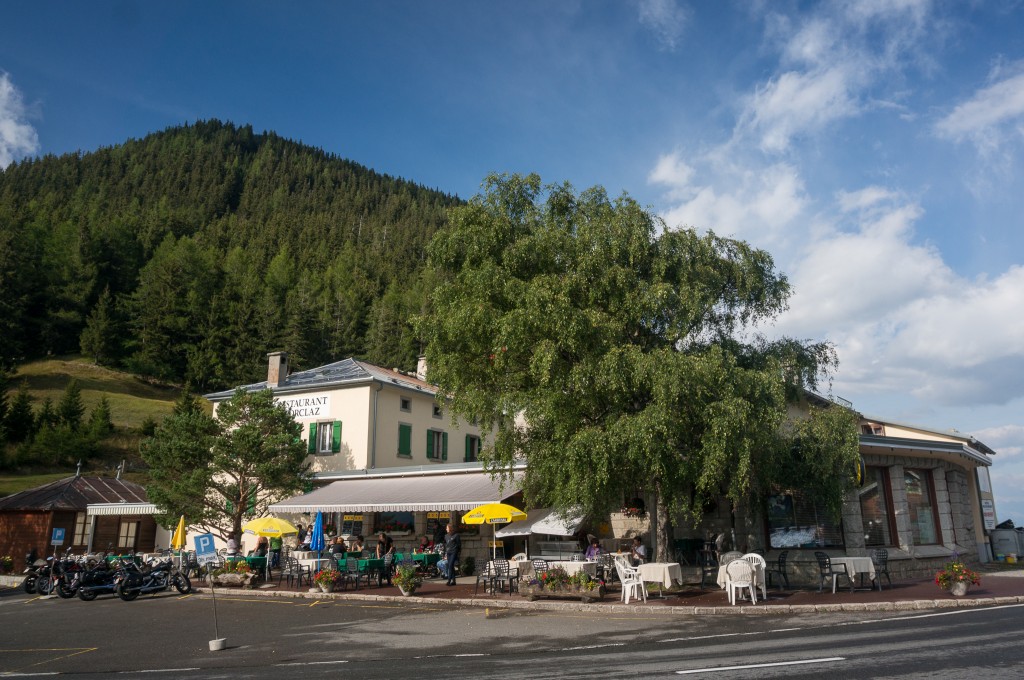 Note: There aren't good lunch options available at Col De La Forclaz. There is a small market across the street that sells some cheese (as of Sept 2013) and cured meats. We "borrowed" some food (banana, bread, nutella) from the hotel breakfast to round out our lunch. Hence, it may be worthwhile to pick up two days' worth of lunch supplies in Argentière.
Total distance:
10.97 mi
Max elevation:
7270 ft
Min elevation:
4068 ft