Haute Route Day 7 – Arolla to La Sage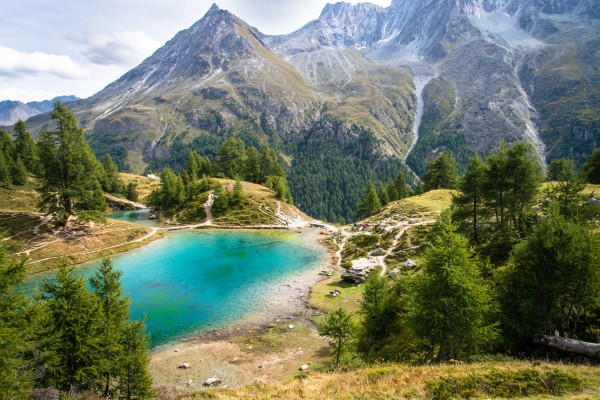 The stage from Arolla to La Sage is probably the most poorly described stage in the guide book. While this stage reads like a "rest stage" as you walk down the valley from Arolla to Les Haudères with 215m of elevation gain covered in 4 hours, we in fact gained about 2000 feet of elevation as we climbed out of Arolla and traversed above the valley floor to Lac Bleu in a total of 6 hours. Anything but the day we had been expecting!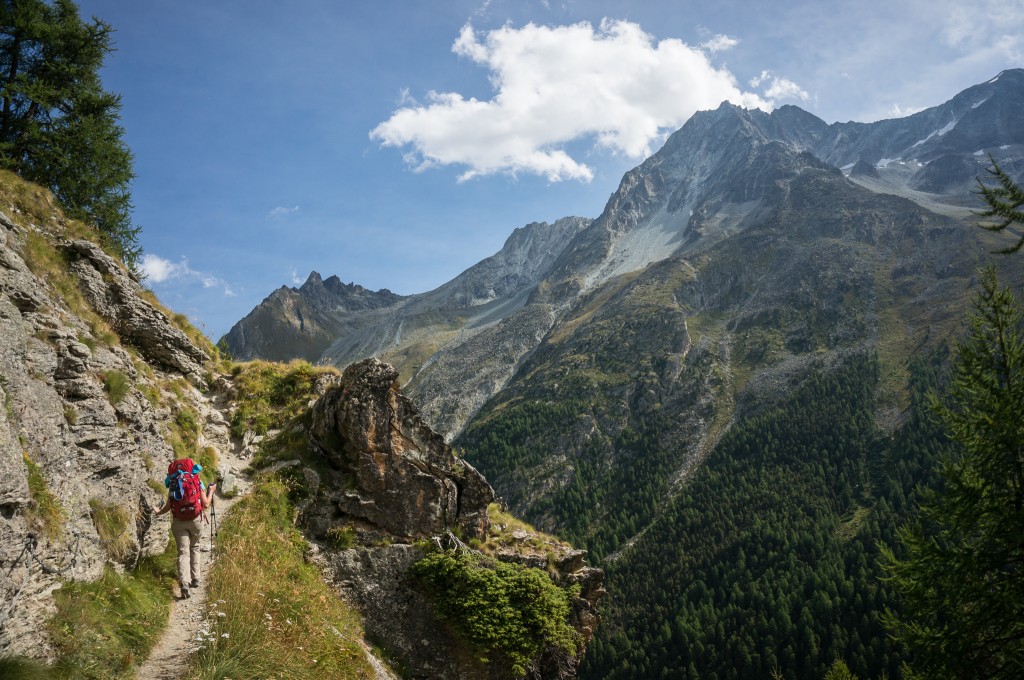 (photo by Anne Archambault)
To make the day more exciting, Anne and I chose the "harder" of the two paths to Lac Bleu leaving from Arolla and climbing steeply away from the village and above the valley below. As described in the guidebook, this trail had several sections with chains that we hoped would lead to some exposed sections with grand views. However, it was largely a letdown as most chain-protected sections were really quite safe hiking except perhaps in freezing conditions.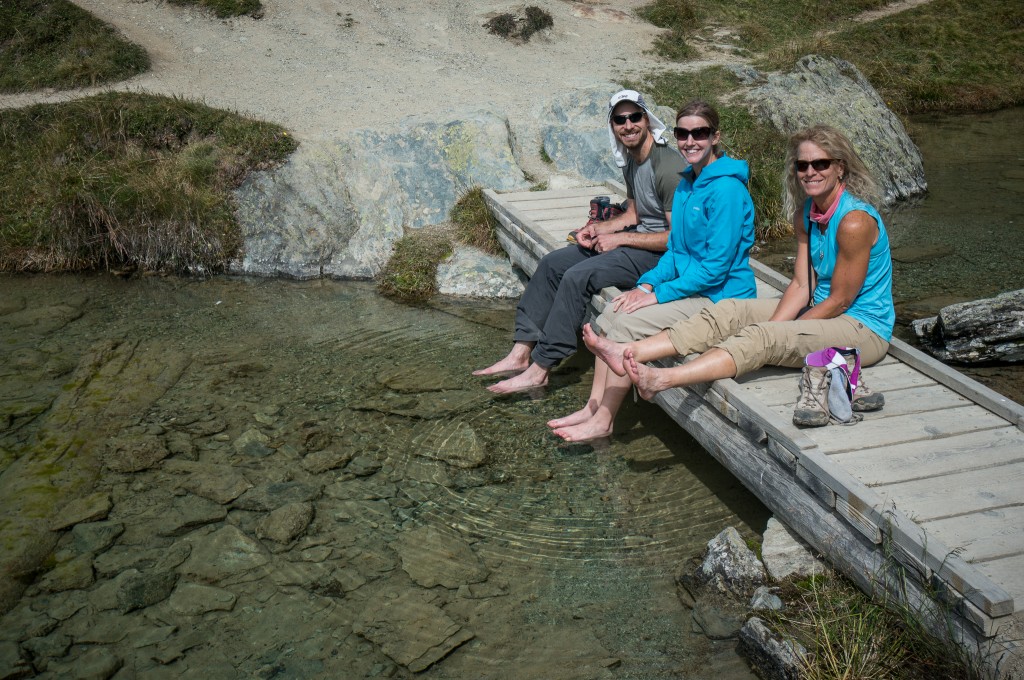 (photo by Anne Archambault)
Elevation was gained steeply out of Arolla, which then turned into a traverse along the valley. This traverse steeply gained and lost elevation constantly until we reached Lac Bleu, the final high point on the path before descending to Les Haudères. Lac Bleu is the highlight of the stage with an incredible vista over the valley combined with a surreal blue hue. We took time to eat lunch and dip our feet in the cold lake.
Leaving Lac Bleu you immediately come to some old buildings where we should have turned right and headed steeply down towards La Gouille. Instead, we continued along our traverse following signs towards Evolène. We soon realized that the trail we were on continued down the valley but in the wrong direction and away from Les Haudères. The mistake was easily corrected; we joined a trail leading back to La Gouille and turned back around, only losing about 15 minutes time on the detour.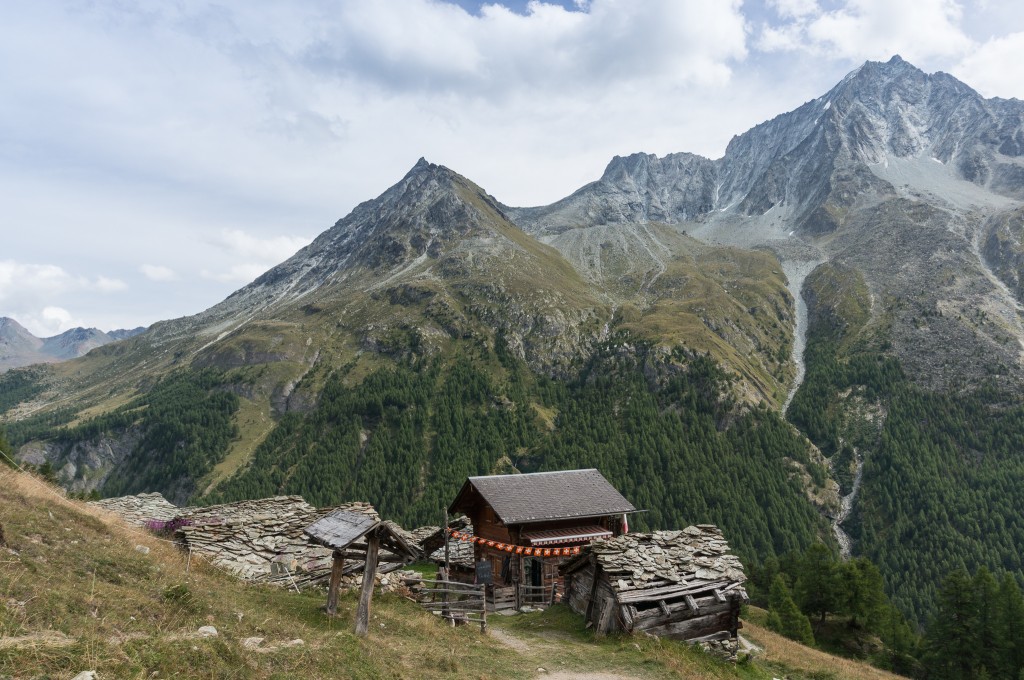 (photo by Anne Archambault)
From La Gouille, the trail dips below the road and towards the creek on the east side of the valley, falling rather steeply down to Les Haudères on a generally shaded two track road. In Les Haudères, we grabbed lunch, rested, and restocked our supplies for the next couple days.
I'll make a call out for the local Les Haudères tomme cheese. Hikers should note that most of the villages along the way make town or valley specific cheeses. The tomme in Les Haudères was probably the finest of the trip. If you do pass through town, don't miss out on this fantastic cheese!
Supplied up, we joined back with the trail to La Sage which climbs out of Les Haudères and gains 200 or so meters of elevation quickly to La Sage. Here Anne and I came across a pair of farmers with a small boy. They'd apparently been gathering fire wood when they managed to turn their tractor over on the path. I dropped my pack and tried to help them get the vehicle upright. Gareth, Val, and Kathy soon joined us and despite having the additional horsepower, we were completely unable to get the tractor right side up. Despite our lack of success, the farmers were grateful for the help and thanked us as we put our packs back on and headed the last short bit to the hotel.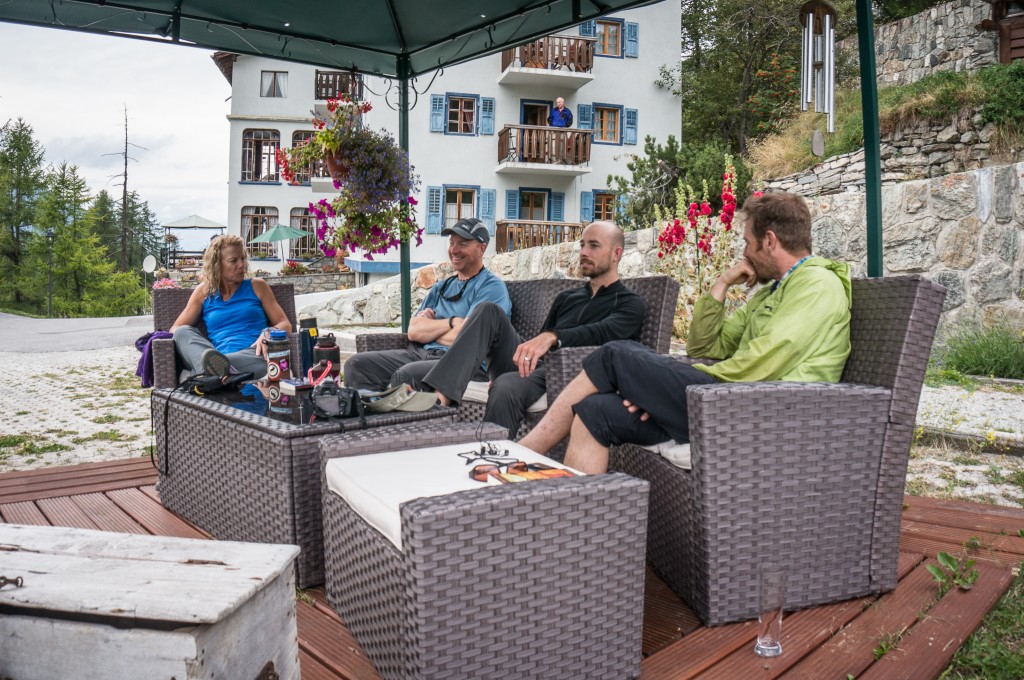 (photo by Anne Archambault)
The Hotel De La Sage is one of two places you can stay in La Sage. We'd booked our rooms the previous night at dinner in Arolla and were lucky enough to secure rooms for everyone in our party. In terms of hotels, Hotel De La Sage easily takes the prize for being the nicest hotel we stayed at during our entire visit. Inside the rooms had been recently renovated and were very modern both in conveniences like outlets as well as in style.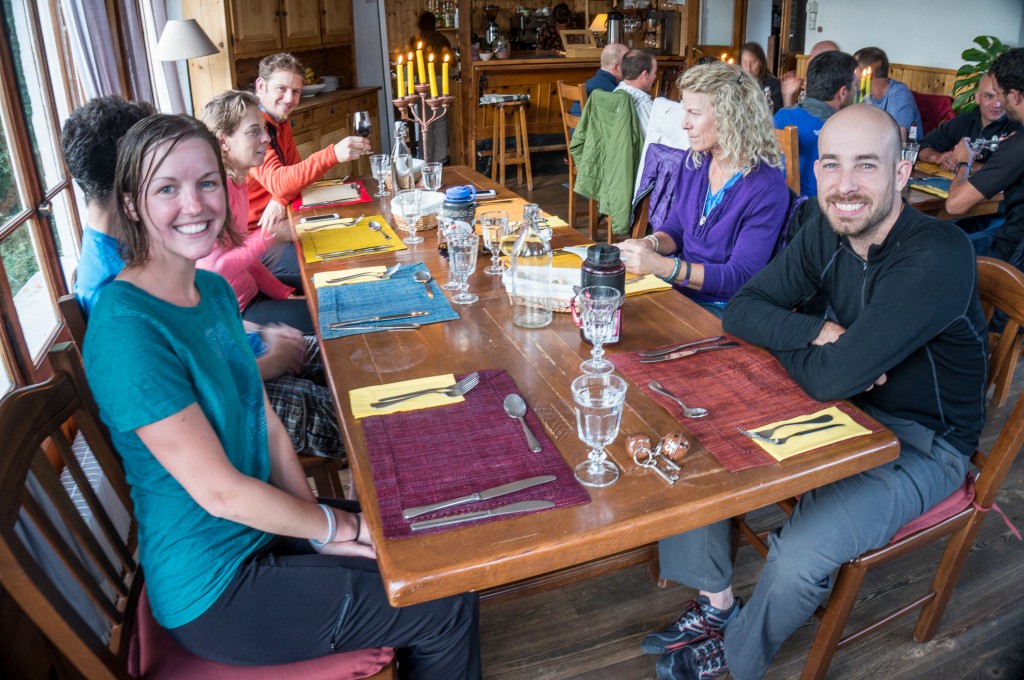 (photo by Anne Archambault)
The included dinner looked like something out of a foodie gastropub. We had salmon tartar as an appetizer, duck breast as a main course, and we finished with an outstanding cheesecake.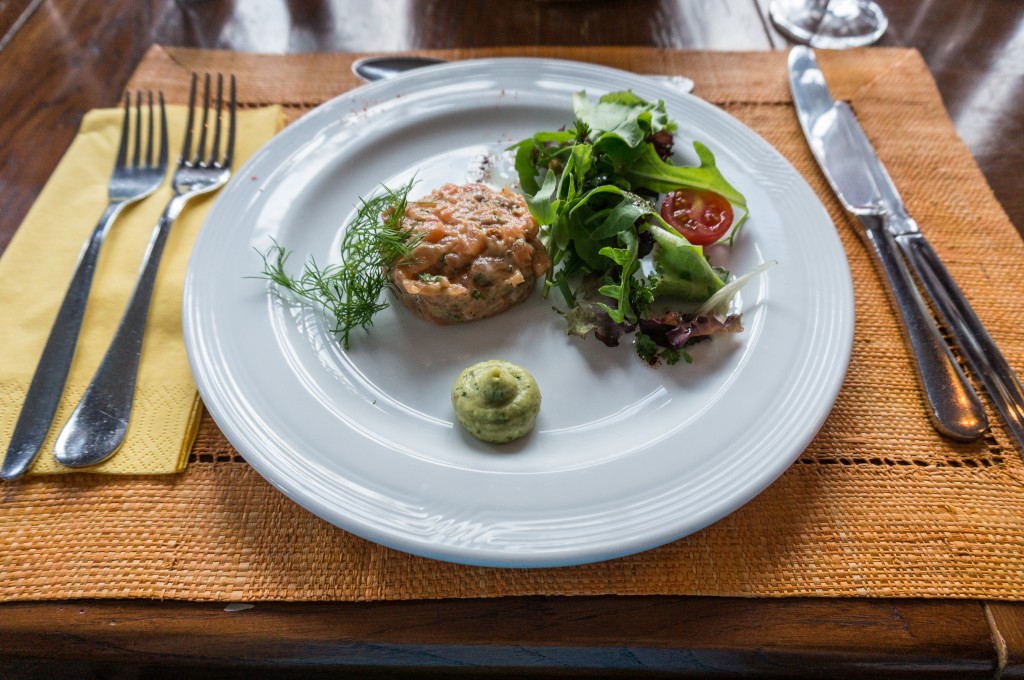 (photo by Anne Archambault)
Total distance:
9.32 mi
Max elevation:
6998 ft
Min elevation:
4639 ft