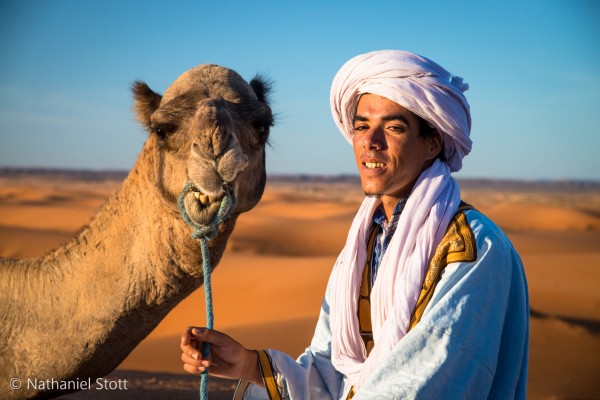 Most people think of the Sahara desert as a mass of sandy dunes that continue as far as the eye can see. While this may be true in other parts of Africa, the Saharan plain in Morocco consists primarily of stony desert with limited interspersed dune outcroppings.
The dunes of Erg Chebbi rise up out of this stony plain seemingly out of nowhere and form an isolated dune island that's teardrop shaped and can be circumnavigated in a day. Plenty of 4×4 operators in town offer day long packages that do this navigation with several stops along the way to see local villages and such.
The stony desert is flat and for 4x4s offers a relatively unlimited ability to navigate freely. 2WD rental cars don't have it as easy but can stick to main "roads" that are well marked and devoid of significant sand and washes. In fact, many of the lodgings around Erg Chebbi are accessible only by taking a dirt road into the desert.
Overnight Camp
Trips to an overnight camp are a great way to be out in the dunes for sunset and sunrise as well as providing an incredible opportunity to get away from the lights of Merzouga for star photography. They also provide up close and personal time with camels and their Berber handlers.
Riding a camel is of course an interesting experience. I quickly found that the swaying motion of the camel chafed my legs. It also hindered my ability to take the images I wanted of the group moving by, so I walked most of the short distance to camp in the mild temperatures of late evening.
After dinner, we set out to find an interesting foreground for our star photography. We hadn't had time to fully scout around camp due to our late arrival and dinner. But we did know where we'd left the camels for the night so we headed that way and used them as photographic props for the next couple hours.
It should be noted that star photography isn't as good as you might expect in the desert as it is here at home in the Pacific Northwest. The proximity to the equator means that the atmosphere is thicker and the blowing sand increases the particulate matter in air. This combines to give a somewhat "muddy" atmospheric effect. Regardless, we were both able to capture some fun images of our camels under the Milky Way and in front of one of the large dunes of Erg Chebbi.
We woke before sunrise the next morning to catch sunset on the dunes. While I think the intent was for us to climb to the top of the large dune directly behind camp, Anne and I wandered off into the surrounding dunes to look for fun shapes and interesting things to capture. Pre-sunrise was great, the temperatures were cool and the light was nearly perfect. Again, given the proximity to the equator, once the sun rose we had very little time before the light became harsh and made the images much less interesting.
A Little Slice of Berber
Given the large influx of tourists, there are a lot of Berber guides in the vicinity of Merzouga. They dress in fantastically colorful and interesting clothing and make for some excellent subjects when you're able to indulge them in a small photo shoot. However, as mentioned before the culture is typically anti-photo so do ask before you make the image
Just like everyone else in the world, these guides need to get to work somehow and it seems a lot of them use small mopeds to make the journey from town to their guide assignment for the day/night.
On our way back from our overnight, we came across one gentleman who was riding his moped around the dunes. It was an awesome sight, both in terms of the stark contrast to the normally reserved personality we saw as well as just the straight up craziness and skill involved in riding a moped in sand. There's a new sport here folks!
Summary
Yes, it's touristy but we highly enjoyed our time in the desert. I think I wish the camp had been slightly more rustic and authentic, but aside from that I'd gladly go back and spend more time in and around Erg Chebbi.