Ait Ben Haddou: Morocco in the Movies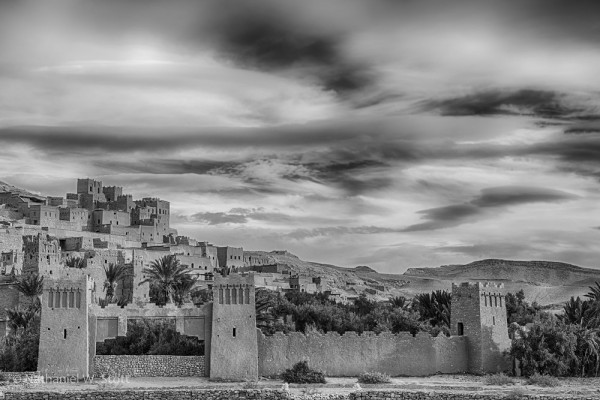 Ait Ben Haddou is a worthy stop on the way to the Draa valley or Merzouga, and we found that having a night and morning to spend wandering the kasbah was an excellent break as we made our way towards Merzouga. Honestly, anyone who tells you that you should do Marrakech/Erg Chebbi/Marrakech in 3 days is quite literally insane unless you want to run yourself ragged and deprive yourself of some of the best of what Morocco has to offer.
We got to Ait Ben Haddou late in the day so we didn't have a lot of time to scope the place out. Our first stop was an overlook on the approach road into town. It offers some fine views over the river basin and kasbah complex that's featured pretty well in this short from Cadillac challenging the world to a driving contest:
Anne and I didn't stay long at the overlook because our primary interest was really in getting into the kasbah and taking in the sights and details that make places like this so incredibly interesting. There are two ways to enter the kasbah (at least at the time of our visit): You can park your car at a managed car park (and pay for the pleasure) and walk across the dry river bed or you can park at your hotel (likely free) and navigate a back road in town north of the paid car park to the bridge over the river. This offers a free back road into the kasbah along a nice set of vendor stalls.
We weren't able to spend the time we wanted exploring around the winding passageways of the kasbah because sunset was pretty near at hand. So we headed immediately to the top of the hill to get a better look at the surrounding countryside and take in the views.
The agadir at the top of the hill proved to be an excellent location for watching sunset. Bring a headlight, bring a tripod, and enjoy the lush and spectacular scenery as the sun sinks to the horizon and the clouds light up with vibrant colors. Also remember that while the sunset is impressive, look around for things that might be happening behind or around. I was trying to capture some longer exposure images of the clouds moving over the building but wound up getting some nicely ethereal images of the tourists with rich warm tones on the building. The Photoshop trickery here was actually in getting it to look less surreal!
By the time we were ready to leave, we had the place to ourselves and were enjoying the serenity of night in the desert. We didn't see any movie stars, but it was just as well since they would have restricted access anyway.