Switzerland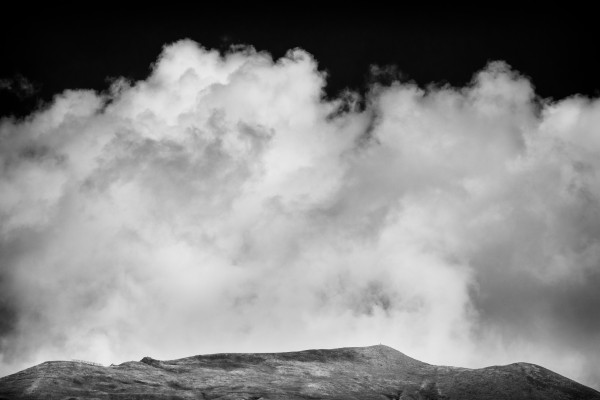 It's hard not to feel a little trepidation on the first day of a long, multi-day hike and the start of this day was no different. Anne had done part of this route previously as part of the TMB but I'd never been in this area of France before and had never visited Switzerland. We woke to a crisp but cloud free morning. The Gite served a filling breakfast and I helped myself to more than a single sitting knowing that there would be a lot of hiking ahead.
As we headed out of Argentière we grabbed some fresh bread and cheese for lunch. These shops open around 8am (some earlier) so it was perfect for us as we headed out of town. Our route for the day left from Argentière, crossed to the south side of the valley, and then made its way along a shady forested path up the valley to Le Tour, then climbed up and over the Col de Balme, and finally down into Trient. Along the way, we met many runners participating in the 300km La Petite Trotte à Léon. As each runner approached, we stepped aside and started clapping to help encourage them along their way.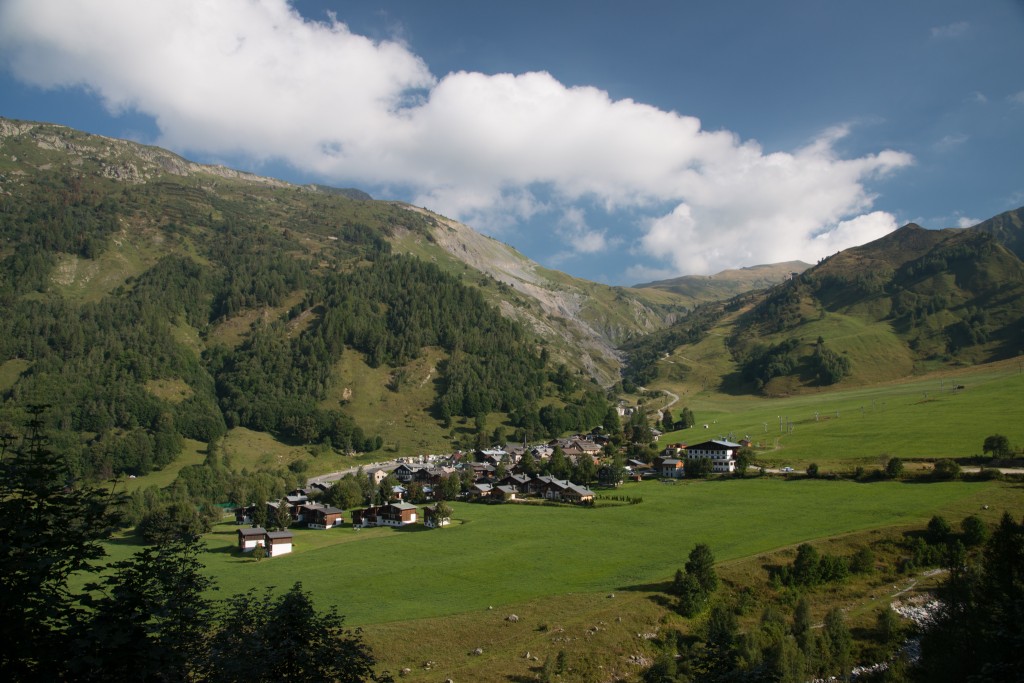 Our path took us quickly to Le Tour, where we bypassed the gondola and started the long walk up to the Col de Balme. The path up to the Col de Balme isn't a wilderness experience, you're accompanied by either a gondola or lifts and flanked by mountain bike trails. But the scenery is impressive, lined on either sides by alpine valleys, mountain walls, and always the imposing massif of Mont Blanc behind.
Col de Balme sits on the border between France and Switzerland with a small hut that serves meals if you're inclined. Anne and I had prepared cheese and bread for what would become a standard lunch and we made our own picnic on the side of the hut out of the wind.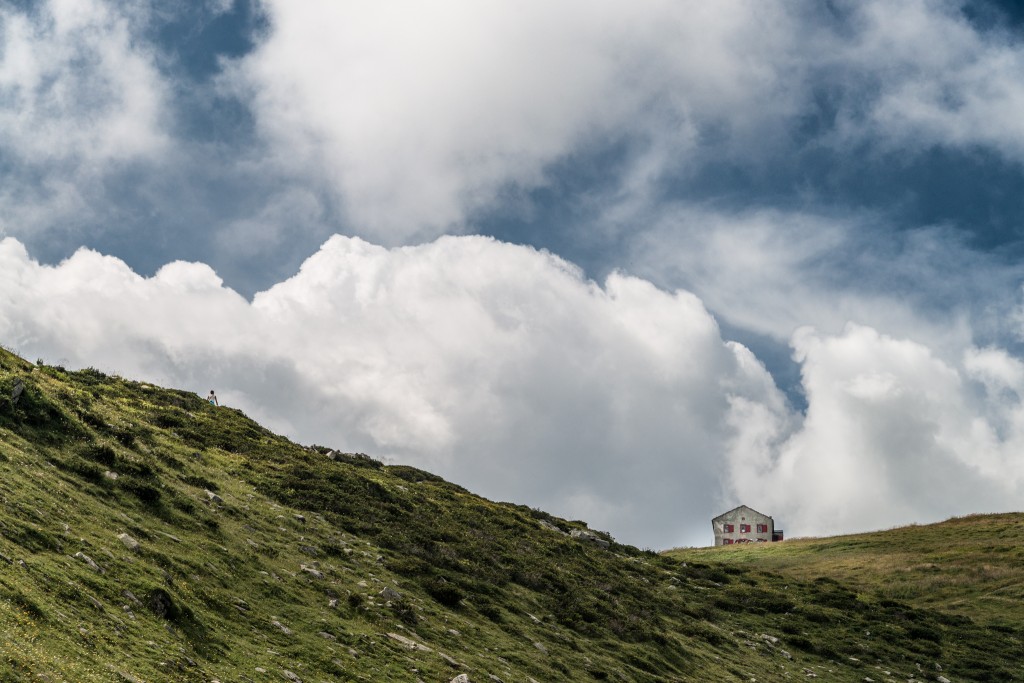 From Col de Balme there were a couple options for descending to Trient/Col de la Forclaz. The direct route heads down the valley towards Trient, starting with a gentle descent followed by more radical switchbacks in the woods. The other path follows the contour of the mountain and, based on the description in the book, provides a relatively stunning overlook to the Trient glacier. Anne and I decided that we didn't want the extra distance or elevation the more scenic path might provide knowing that we had a tough day up the Fenêtre d'Arpette. The guide book described the more scenic path as the steeper of the two, but I'm not sure how it could have been any steeper than what we hiked! We used our poles liberally and were glad when the path mercifully met the valley floor.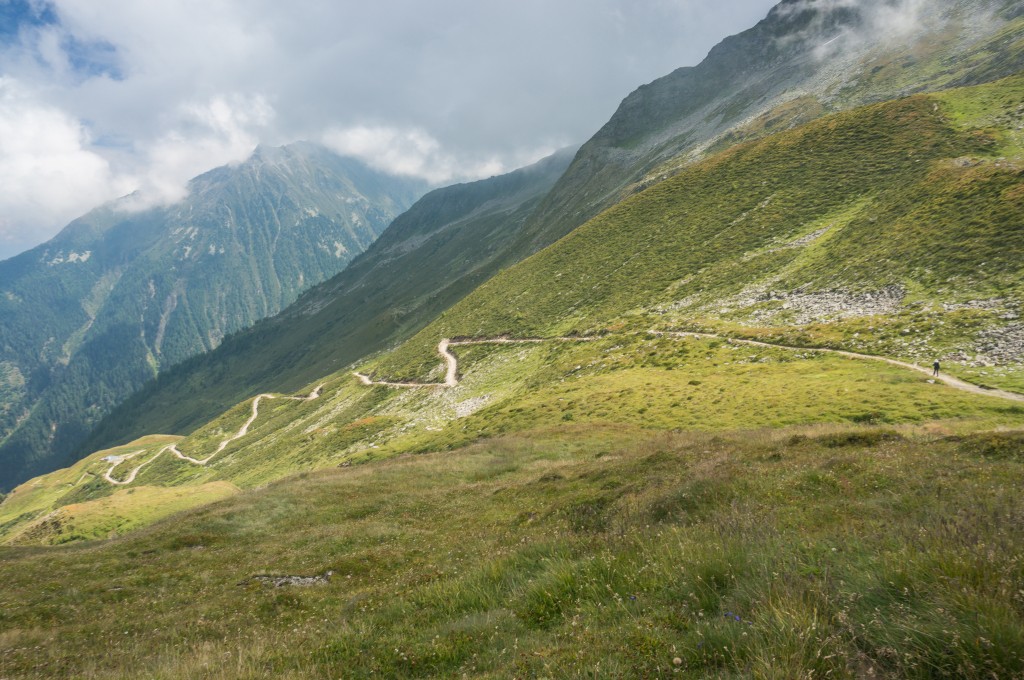 (photo by Anne Archambault)
While our lodging that night had been planned ahead for Trient, we changed our plans as we made our way down the path so that we would instead stay at the Hotel De La Forclaz. This turned out to be a great trade-off since we had no problems getting a room that night (we'd asked hikers on the way up how full the hotel was the night before), we lessened our elevation gain for the next day, and we cut out time for the next day's hike as well. For would be trekkers, this is certainly the way to go.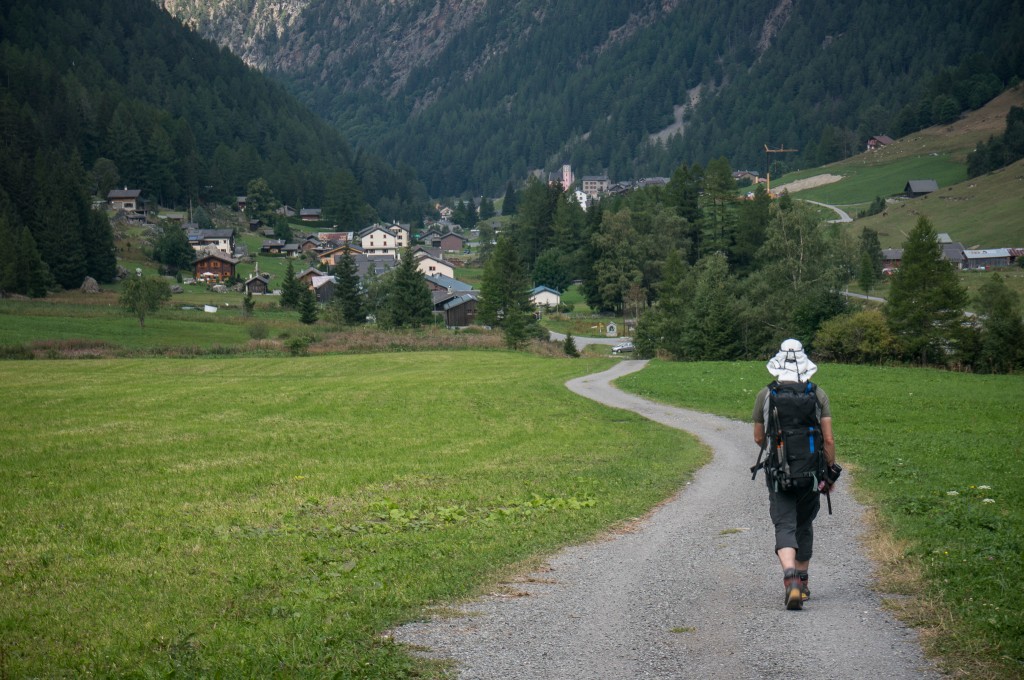 (photo by Anne Archambault)
Our decision was rewarded that night with a room, a comfortable bed, and generous helpings of food. As it turned out, the decision to stay at the Hotel de la Forclaz was also fortuitous in that it allowed us to meet the people who would the next day become our steadfast hiking companions for the rest of the trip: Rich, Val, Kathy, and Martijn. There we also met Neil and Fiona who had teamed up with Rich, Val, Kathy, and Martijn and who we would hike with the next two days until they jumped ahead a day at Le Châble.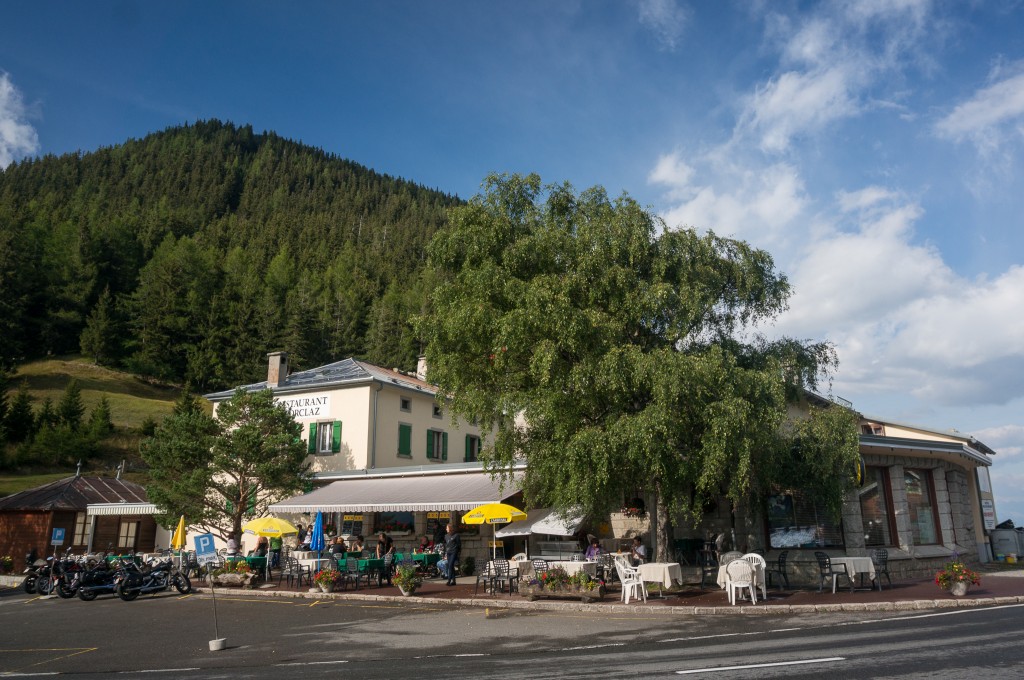 Note: There aren't good lunch options available at Col De La Forclaz. There is a small market across the street that sells some cheese (as of Sept 2013) and cured meats. We "borrowed" some food (banana, bread, nutella) from the hotel breakfast to round out our lunch. Hence, it may be worthwhile to pick up two days' worth of lunch supplies in Argentière.
Total distance:
10.97 mi
Max elevation:
7270 ft
Min elevation:
4068 ft
Anne and I flew into Geneva and took the ChamExpress shuttle to Argentière where we had reserved a room at the Gite Le Belvedere. Since Anne had previously done the Tour Du Mont Blanc, she'd already walked the leg between Chamonix and Argentière so we decided that we'd skip that leg in favor of taking the day to further adjust to the time change, and generally just enjoy the sights.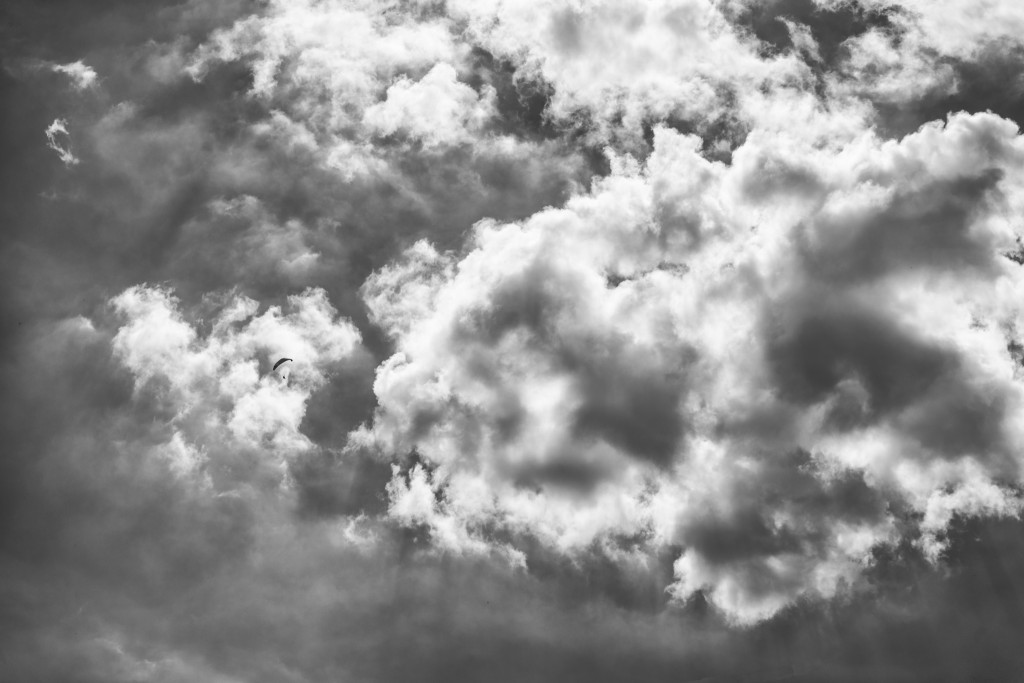 Chamonix is a beautiful area with the very impressive Mont Blanc massif rising steeply over town and dominating the skyline. Our trip overlapped with the tour Du Mont Blanc ultra-marathon, so town was bursting with people and activity.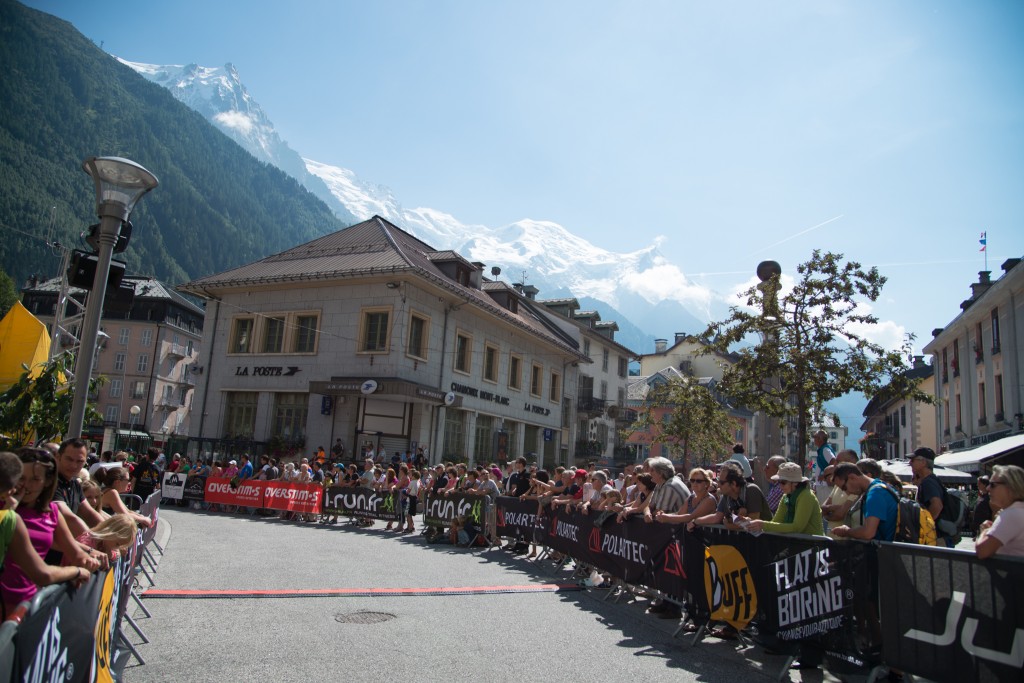 We mulled around town and took in the sights. At lunch we bumped into another couple from Washington State who were doing a short section of the TMB.  It's always a little humbling to be halfway around the world from home and bump into people from your home state or town.
To help us stay awake, we also grabbed an afternoon coffee and snack while watching some of the marathoners run the final few hundred meters of their 120km journey. For me, it was a little surreal to sit drinking coffee and eating macaroons while watching people who has just circumnavigated Mont Blanc in a day run by.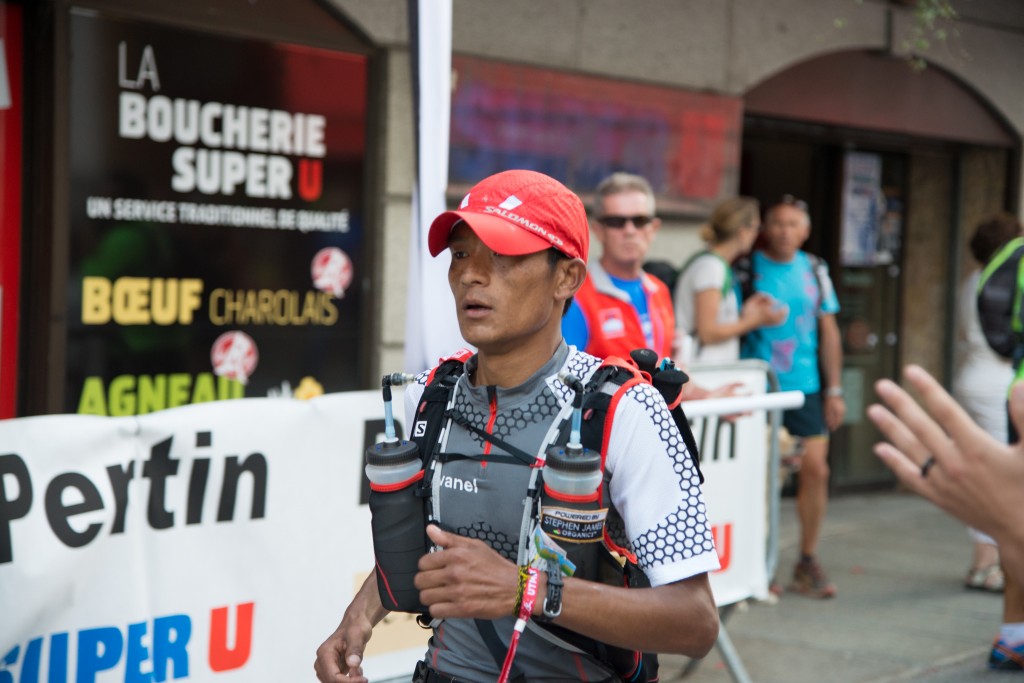 Anne and I did attempt to take a gondola trip up the Aiguille du midi but the gondola had stopped running for the day. I was a little bummed, knowing that I probably won't get an opportunity to do that trip for a long time to come. But it may have worked out for the best because prices are steep and the late afternoon clouds were starting to roll in.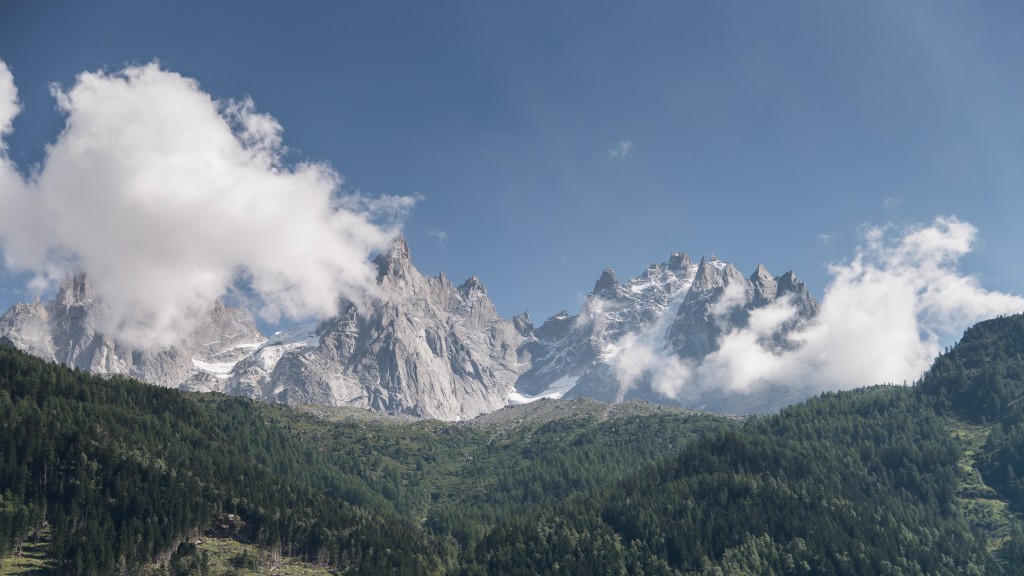 We settled for just heading back to the hotel and resting, still trying to recover from our jetlag and preparing for the start of our trek the next morning. The Gite does provide passes to local transportation, including bus passes as well as rail so it was easy for us to move back and forth between Chamonix and Argentière. Our room was relatively humble, a double bed that didn't come with bedding or towels for the shared bathroom and a sink that allowed us to fill water bottles and wash hands and faces.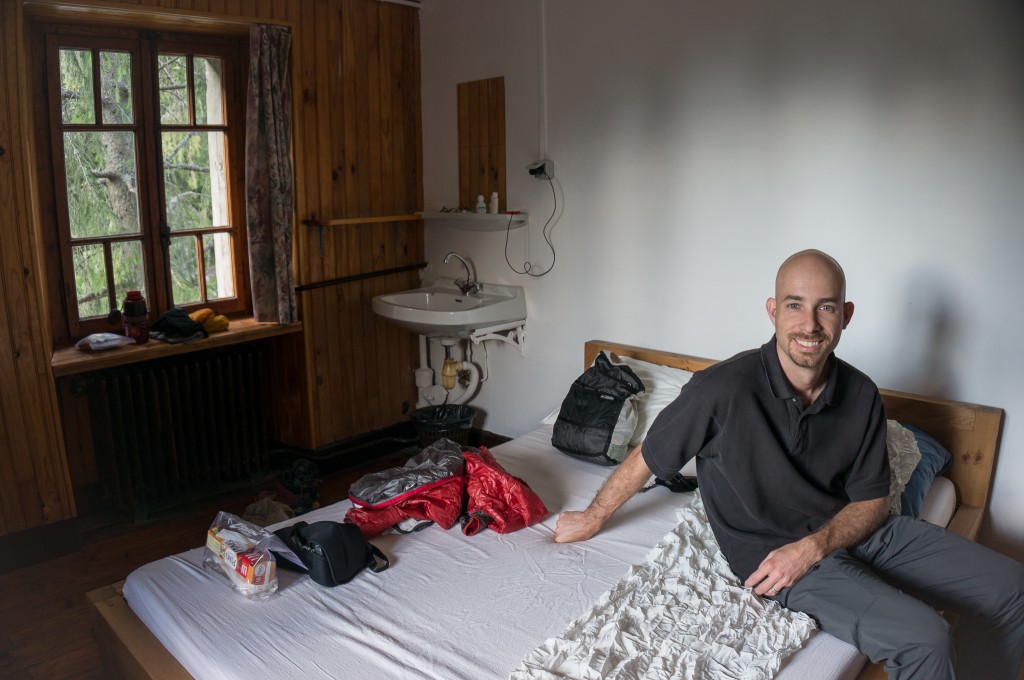 What the Gite didn't provide in comfort it made up for in hospitality as the hosts were friendly and accommodating, helping us work out the bus schedule as well as ensuring that we had plenty of food at both dinner and breakfast the next morning.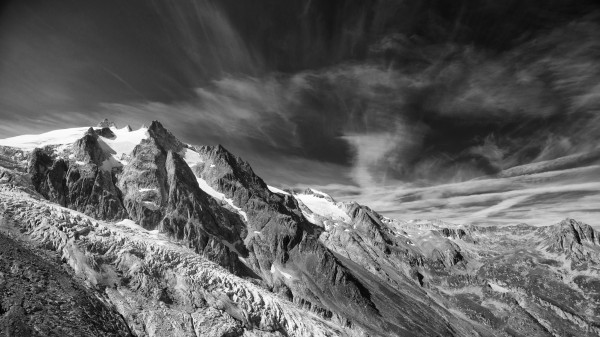 Anne and I recently completed the Walker's Haute Route in the Swiss Alps. It was a fantastic hike and was filled with spectacular views, wonderful villages, awesome food, and some new friendships along the way. Unlike hiking in the Washington's North Cascades, hiking in the Swiss Alps offers the ability to overnight from village to village. This allows you to travel light while still enjoying comfortable overnight accommodation and great food.
The Route – An Overview
While the route is certainly challenging, it's not overly hard and certainly those who are in good physical shape and have moderate hiking experience should have little difficulty if they take their time. There are also plenty of opportunities to take lifts or busses that allow you to significantly reduce the daily burden. We chose to walk the entire route starting in Argentière and avoided motorized transportation so that we'd feel the accomplishment of having completed the route using only human power.
There are at least a couple books that describe the route in detail. The book we relied on, as most others we hiked with, was the Chamonix to Zermatt Walker Haute Route (Cicerone Press) book by Kev Reynolds. The book details each stage and provides alternates for some of the stages. Note that 12 days is probably a minimum unless you want to rush. A couple more days would have allowed a rest day along the way and an overnight detour to the Hotel Weisshorn after Zinal.
Hikers should also be aware that while the route descriptions in the book are accurate, the distance and gain/loss measurements are not. Gain/loss measurements are taken at various waypoints and gain/loss is measured as a difference between those points rather than as an accurate reflection of terrain. Indeed, there are many accounts of this in various blog posts.
Our own GPS data shows that we traveled about 127 miles and gained around 42,000 feet of elevation. We lost almost as much, descending some 40,000 feet. All told, on average we did about 2.1 more miles each day than the book suggested and gained about 645 feet more elevation each day than suggested, with some days gain being off by as much as 1200 vertical feet!
For the data junkies, this all lays out as follows:
Also of interest is the route track and elevation profile, starting in Argentière and ending with the steady walk up the valley to Zermatt. With this view it's easy to see the general nature of the hike, starting in villages each morning, climbing up to a pass, and then going back down to a village. The large elevation gain starting at mile 30 is the hike from Le Châble to Mont Fort:
Total distance:
122.76 mi
Max elevation:
9826 ft
Min elevation:
2346 ft
Good Friends and Travel Companions
Anne and I had planned the trip as an independent hike for the two of us. This is easy to do and the book provides all the information would be trekkers need to hike alone. But one of the unexpected joys of long distance hiking is the friendships that happen along the way. This happened for us, but to a much lesser extent, several years ago when we trekked to Everest Base camp. For the Haute Route, the friendships we developed along the way were even stronger because the route is relatively fixed and the pace is fairly constant. This gives people lots of time to form bonds along the trail. It also takes a certain type of person to hike a long distance trail, which provides an additional bond.
So while our trip started out as a trip for the two of us, it very quickly became a group affair. We met our travel companions our first night at Hotel de la Forclaz and overheard them as they talked about their hike. When we figured out that they were doing the same trek we were, we introduced ourselves. From there, we crossed paths several times on the trail and by the next night we were eating dinner together as a large group. I think this transformed the hike for me into an experience that was much richer than what it would have been if we'd done it alone.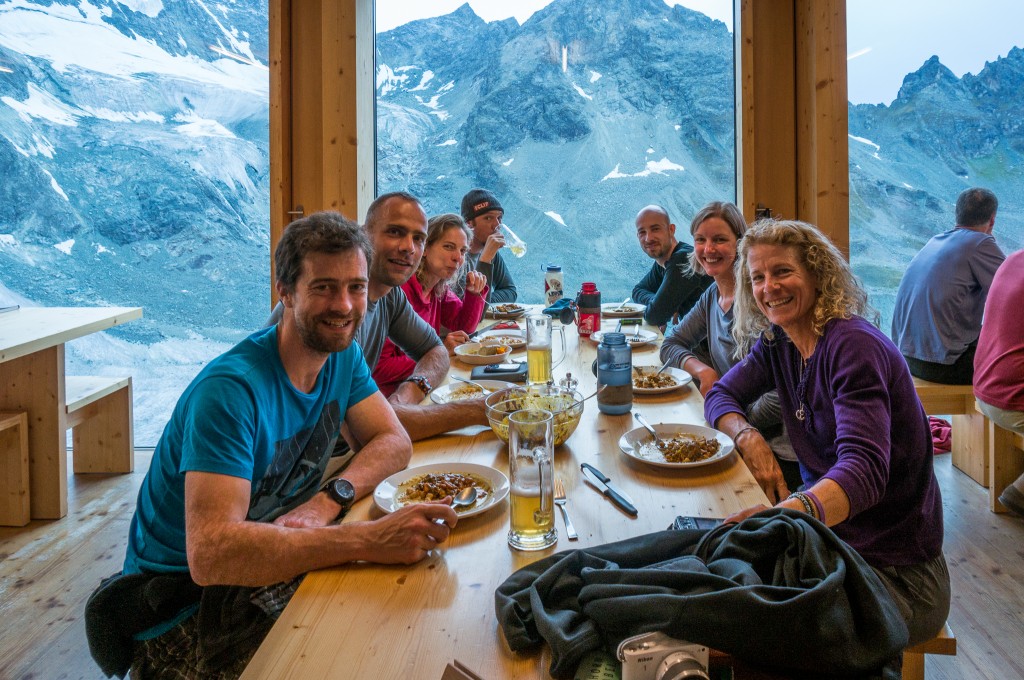 Our group was actually several groups that overlapped at various portions of the trip. Kathy, Val, Rich, Martijn, Anne, and myself formed what I'd consider to be the start to finish core of the group. Neil and Fiona were also with us during the first 3 days of the trek but soon skipped a day ahead. We met  Brian, Denise, Aliza, Paul, and Clare on the fourth day and Gareth on the fifth day. Paul and Clare fell behind a day after Arolla (they were carrying full loads with tents, sleeping bags, and cooking supplies). Aliza took a rest day and fell behind a day after Zinal. Anne and I parted with the rest of the group at St. Niklaus choosing to walk up the valley instead of continuing on the Europa Weg.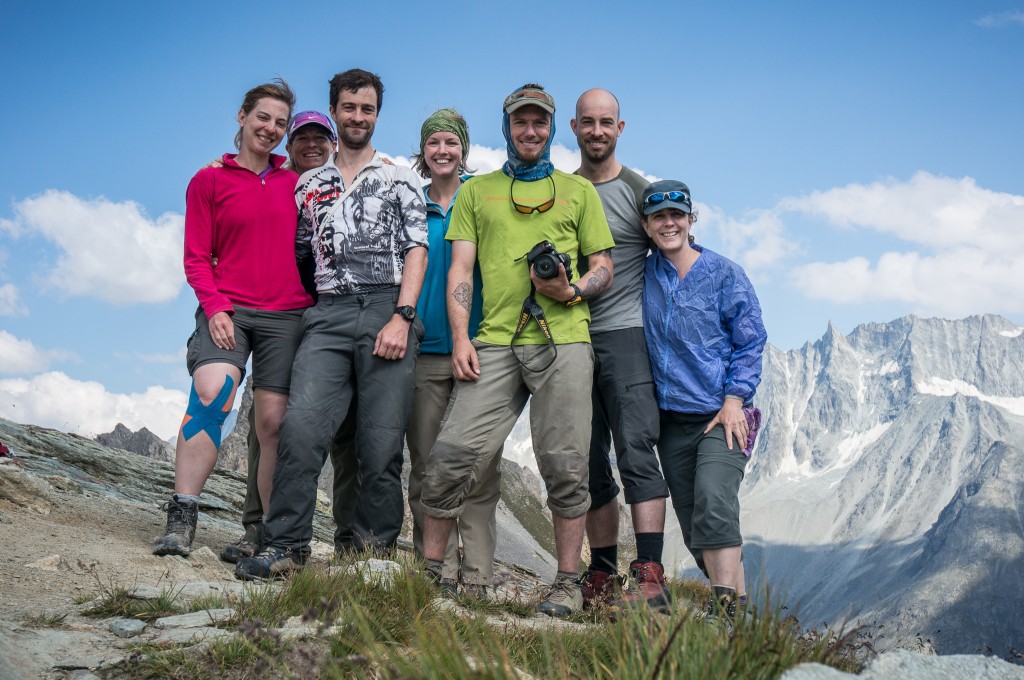 Our friends made the hike a much more rewarding experience. We shared the trials and tribulations of the day with them, we helped each other out and encouraged each other when we were feeling tired or sore. We ate, drank, and even partied together at a disco in Zermatt. When we parted for the last time, we were sad to leave people who felt like they'd become an integral part of our lives.
Equipment and Packing
Anne and I each carried a backpack and no more. Some of our friends were able to send bags or equipment forward from Chamonix to Zermatt. If you do plan to do this, we heard that the train offers an excellent and cheap option in comparison to the post and is certainly something to be investigated.
We both strived to carry as little as possible, though I opted to carry a DSLR, an extra lens, and tripod which added about 8-10 pounds. All told, my pack weight without water or extra food was 26.2 pounds.
To be on the safe side, we packed our poles, pocket knife, and first aid kit in a cardboard box and checked it with the airline to ensure we didn't have any problems with security either here in the States or during our layover in Amsterdam. We carried the rest onboard as a carry on. I carried one of the ultralight REI Flash backpacks that we used as a backpack in Amsterdam and Zurich and converted it into a stuff sack during the rest of the trip.
Here's a list of my packed equipment and a video running through it all:
| | | |
| --- | --- | --- |
| Item | Category | Quantity |
| Sun hat | clothes | 1 |
| Handkerchief | clothes | 1 |
| hiking pants | clothes | 1 |
| merino hiking shirts (short sleeve) | clothes | 2 |
| merino hiking socks | clothes | 2 |
| Injinji toe sock liner | clothes | 1 |
| merino thermal bottoms | clothes | 1 |
| merino hiking shirt (long sleeve) | clothes | 1 |
| Merrill minimalist shoes | clothes | 1 |
| camera + 24-120 lens | camera | 1 |
| camera battery | camera | 1 |
| camera charger + cord | camera | 1 |
| tripod + ballhead | camera | 1 |
| wide angle lens | camera | 1 |
| polarizer | camera | 1 |
| remote trigger release | camera | 1 |
| ND Filters + holder | camera | 1 |
| cell phone | elec | 1 |
| cell phone charger | elec | 1 |
| CF memory cards | elec | 8 |
| headphones | elec | 1 |
| outlet adapters | elec | 1 |
| clif shots | food | 2 |
| backpack | gear | 2 |
| blister pads | gear | 6 |
| Nalgene 1 liter bottle | gear | 1 |
| first aid kit | gear | 1 |
| warm hat | gear | 1 |
| gloves | gear | 1 |
| Down jacket | gear | 1 |
| Wind jacket | gear | 1 |
| headlamp | gear | 1 |
| hiking boots | gear | 1 |
| Hiking poles | gear | 1 |
| hiking underwear | gear | 2 |
| moleskin | gear | 1 sheet |
| Small pocket knife with can/bottle opener | gear | 1 |
| Steripen + spare batteries | gear | 1 |
| pack rain cover | gear | 1 |
| pack towel | gear | 1 |
| tent ground sheet | gear | 1 |
| rain coat | gear | 1 |
| rain pants | gear | 1 |
| guide book | gear | 1 |
| sleeping bag liner | gear | 1 |
| sunscreen | gear | 1 |
| One gallon Ziplock bags | gear | 4 |
| passport | misc | 1 |
| sunglasses | misc | 1 |
| wallet | misc | 1 |
| Advil, Tylenol | toiletries | 1 |
| bar soap | toiletries | 1 |
| chap stick | toiletries | 1 |
| deodorant | toiletries | 1 stick |
| ear plugs | toiletries | 2 pair |
| Detergent Bar | toiletries | 1 |
| toothbrush + toothpaste | toiletries | 1 |
Lodging and Costs
Because we also wanted to keep a relatively accurate accounting of our expenses, we also kept records of each place we stayed, the cost, and what was included. These prices are for 2 people.
It's important to note that we only booked accommodations for our first night in Argentière and our second night in Trient in advance. All other lodging was booked along the way. When booking along the way, we generally tried to call ahead to book the next night and ensure we could find a room. This allowed us to keep our schedule flexible. It also allowed us the ability to coordinate with friends we made along the way so that we could stay at the same place.
Up Next
I'll be posting for each day of the trip, including photos, route description, and GPS data. Stay tuned!