Haute Route Day 11 – Gruben to St. Niklaus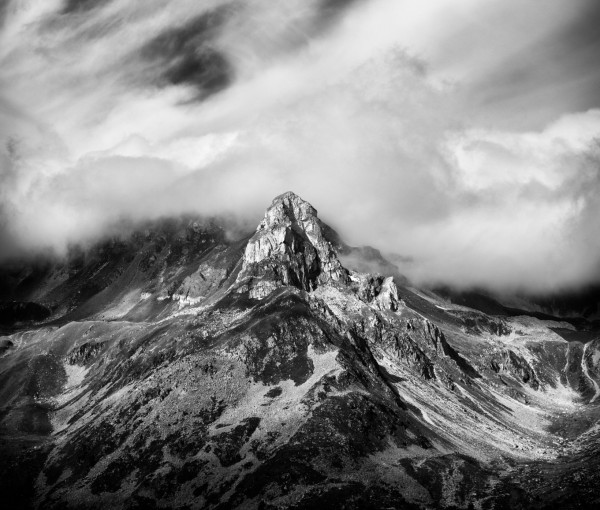 Day eleven marked the last true day of "tough" hiking with a route that lead over the Augstbordpass and into the Mattertal valley to St. Niklaus. We woke early, grabbed a filling breakfast, and headed out into the cool and overcast morning. For the previous couple days, the weather had been starting to turn more seasonal, both cooling and becoming more overcast.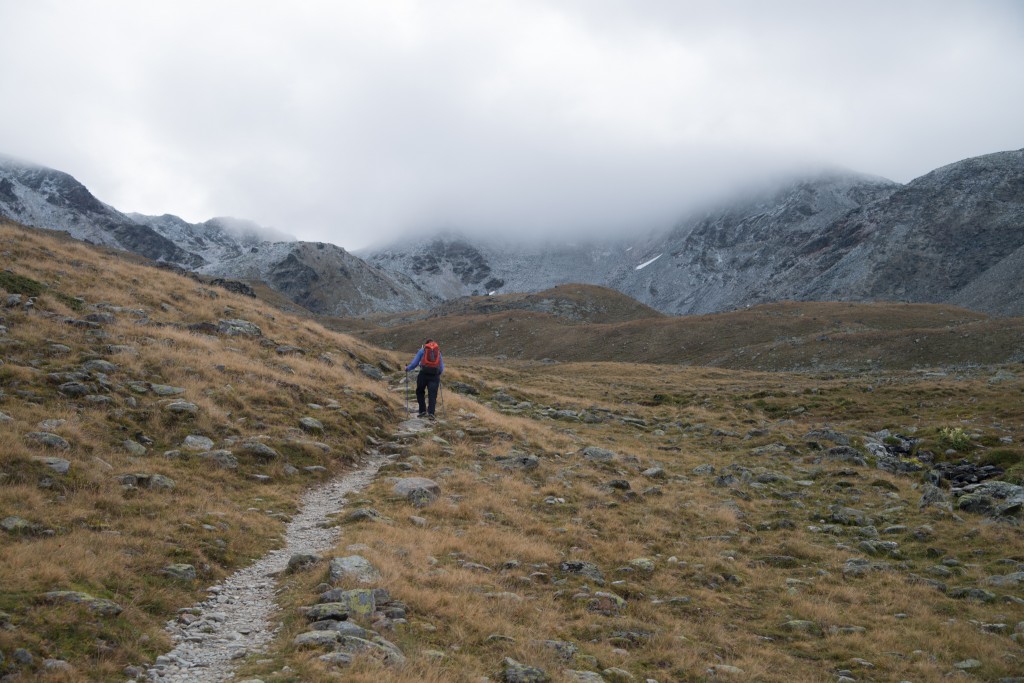 The hike itself goes virtually straight up towards the col, heading steeply up the side of the valley before following a smaller valley up to the Augstbordpass. As we climbed, the views back over the valley opened up and we heard the characteristic clang of cow bells as herders brought back in their cattle for the season.
At one point, a young man passed with a small herd of cattle following. Anne and I stepped off the path to allow the caravan to pass and were viewed inquisitively by the passing bovine.
As we headed up the valley, the wind picked up and the temperature seemed to drop.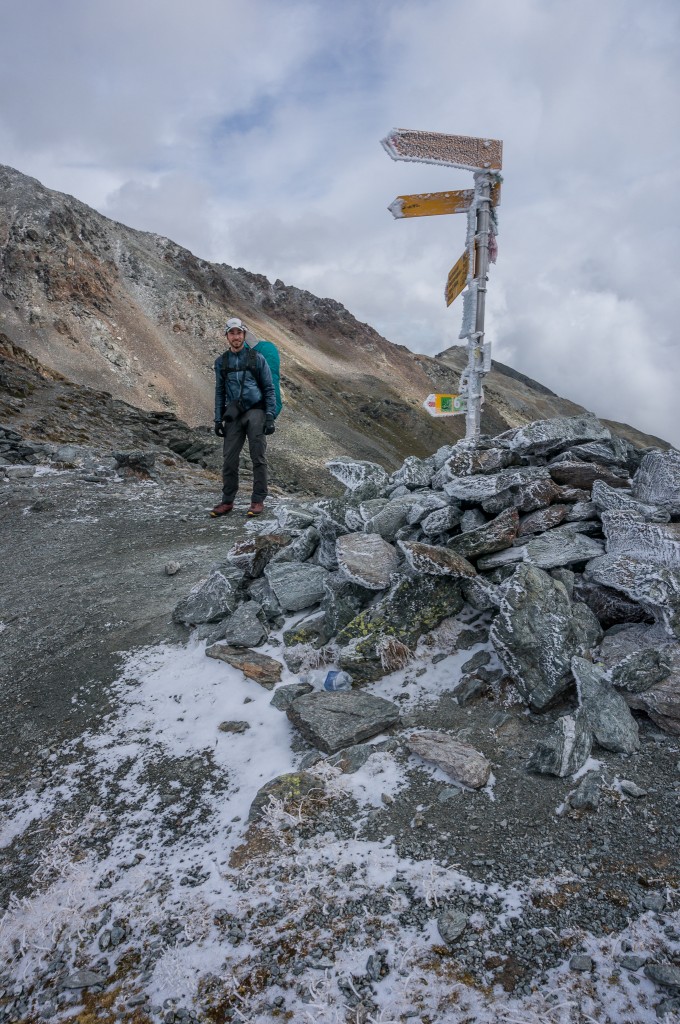 The final climb to the pass was bitterly cold with rhyme ice covering the plants, rocks, and sign posts. We stopped quickly for the obligatory pass photo before dropping down into the Mattertal in search of a respite from the biting wind and cold.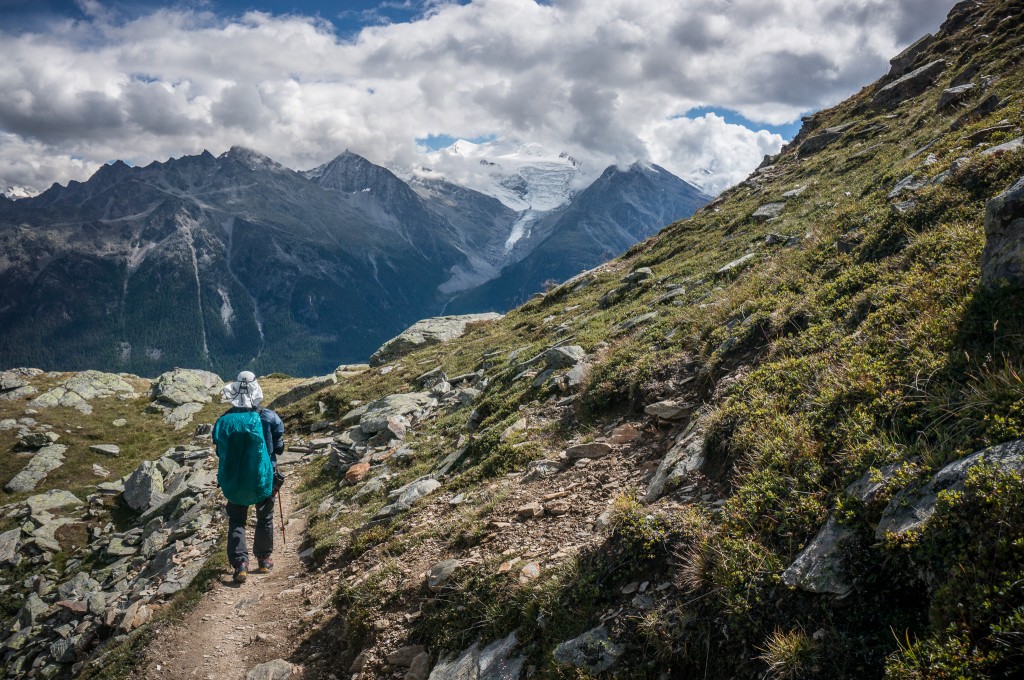 This path descends directly down a small side valley before cutting sharply right and traversing along the valley side along a mostly scree slope that is sometimes exposed. The slight amount of gain is rewarded handsomely at the Twära overlook.
The path from the overlook led relatively directly and steeply to the small town of Jungen. While it was possible to see Jungen a short while after passing the Twära overlook, it took considerably longer than expected to actually reach to the town. Here we ran into Rich, Denise, and Brian eating at the Junger Stübli where we sat down to rest and enjoy with them for a short while. Take note, there is a room for let in the Stübli and if you have the time you should certainly try for it since it would afford excellent views in one of the most beautiful small Swiss Alp villages I've ever seen.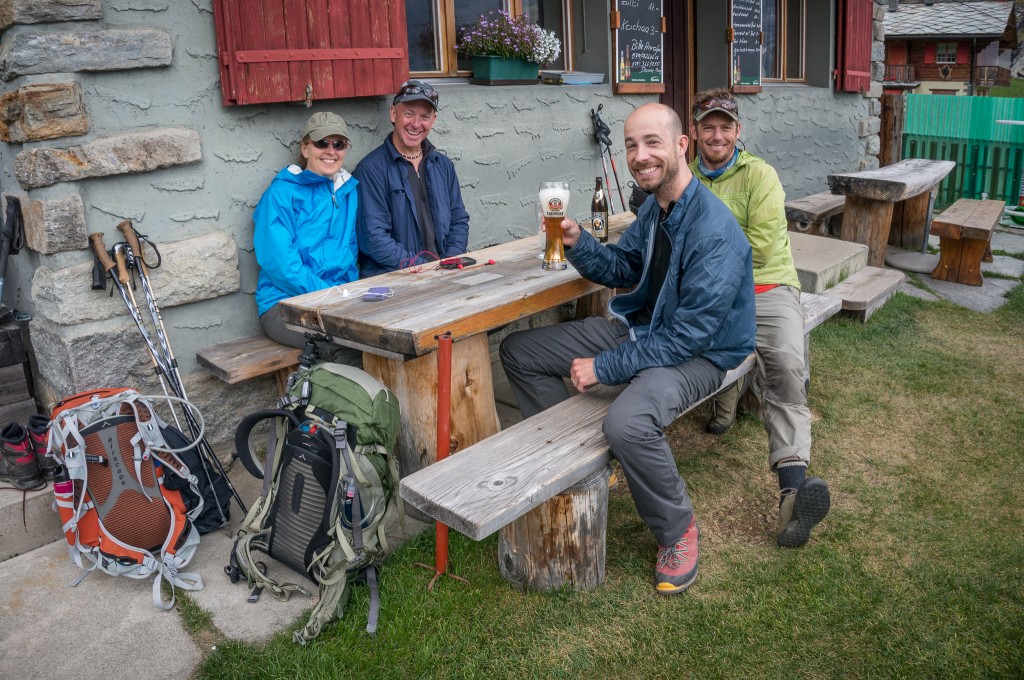 The rest of the path to St. Niklaus was relatively straight forward and took about an hour to complete with our sore legs and tired backs. Arriving in St. Niklaus, it's a little easy to get overwhelmed with the size and complexity of the town having just spent over a week in very small villages. We had to ask directions to make it to our hotel at the south end of town but we arrived soon enough and settled into our room, happy to be one day away from our final objective of Zermatt.
Total distance:
13.12 mi
Max elevation:
9485 ft
Min elevation:
3665 ft